Well, we had a nice Spring Break. I'm only sad that it didn't last about a week or six longer. Caroline and I went to Austin to spend the night and shop on Sunday and Monday and then we had big plans to paint her room the rest of the week.
(Side note just because many of you have asked: The MRI on her foot showed that it's not a stress fracture, but she did manage to bruise every single bone on the top of her foot. She'll be in a boot for a while, but might be able to play soccer during playoff games so we'll see. Thanks for praying. We are so relieved it's not a stress fracture because her recovery time will be much shorter than it could have been.)
Anyway, I'd mentioned on the podcast a few weeks ago that Caroline and I planned to paint and stencil a palm leaf design on one of her bedroom walls. And I have never gotten so many emails or messages from people who wanted to basically hold an intervention for me. It was like I'd casually suggested that I was going to attempt to walk on a tightrope across the Grand Canyon. Some of you were legitimately concerned for my sanity. And that was probably fair.
Her bedroom walls were the same light gray (Benjamin Moore Revere Pewter) that we have throughout the rest of the house, so we knew the first thing we needed to do was paint them white. We spent most of the day on Tuesday doing that and used Benjamin Moore's Simply White. It's what I have on my kitchen cabinets so I knew it was a good true white that doesn't yellow. I'd planned for this to be a project she and I did by ourselves, so I was understandably thrilled when P got home from work early on Tuesday and basically told me that everything we were doing was wrong. Apparently you don't use plastic as a dropcloth for the floor and I needed to stir the paint and I hadn't taped off the white trim. He told us the proper preparation is 97% of a job well done and I hated to tell him that I purposely hadn't taped off the trim because it was white and the new wall paint was going to be white and why bother? If anything sums up the differences in our personalities, it's the way we approach a home improvement project.
However, he did help us get the room painted white in a record amount of time and I'm sorry to have to admit that he was right when he told me we were going to need two coats of paint to cover the existing gray. That second coat around 6:30 p.m. on Tuesday night almost caused me to lose my will to live. What a sweet, naive time that was because I had no idea what was coming the next day.
Caroline knew she wanted a palm leaf design and we'd originally looked at wallpaper. But because the walls in her room are slightly textured, it was going to require a lot of prep work. Plus, the pattern of the wallpaper meant we'd have to order quite a bit of it to make the pattern work even though it's not a big wall. All that to say, it was going to be pretty expensive to have it wallpapered, especially since the palm leaf pattern feels pretty trendy and not like something we would necessarily want for a long time. I'd rather spend that money on things like shoes and cute tops. And I also wanted Caroline to have to contribute to the end result because I'm trying to turn her into a productive, hard-working member of society .
So I started looking for other options and found this tropical wallpaper stencil by Dizzy Duck Designs on Etsy.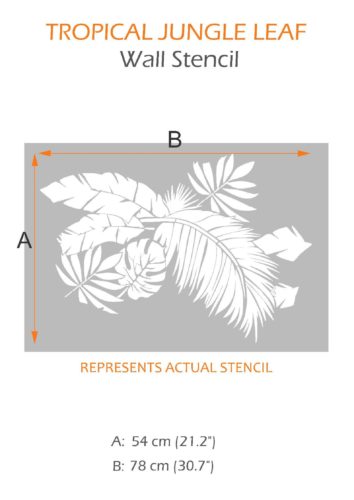 I figured it was worth a try because it's just paint and if it looked terrible, we could always just paint over our attempt. And here's a secret, there is some part of me that really enjoys the challenge of a craft type project. I can't explain it because I'm not a normally crafty person, but every now and then I want to attempt something artsy. The problem is that it unleashes some facet of my personality that becomes a little obsessive.
I googled "How to stencil a wall" and found a couple of posts that were really helpful. You can find those here and here if you're interested.
And I also had this guide on the Dizzy Duck Etsy page that showed how you line up the pattern as you paint, which was extremely helpful. If it had been left up to me to properly measure and line it all out, I think this would now be a post about how we painted Caroline's room white. The end.
The night before we went to pick out paint colors for the stencil design, Caroline almost changed her mind about the color scheme when she saw this picture on Pinterest and decided maybe she wanted a multi-color wall.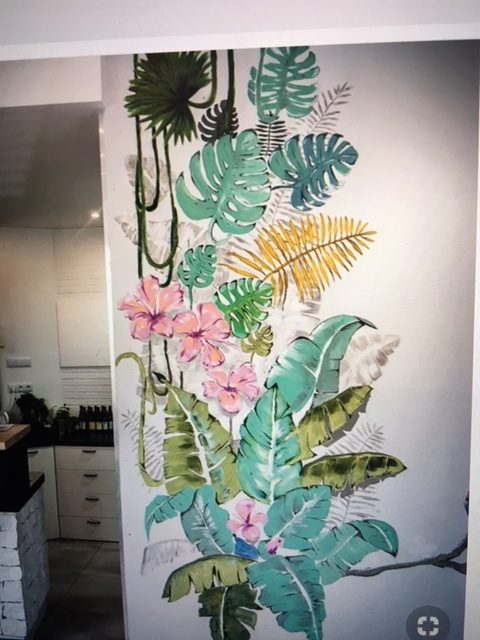 I cannot tell you how relieved I am that we didn't go this route. The beauty of doing it all in shades of green is that it allowed much more room for error because, like I kept telling her, nature isn't supposed to be perfect and symmetrical and all the same shade of green.
She picked out four different shades of green to use on the design and the beauty is that you use such a small amount of paint that all we had to buy were the small cans they use for color samples and we still had more than half a can left of each color when we were finished.
On Wednesday, we got all our supplies and brushes ready because I remembered P telling me that preparation is 97% of a job well done. Everything I read said you should start with the stencil in the exact center of the wall you plan to paint and go from there so that's what we did. If you think I actually measured instead of just eyeballing it, then you don't know me at all.
We taped the stencil to the wall and each grabbed a small stencil brush with a different color of green and began to paint. Honestly, I had no idea if it was going to look okay when we pulled the stencil off the wall, but it turned out great.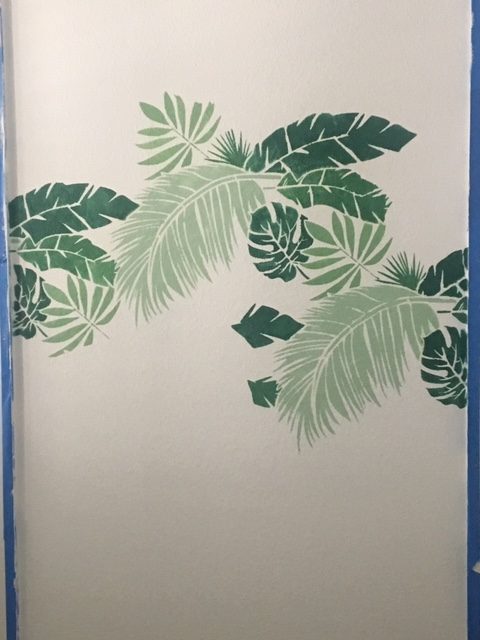 I felt so proud and accomplished until I remembered that this one stencil had taken us about thirty minutes and we had an entire wall left to do. That's when some of the shine wore off. But Caroline had made us a playlist that had everything from Post Malone to James Taylor and that got us through the next several hours as we painted and then untaped the stencil and then lined it up and then retaped. Rinse and repeat times infinity. On the upside, you use such a small amount of paint that it dries quickly and you can keep moving the stencil and painting, especially because you can alternate working from the top and from the bottom of where you've just painted.
We learned pretty quickly that the leaves were all easiest to do with a combination of large and small stencil brushes, but that one large palm leaf proved to be our nemesis with all its many fronds and sections that never seemed to lay flat against the wall, especially as we had to do the edges of the wall. So we discovered that using a small foam roller worked best for it and also a handful of Xanax.
By 6:30 Wednesday night, we called it for the day because I had a girls' night out planned with some friends and we had lost all feeling in our arms and possibly our will to live. We scrubbed green paint off our fingers and put everything up for the night.
Thursday morning we repeated our preparation process, put on our playlist and got started. I was determined we would finish before the night was over because I was so ready to be done and we were leaving for College Station the next day. Since Caroline is in a boot, she couldn't help with the high spots on her wall so I had to figure out how to hold the stencil, paint, and not get it all over the ceiling. It was at this point that I began to have a deeper appreciation for Michelangelo painting the Sistine Chapel. We are practically the same.
Eventually, it was all finished except the sides of the wall on either side of her closets. We decided it would be easiest to cut the stencil in sections and just alternate which leaf patterns we used since those sections of wall are so narrow. By this time it was almost 8:00 p.m. and P had grilled burgers and brought me a cocktail while I painted. I may have used the phrase, "As God is my witness, I will never stencil another wall again."
Caroline worked on one side, while I worked on the other.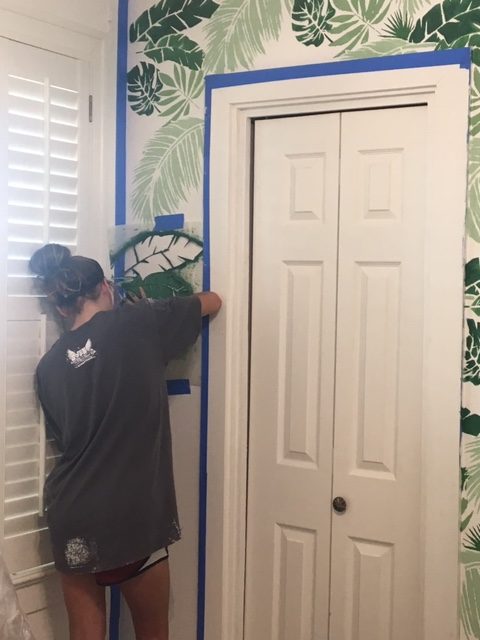 And right around 8:45 p.m., it was finished. P helped us clean everything up, including the green specks of paint on the floor that were there since plastic isn't the right material to cover the floor. We took the tape off the trim, I touched up a couple of spots where paint had splattered, and I have to say that we were pretty impressed with ourselves.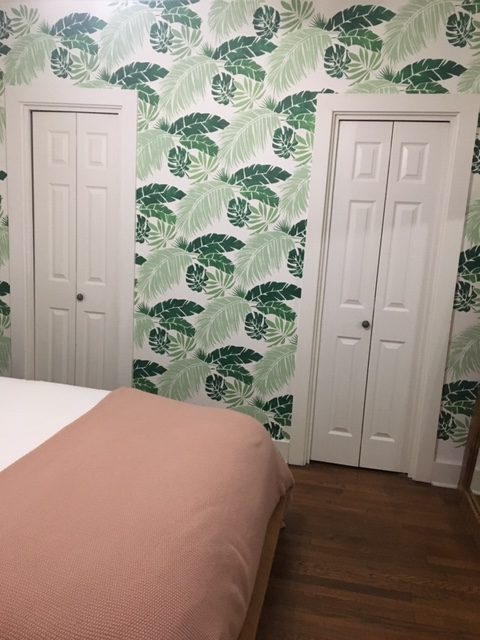 I'm not going to lie, it was A LOT of work. But we did mostly have fun doing it together and it's easy to get your teenager to talk when they're preoccupied by working on a project. There were a few low moments when I thought we'd never finish, but the end result is worth it and we did it for about a third of the cost of having it wallpapered. However, I've told Caroline that someday twenty years from now, my grandkids are going to ask her, "Why does Grandma keep that wall with those outdated palm leaves painted on it?" And she'll have to tell them about that time we spent Spring Break 2019 painstakingly painting those leaves and how I vowed then that they would be on that wall FOREVER.
The next morning we left for College Station with Gulley and Jackson to see Honey and Big and to watch the Aggies play Vanderbilt, which felt like the perfect reward. When we got to their house that afternoon, Honey informed us that there was a water main break at Olsen Field which meant no working toilets or concession stands, but they were bringing in portable toilets.
Um.
No thank you.
Big and the kids decided they still wanted to go and Honey offered to take Gulley and me to Christopher's for dinner. This felt like a win all the way around. And when we got to Christopher's and the waiter took our drink order, he asked, "Are we celebrating anything?" to which we all laughed and said, "Yes, Big's 70th birthday!" except he wasn't there. But we did celebrate it with him on Saturday night after watching the Aggies come from behind 7-2 in the eighth inning to tie the game with Vanderbilt and then win 8-7 in the bottom of the 9th so there's that. It was a pretty perfect day.
Now we're back in the school routine and not even that wall of palm leaves makes Caroline any more excited to wake up in the morning. But I keep telling her summer is right around the corner.
In two and a half months.
I thought last Monday I might use summer as a time to paint the cabinets in our master bathroom, but that's not looking like even a distinct possibility at this juncture.
Thank you for understanding and happy Wednesday.