Okay, so today's Fashion Friday is a little different than usual. And here's what I now know about myself. I could never be a real fashion blogger. And I'm about to tell you why.
A few weeks ago, the nice people at Evereve emailed me and asked if I'd be interested in visiting one of their Texas stores and trying out their clothes.
Um. Yes, please.
This shouldn't even be a question. Evereve is a great store with an inventory full of trends and classics at various price points. Yet, it's small enough to not feel overwhelming when you're in the store. This is basically my favorite kind of place to shop.
So last week while Caroline was on Spring Break, we drove to Austin and visited the Evereve store at the Domain. It didn't take us long to fill up a whole dressing room with things to try and I managed to leave with a shopping bag full of stuff. It was great.
Here's what isn't as great. They mentioned that I could maybe do some Instagram stories as I tried things on, but a dressing room feels overwhelming enough for me. And I had my teenage daughter weighing in on all my choices and fashion preferences. At one point she actually used the phrase, "No, you look too much like a millenial in that".
But I did want to show you some pictures of me wearing the actual items that I ended up getting. This is so far out of my comfort zone that I can't even see my comfort zone. I don't know how to pose. I don't know where to look at the camera. I don't know how to take selfies. I can't figure out how people manage to film try on stories and talk at the same time. And I think it's safe to assume that P is not an Instagram husband.
I had Caroline take some pictures of me yesterday afternoon after a failed attempt to figure out how to take selfies in a full length mirror and I'm going to say it wasn't the most glamorous of photo shoots. My photographer was impatient with my outfit changes and kept telling me she had Chemistry homework. As if that's more important than taking pictures of your mom in various outfits.
Anyway, by the time it was over, I was exhausted. I have a whole new respect for fashion bloggers that do this day after day. It's a lot of effort to get dressed and figure out how to pose. I mean I didn't even do it right or have a Starbucks cup to hold and it was exhausting.
But, with all that being said, I do have some really cute things to share with you today. Please note that I included the stock photo images as well as my own because, let's be honest, they are much more effective at showing you what something looks like.
1. billabong sea and moon kimono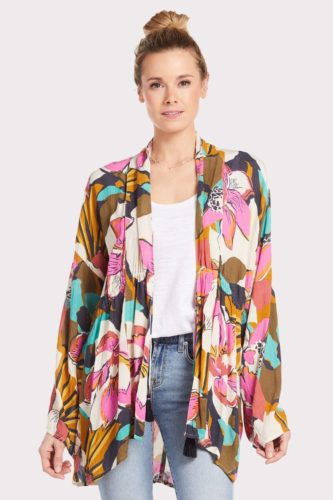 I fell in love with this kimono in the catalog before I ever walked in the store. And then when I got to the store they didn't have it in stock yet because it's brand new. However, they were nice enough to let me order it online and it arrived on my front porch three days later. I can already tell it's going to be my favorite item of summer.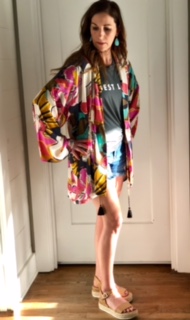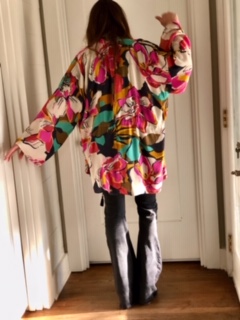 Caroline and I decided that pic will be the photo I use on the cover of my album containing my version of 1970s hits.
My denim shorts are these BlankNYC boyfriend denim shorts. They are $68 and are so soft and comfortable.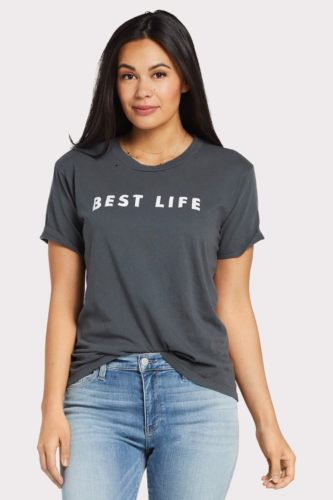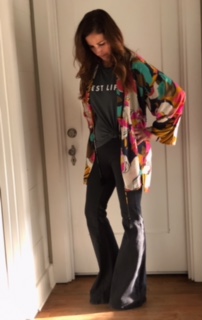 This tee is so cute and the perfect color. It's slightly distressed without being absurd and it's $68. This is the kind of thing I'll throw on all summer long with everything from jeans to shorts to skirts.
I'm also wearing these Free People penny flare jeans in black. They are $78 and come in several color options.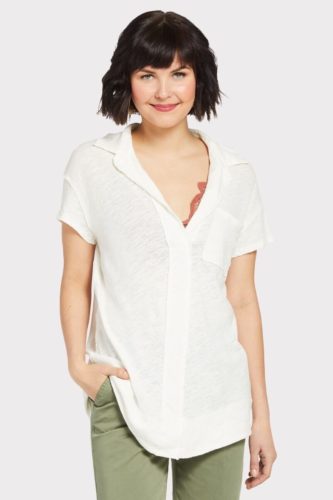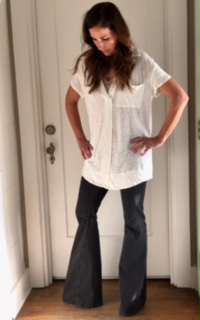 I love the length of this tee. It could easily be worn with leggings and it's super comfortable, yet fits closely enough that it doesn't look frumpy. I have the lace cami featured below under it which gives it a little something extra although it's hard to see in this picture. Imagine that.
It's $58.
4. AG farrah ankle skinny jeans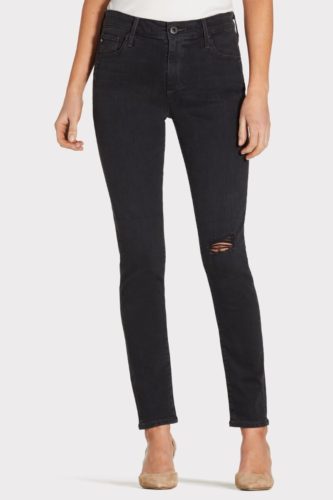 These jeans were a total splurge at $198. I wasn't even going to get any jeans. But then I tried these on and they are like butter. Plus, I have a couple of other pairs of AG jeans and they are just hard to beat in terms of comfort and holding their shape. I can wear them for days and they never get stretched out. And I love this color that isn't quite black, but is darker than a charcoal gray.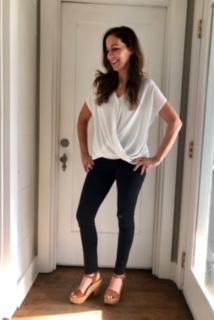 I wear jeans enough that they are worth investing in when I can because I'll wear them forever. I have jeans in my closet that are over ten years old that I still wear all the time. I'm loyal to some quality denim.
5. lovestitch multi-stripe tie front shirt
I wasn't sure about this top at first but Caroline made me try it on and I was so glad she did. I love the stripes and the tie front. Plus it looks great with the jeans up above and equally great with these flowy pants. I'll wear this all summer long and into next fall.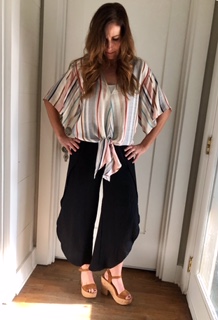 It's $68 and the v-neck isn't too deep so you don't have to wear anything under it.
My wedge sandals are old, but these Steve Madden Breathe wedge sandals are similar and come in several color options. They are $89.95. And I also love these Steve Madden luna cognac sandals with a wooden heel. They are so 1970s. And they are $69.95.
6. allison joy crop slit front pants
Oh my gosh. These pants. I love them. They are so lightweight and comfortable and they have an elastic waistband. You could wear them as casually as throwing them on over your swimsuit or dress them up with a cute top and heels. I'll wear these all summer long.
Also, yes, this picture is blurry. We were at the end of our photoshoot at this point and the whole thing felt ridiculous.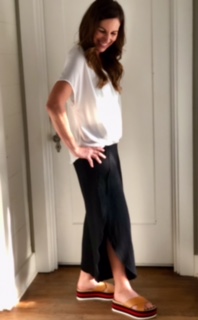 These pants are $78.
My sandals are the Steve Madden Asher cognac multi sandals. They are $79.95 and I thought they'd sold out forever, but they are back in stock. It's a sandal miracle and they are so cute and comfortable.
7. cloth + stone wide leg pant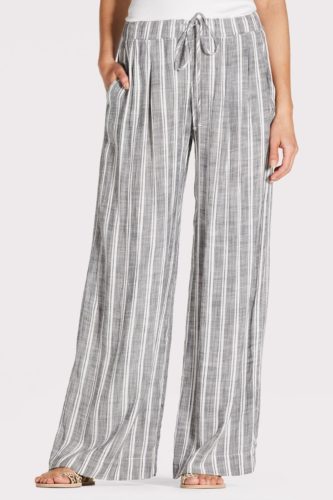 This is another great pair of flowy pants that could be dressed up or down. I'll wear these with the white Lush top I have on here or just with the Best Life tee featured up above for a more casual look.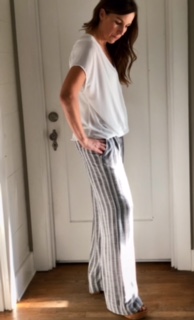 They are $128.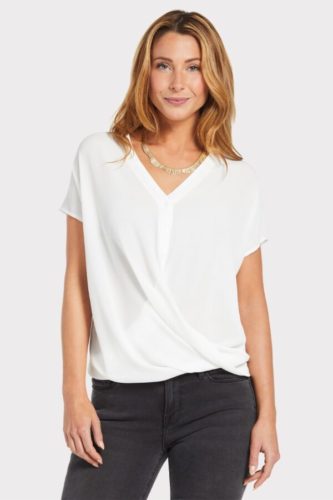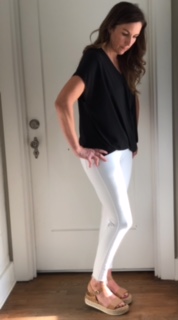 I loved this top so much that I bought it in the white and in the black. It's just $48 and I love that it gives you the look of having a shirt tucked in but then is a little bit longer in the back. Plus, it's made out of that polyester material so it drapes beautifully and doesn't cling.
I'm also wearing these Hue essential denim leggings in white. They are $38 and so comfortable.
And my sandals are the Steve Madden Chiara sandals in nude. They are $79.95.
9. cloth + stone camo pocket joggers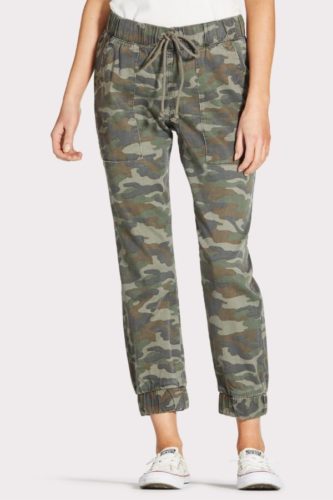 I love these joggers. I can dress them down for soccer games and the weekend and then dress them up with wedges and a cute top for a night out.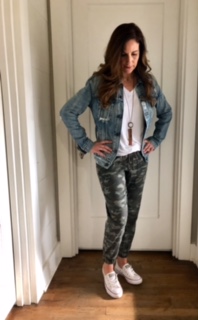 This is when I attempted a mirror selfie in Caroline's room. I didn't feel good about it.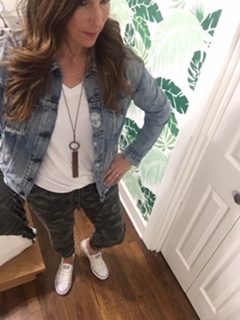 I'm also wearing this white tunic t-shirt from Amazon and my favorite denim jacket from ABLE. And I have on these Converse shoreline sneakers in white.
In that last photo, I'm wearing the Lush twist front top up above and my black wedge sandals are old, but here's a similar pair that are on sale for $69.30
10. cosabella say ever lace cami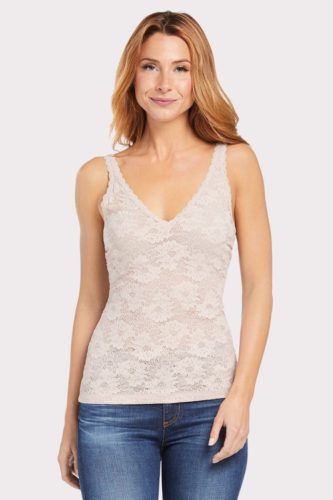 I'm going to draw the line at posting a picture of myself in just this cami. But I will tell you that it's really soft and is a great layering piece. It's not too sheer and it has adjustable straps. It's $45 and also comes in black or gray.
11. david lerner silky shirt dress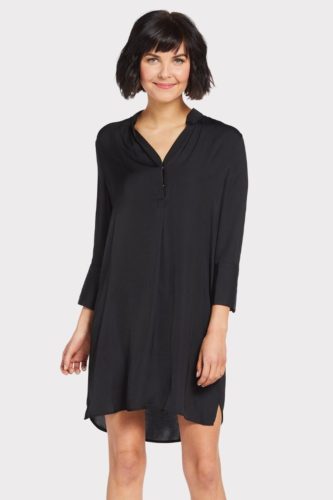 I tried this shirt dress on and loved it. It's so pretty and the fabric is amazing. But I do not need one more black dress in my closet and so I had an intervention with myself. But this is $98 and would be great with just flat sandals or dressed up with a heel.
12. michael stars drape neck jumpsuit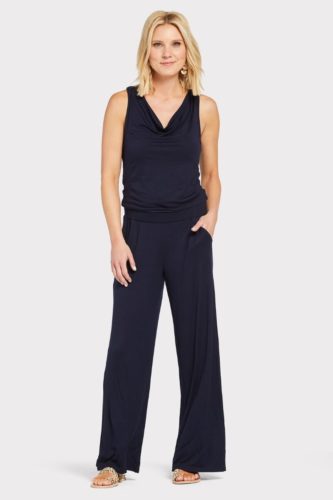 This jumpsuit is amazing. It feels like pajamas, but you can wear it out in public. I daresay that you could find a cute white linen blazer to pair with it and wear it to the office. I was so tempted to get it, but I also do not need another jumpsuit. It's $108.
So there are all my Evereve finds. I'd encourage you to go to the Evereve site and look around because they really do have a great selection of clothes, jewelry and shoes at all kinds of price points depending on your budget. I'm a fan. I mean, I loved it enough to have my picture taken in all of my finds and if that isn't a ringing endorsement, then I don't know what else I can say.
That's it for today.
Have a good Friday.