I missed Thursday things last week because of Spring Break, but look what's back.
Here are a few things you might want to know about:
1. John Mayer singing How Great Thou Art
If you listen to the Big Boo Cast, you might remember that we had Erin Moon as our guest and discussed John Mayer at length. Specifically, that we all feel he is in search of the meaning of life. So I was understandably thrilled by his cover of How Great Thou Art during his time in Australia, both because it is beautiful and because I hope it means something to him.
2. The Resident Chef Spinach Parmesan Dip
When we were at Honey and Big's over Spring Break, she made this dip and it was one of the best things I've ever eaten. The secret is this mix and then you add in mayo and sour cream. So it's super low fat, but it is delicious. The mix is $4.65 for a packet and I already bought all of the ones that were still left on Amazon so this is where I found you can get it online.
3. Color by Number App by Impala Studios
This is another discovery from Honey's house. Gulley's Aunt Diane had introduced her to this Color By Number app and I am completely addicted to it. It is the perfect mindless activity to do while you watch something on Netflix. I've been staying up late at night trying to finish writing my book and it has helped me immensely to color by number to wind down before I try to go to sleep. You can even upload your own photos to color by number.
4. The Popcast and Big Boo Cast Live in Texas to benefit Amarillo Angels
I couldn't be more excited about this. Sophie and I will be in Amarillo with Knox and Jamie from the Popcast on September 14th for a live show to benefit Amarillo Angels.
This is the mission statement of the Amarillo Angels: "The Amarillo Angels mission is to walk alongside children in the foster care system, as well as their caretakers, by offering consistent support through intentional giving, relationship building and mentorship."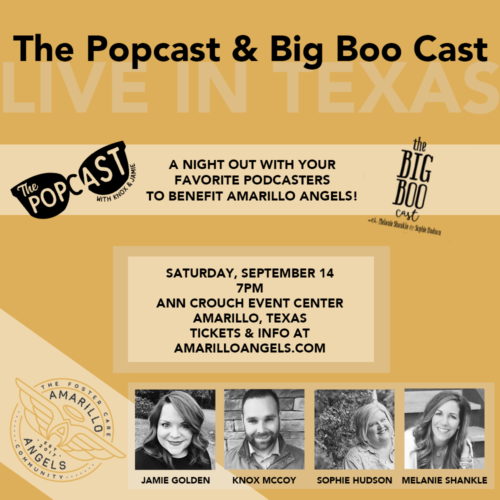 More information about the work of Amarillo Angels can be found at amarilloangels.org
5. NYX butter gloss in creme brulee
If you are looking for just a good, inexpensive neutral lipgloss, I am loving this one. It looks much pinker in the tube than it is once you put it on so do not be afraid. I think it's a color that would work for just about anyone. And it's just $5.00.
That's it for today.
Happy Thursday.
Copyright secured by Digiprove © 2019