Well.
After last week's Fashion Friday, I really had no plan to feature any more pictures of me wearing clothes I feature even though you were so sweet about my lack of fashion blogger skills and poses. But then I went to lunch with a friend on Wednesday and needed to kill about an hour before I picked Caroline up early from school for a doctor's appointment. And I didn't want to go home because I knew Piper and Mabel would bark at me until I took them to run at the park and I had actually washed my hair and put on makeup that morning and didn't want to take them.
I realize this means I am letting my dogs bully me. I can't deny it. But in my defense, they are relentless when they decide it's time for an outing.
So I ran in Gap because Sophie had texted me earlier in the week to tell me they had some cute things and I decided I should see for myself. And I tried on some jeans that I liked so much that I thought, "Maybe I should take a picture of myself in these jeans for Fashion Friday" and, long story short, after Gap I went to Target and found some things there I really liked, too. I also ended up following around these two delightful older ladies who were shopping together at Target because their conversation was priceless. There was a lot of "Will you look at this bag? I saw one just like this at Neiman's" and "I'm going to wear this shirt with a scarf and some pants and look like I'm on the cover of Vogue."
Anyway, pictures of me trying things on in dressing rooms probably won't become a regular thing, but I have a few today. **Edited to add for reference: I am 5'6″ and usually wear a 4-6 in most things.
I'm also editing to let you know that ABLE is offering 25% off everything on their site through March 31 with the code SPRINGTIME at checkout. This includes my very favorite denim jacket ever here.
Here are the cute things I found:
1. loft leopard print flippy skirt
I love this light version of a leopard print skirt for spring and summer. You could wear it with a tank, denim jacket and sandals. Or dress it up for the office with a dressier blouse or a black blazer and heels.
It's $59.50 but 40% off with the code HELLO at checkout, along with a lot of things at Loft right now.
2. knox rose sleeveless dress with eyelet trim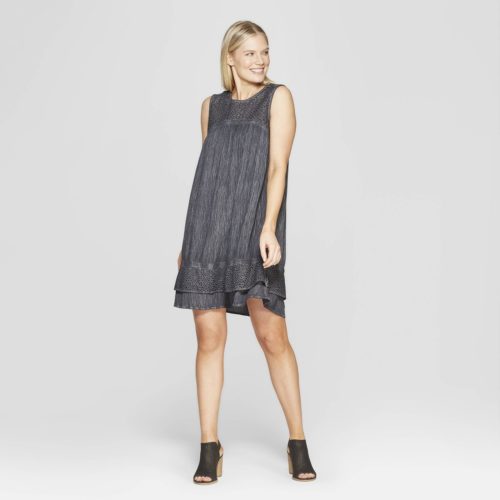 I saw this hanging in Target and thought it was cute enough to try on. And so I did.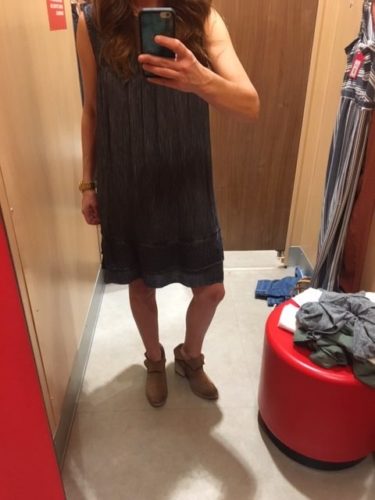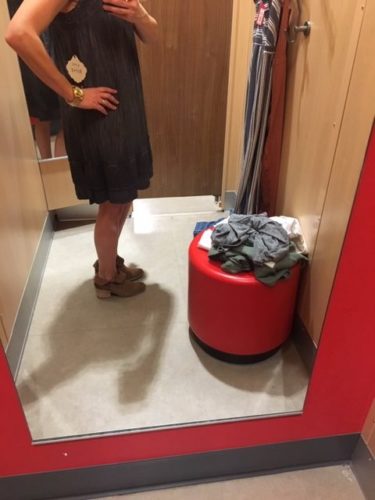 It's $27.99 and the perfect dress for summer. It's lightweight and a little longer in the back than it is in the front. The eyelet detail across the top isn't sheer enough that you can't wear it with a normal nude-colored bra. I am wearing a small for size reference. Oh, and I bought it.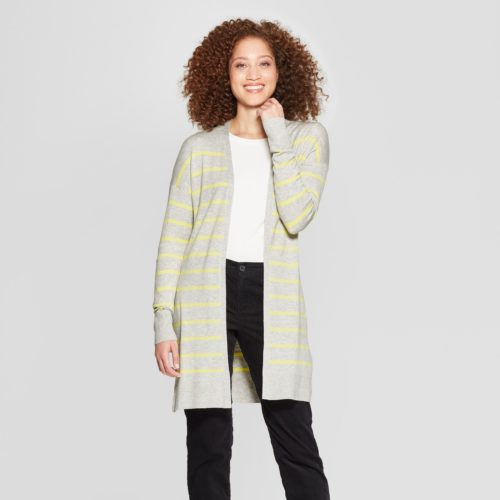 This cardigan looks so much like one I've seen at Nordstrom that's much more expensive, but I'm glad I took a picture of it while I was in the store that shows how vibrant the colors are in person.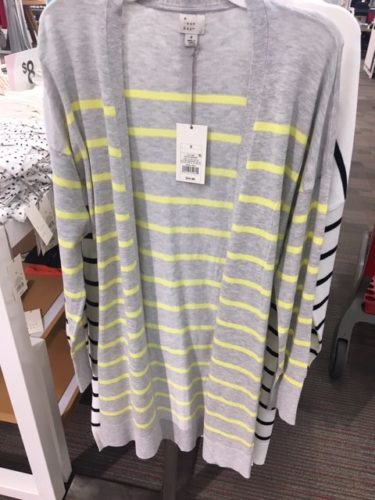 It's $24.99 and also comes in ivory with black stripes if that's more your style. I personally like the gray and yellow for summer.
4. gap sky high distressed true skinny jeans
This is what started my dressing room try-on. I had tried on a pair of high waisted jeans a few weeks ago, but they were super expensive and more than I wanted to spend. So I saw these at Gap and decided to try them because I loved the distressed hem and I've been wanting a pair of light-colored jeans.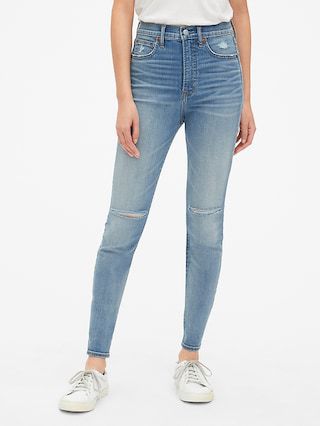 The ones I tried on were a little different than the ones above because mine had a distressed hem, but other than that they are the exact same jean.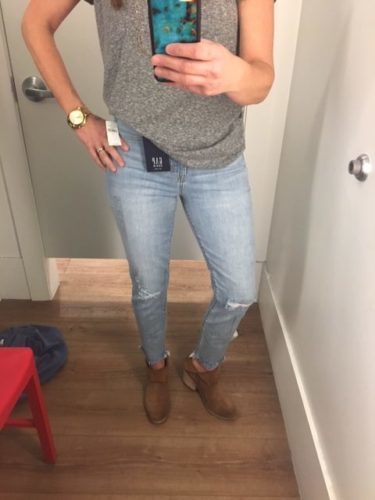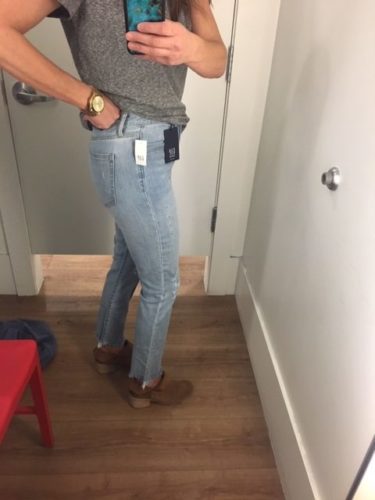 They were super soft and comfortable and I have to admit I kind of like the high waist. I mean, I wouldn't tuck in a shirt or wear a belt with them, but they kind of suck everything in. These are on sale for $52. I am wearing a 27.
I also tried on these gap mid rise true skinny jeans in sculpt.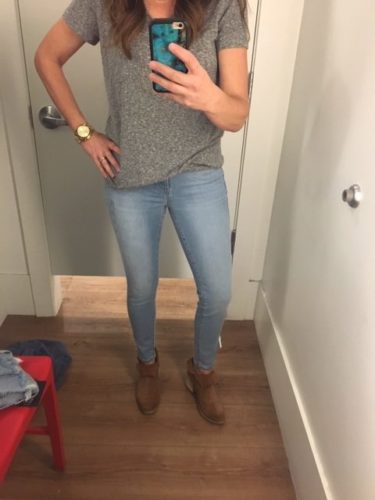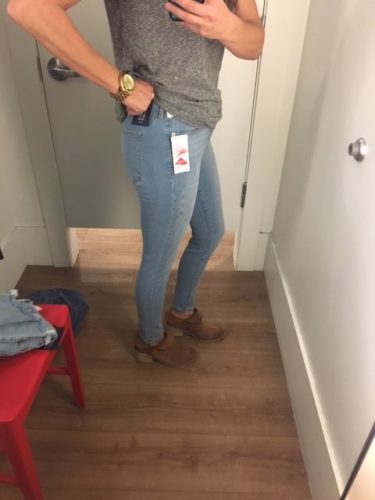 I really liked these, too. They feel more like leggings than jeans and are so soft. They are on sale for $52. I am wearing a 27 in these.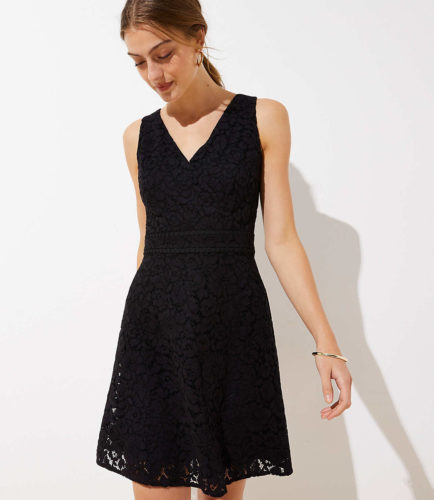 It's always good to have a great dress in your closet for weddings and such and this black lace one is so pretty. It's normally $118 but 40% off with the code HELLO at checkout.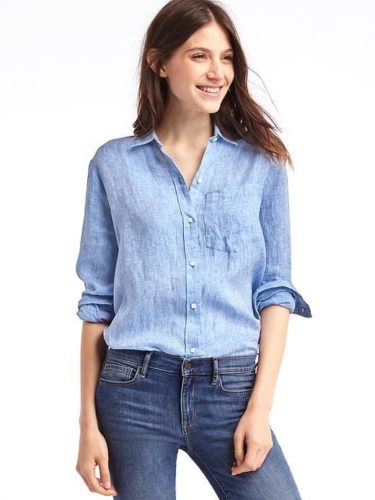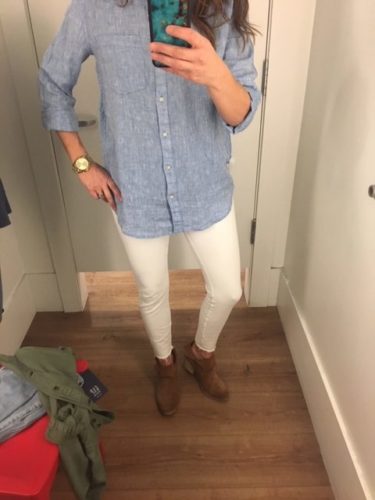 I love a linen shirt for summer because you can wear it tucked out and by itself. Or tie it at the front with a pair of shorts or jeans. Or wear it open over a tank like a lightweight jacket. This one is sale for $30 and comes in several color options I have on a small.
7. vintage soft pullover sweatshirt tunic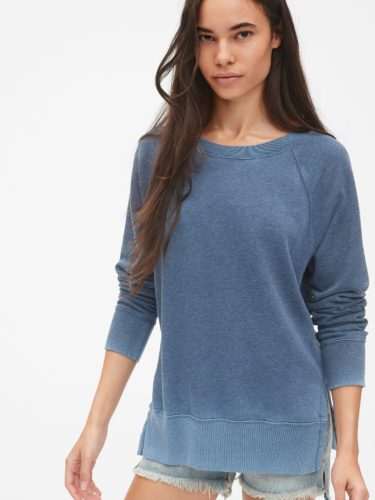 If you are looking for a longer, oversized sweatshirt, then look no further. This one is so soft and comfortable and totally long enough to wear with leggings.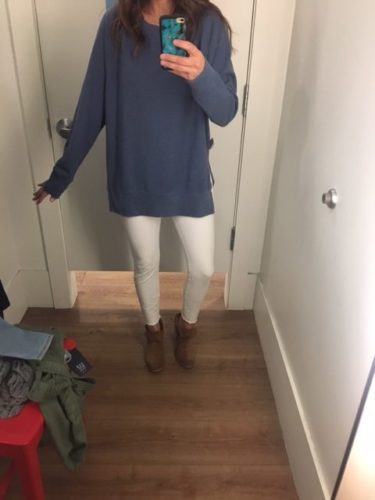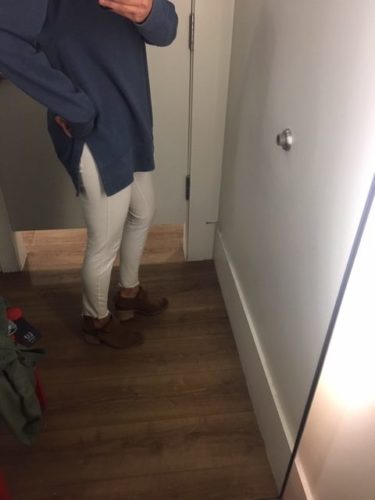 It's normally $54.95 The blue is $33 but other colors are on sale for $27 I am wearing a medium but could have totally worn a small.
8. xhilaration striped knit v-neck cropped jumpsuit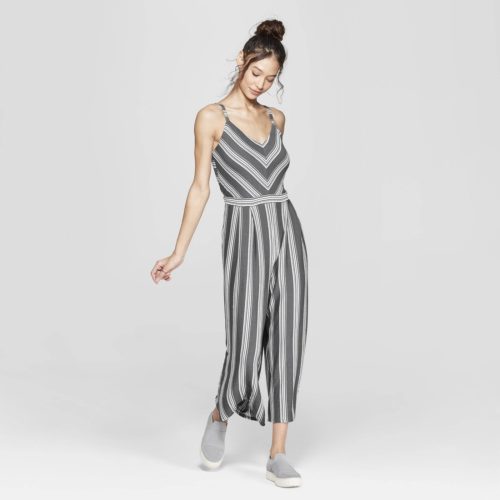 This is really cute and super soft. And sometimes jumpsuits don't work for me because my torso is too long, but this one fit perfectly. It also has adjustable straps which helps it really fit well.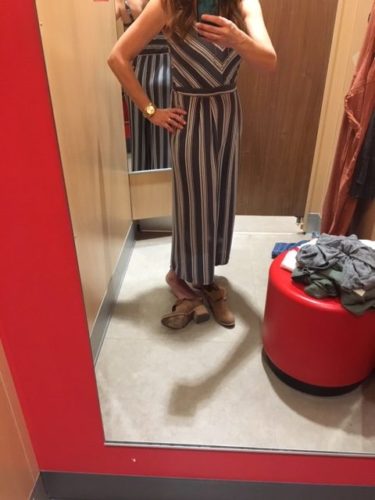 It's $29.99 and I'm wearing a medium. It also comes in teal. And I think you could easily wear a white blazer or a denim jacket over it if you wanted more coverage.
9. ae military button down shirt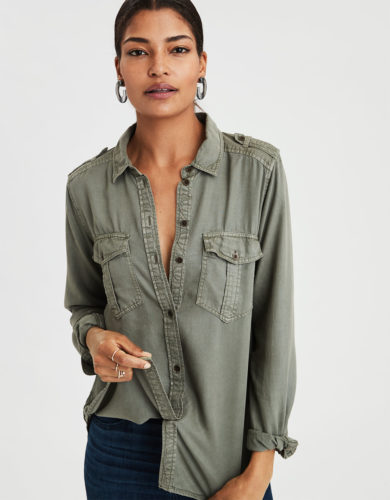 I already own this and happened to be wearing it while I was at Gap so I took a picture so you could see it on. It's one of my favorite spring purchases and I've worn it a ton.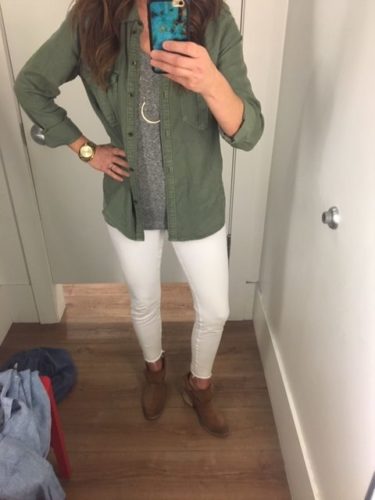 It's $44.95 and I'm wearing a small.
I also have on this universal thread short sleeve v-neck t-shirt.
It's $8.00 and comes in a ton of color options. I'm wearing a medium.
And I'm also wearing these hue essential denim leggings that I keep telling you about. I love them. They are so comfortable and never lose their shape. Also, mine were longer than I wanted so I just grabbed my scissors and gave them a raw hem. Worked like a charm.
They are $38 and I'm wearing a small. They look tiny when you pull them out of the package, but then they stretch.
I think Nordstrom is sold out of my exact booties, but this bp barris block heel is pretty similar and on sale for $59.90.
10. steve madden aida platform sandal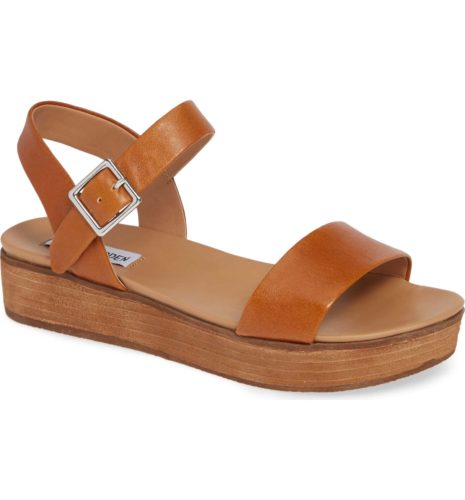 These are really cute basic sandals. I love the wooden platform that gives a little bit of height. They are $79.95 and come in several other color options, including a really fun snakeskin.
That's it for today.
Have a good Friday.
Copyright secured by Digiprove © 2019