Well.
So anything new going on in the world that I should know about? I mean like any pandemics or anything that have caused the entire world to shut down?
This is basically me all the time now.
And also.
God willing this next week will bring better news, plenty of toilet paper, and lots of shut in chic lounging clothes to get us through these times. Today I'm here to help with that last thing. You're on your own for toilet paper. May the odds be ever in your favor.
1. crz yoga lightweight joggers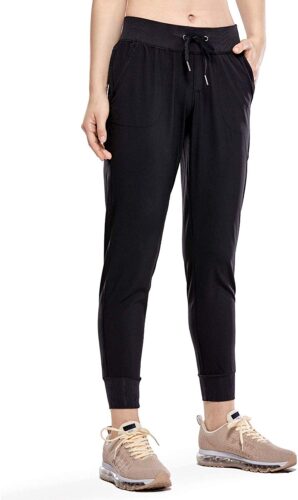 One of my biggest problems right now is that I have several pairs of joggers that are too warm to wear all day now that the weather has warmed up, yet I am home and want to spend all my time in said joggers.
Narrator: "This was not her biggest problem right now".
All that to say, I've ordered these from Amazon because rumor has it that they are a lightweight, flattering jogger that is super comfortable and this is what you need in a pandemic. They are $28 and come in several color options.
2. lou & grey signature softblend sweatpants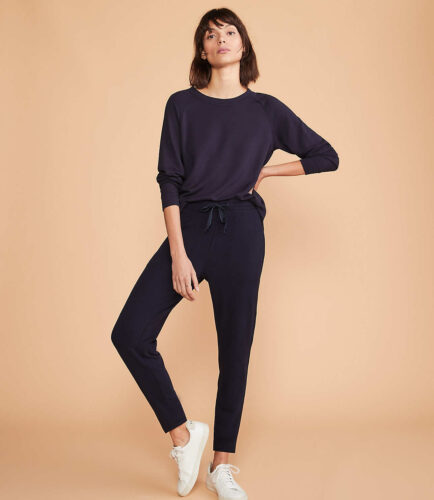 These are about the softest things you could ever wear and perfect for homeschool teachers or people who are stuck at home pretending to be teachers. They are normally $69.50 but 40% off with code QUICK at checkout and come in several color options.
3. lou & grey signature softblend sweatshirt
And if you want the whole comfy shut in chic look, then you can also get the matching sweatshirt. It's normally $69.50 but 40% off with code QUICK at checkout.
I'm totally going to get these and make them into my stay at home fancy pants. They are $68 and there is free shipping and free returns at Anthropologie right now.
5. socialite waffle knit pullover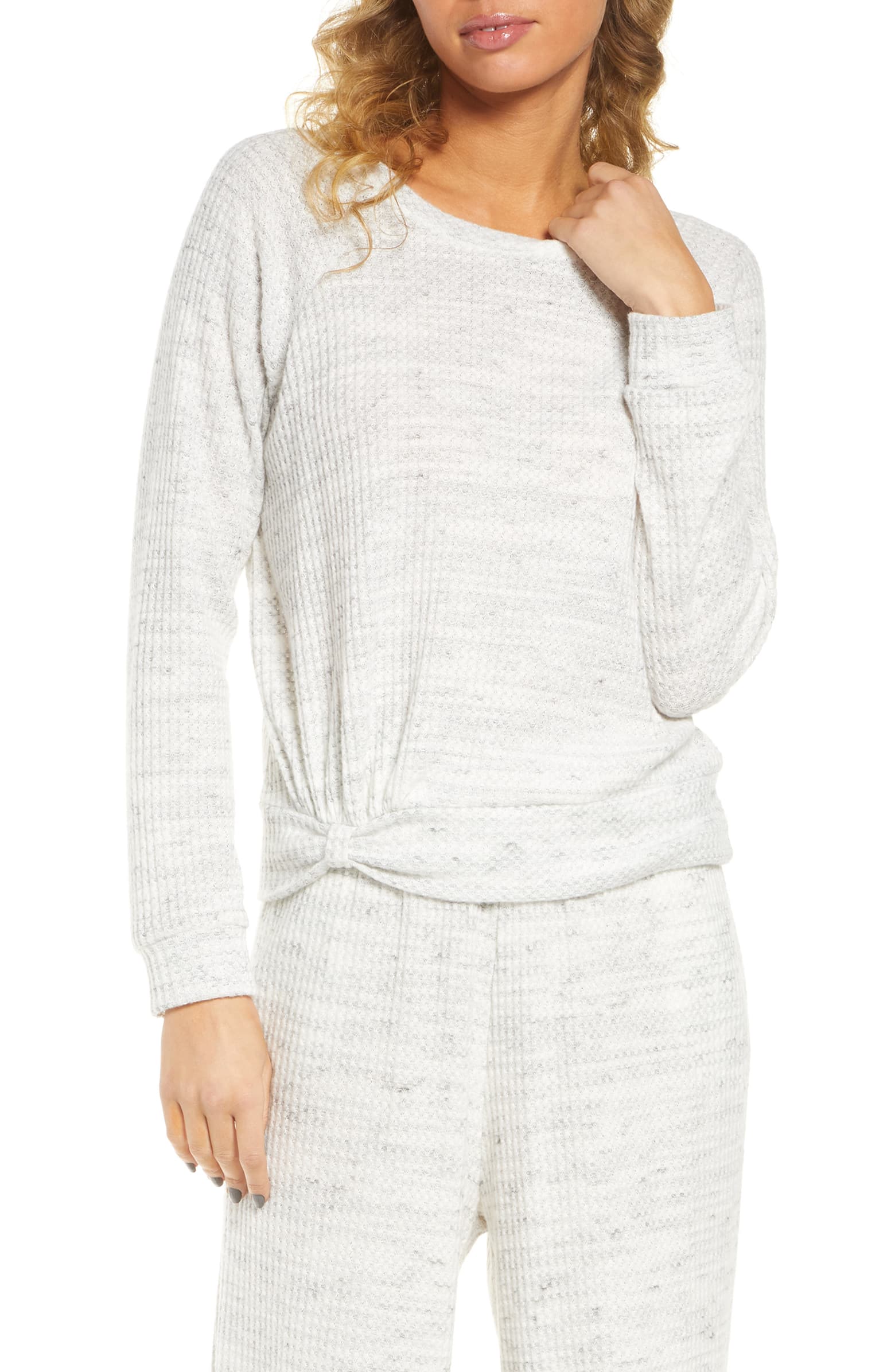 This is such a cute set for eating cheese sticks right out of the deli drawer in your refrigerator while you stand there with the door open trying to figure out what else you want to eat. It's on sale for $33.
And socialite waffle knit wide leg lounge pants are the matching pants with a wide leg which I love.
They're on sale for $37.50.
6. aerie ribbed oversize henley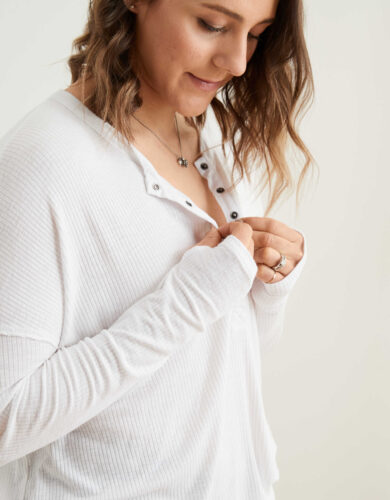 I bought this back in the fall and wear it all the time under cardigans, sweater coats, a denim jacket and just by itself. It is so soft and oversized and will not judge you for eating a whole bag of brownie brittle in one sitting. It's on sale for $23.97 and comes in several color options.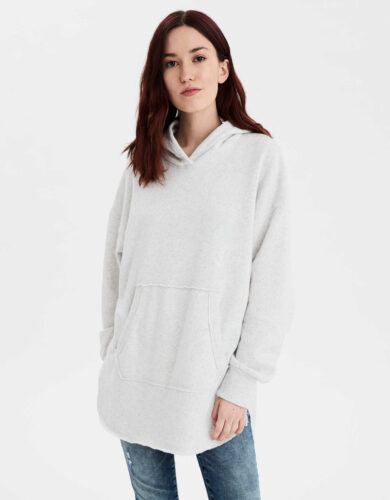 I ordered this after I featured it last week and it arrived yesterday. It's been hot and humid here but it's cooling off this weekend and I will wear this non-stop. It's like being in a snuggie but in clothing form. It's on sale for $26.97 and also comes in a pretty lavender that would be perfect for Easter morning when you're watching church online.
8. ae fleece oversized sweatshirt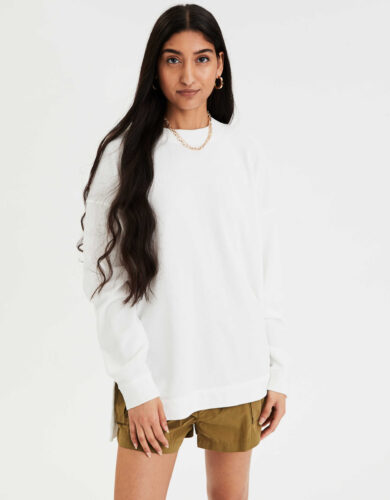 This is another great oversized sweatshirt that's long enough to wear with leggings. It comes in a bunch of color options and is on sale for $26.97.
Because we all need good vibes right now. This is on sale for $25.50.
10. halluci cross band plush house shoes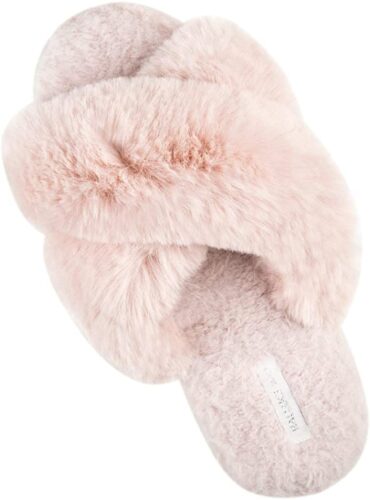 These have memory foam soles and are so plush and soft. They are $23.99 and come in several color options. If you're between sizes then I'd size up. These have basically replaced my actual shoes these days and I'm not mad about it.
That's it for today.
Hope everyone is doing well and staying safe and semi-sane.
Have a good Friday.
Copyright secured by Digiprove © 2020