On Monday it was cold and rainy here. The kind of cold and rainy that inspired P and I to go eat breakfast at our favorite little breakfast place after he dropped Caroline off at school. Of course it also may have had something to do with the fact that he opened up the refrigerator and discovered we were out of eggs. I'd used our last egg the night before when I offered to make ham and eggs for Caroline for dinner and then had to inform her that it was just going to be ham and egg. Singular.
He was all fired up for a good breakfast and that's a hard thing to come by when you're out of eggs. And bacon. And basically any manner of food items that pass for breakfast food when you consider that I gave up eating frozen pizzas for breakfast shortly after college.
So we went out for breakfast, drank coffee and watched the monsoon outside. All the rain made me lament the fact that I am not the owner of some super cute rainboots. Granted, since I live somewhere that's experienced record drought conditions for the last two years, buying rainboots fell pretty far down on my to-do list. Right behind getting a pet ferret and painting the trim in the master bath that's been bare for six years.
I suggested to P that we go to Target after breakfast because I could get rainboots, he could get a raincoat, and we could buy enough groceries to get us through until I could make it to HEB. To my complete and utter shock, he agreed on the trip to Target. We ran through the rain, got in the car, and he looked at me and asked, "Where's Target?"
It's like we are two strangers living under the same roof.
Once we made it there, I immediately found an umbrella but, alas, they had no rainboots or rain coats. Oh Target, how you disappoint me on occasion. We headed to the grocery section where, I kid you not, P put three cases of water, six boxes of granola bars, and five things of Degree Antiperspirant for men in our cart. And I vowed then and there to never allow him to see the inside of a Sam's Club. He is powerless to resist discount pricing.
Anyway, once we got back in from the cold and rain without new rainboots or rain coats, I began to seriously crave some tortillas soup. And, sure, I live in San Antonio and I could get tortilla soup at about twelve different restaurants in a three mile radius, but I wanted to make homemade tortilla soup.
So I did exactly what Caroline Ingalls would have done back in the olden days and twittered (sent out a tweet? tweeted?) asking if anyone had a good recipe for tortilla soup.
And anyone who says technology isn't useful is wrong because I suddenly found myself with dozens upon dozens of tortilla soup recipes to choose from. Thank you, internet.
(Does anyone claim that technology isn't useful? Other than maybe the Amish? Who obviously don't care about eating great tortilla soup?)
My original plan was to eventually make all the various recipes and report the results here because who doesn't love a tortilla soup taste test? I mean other than the Amish and people who think technology isn't useful?
But then last night I made the recipe that Antique Mommy emailed to me. It's a recipe for the tortilla soup the chef makes at The Mansion at Turtle Creek in Dallas. I chose to make it first for two reasons:
1. The Mansion is a really nice restaurant and people in Dallas aren't going to put up with some slop disguised as tortilla soup.
2. The recipe contains tomato puree which told me that the finished product would be reddish-orange in color which is exactly what I have spent my life, or at least Monday afternoon, hoping to find. I didn't want just a bowl of chicken broth with a few sad pieces of avocado floating in it.
So I made it last night and, honestly, I don't know that I'll ever make another tortilla soup because there is no way that any of them will compare with this one. P ate three bowls of it and y'all know he never does anything to excess except for purchasing cases of bottled water, car wash supplies, Degree deodorant, Kashi granola bars, York Peppermint Patties, and any sort of weaponry and ammunition.
All that to say, I'm sharing the recipe with you because it is delicious and easy and it may have changed my life a little bit. None of which can be said about owning a pet ferret.
Tortilla Soup from The Mansion
3 tablespoons olive oil
4-6 corn tortillas, diced
1 tablespoon of minced garlic
4-5 tablespoons of chopped cilantro (I used a little less because cilantro and I are on sketchy terms)
1 tablespoon of cumin
2 tablespoons of chili powder
Saute all of the above until tortillas begin to crisp.

It will look like this: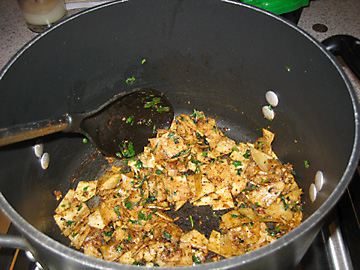 Add the following to the above and simmer.
1 cup onion puree (per Antique Mommy, I diced a small onion and pureed it in the food processor)
1 large can (29 oz) of tomato puree
2 quarts of chicken stock
Salt and Pepper to taste
Cayenne Pepper to taste (I went with a fair amount of cayenne because we aren't a bunch of Nancy boys)
To serve: top with any or all of the following: diced grilled or baked chicken, avocado, shredded cheese, crisp fried strips of corn tortilla.

I knew that I'd need to add chicken to my version because P is of the belief that vegetables are what food eats. He needs meat. So I bought a rotisserie chicken from HEB.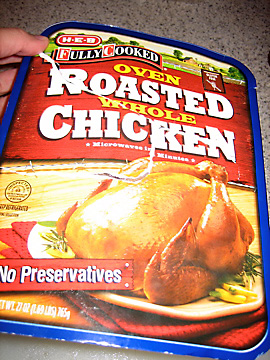 And when I went to check out, Lynette was bagging my groceries for me and held up the rotisserie chicken and said, "GIRL, you got to REPRESENT with the cooked chicken. It's about workin' smarter, not harder".
Amen, Lynette. REPRESENT.
I diced the chicken, threw it in the pot, and served the whole thing with an array of options to customize the soup-eating experience: diced avocado, monterey jack cheese, sour cream and fried strips of corn tortilla.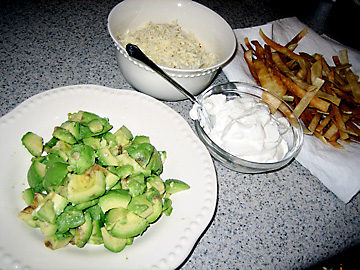 And in the end, my bowl looked like this.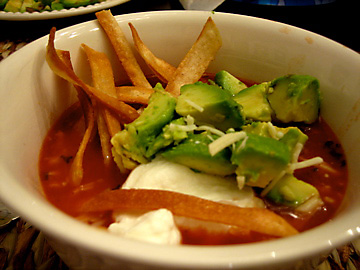 By the way, I fried those strips of corn tortilla myself.
Because I wanted to REPRESENT.
***Edited to add that you can just dice the onion into really small pieces if you don't have a food processor or a blender to puree it.
***Also edited to add that to fry the corn tortilla strips, you just need to buy a package of corn tortillas, cut them into long strips. Heat up oil in a skillet and then fry the strips until they are crispy and a little brown.