On Monday morning I felt like we officially slipped into summer mode. Caroline had only been out of school two days when we left for our vacation to Florida, then we started Vacation Bible School the next week, and followed that up with a week of soccer camp. We have been very busy having all the fun, but at some point last week I realized that we needed to slow it down a notch or there was a good chance I'd end the summer either A) Flat Broke B) Checked in to some kind of mental institution or C) Both of the above.
We do not have one single commitment over the next two weeks unless you count eating a lot of hot dogs to celebrate the Fourth of July. But I don't really consider that a commitment as much as our obligation to perpetuate the American Dream, assuming that dream is potential health problems from eating too much processed meat cooked over carcinogenics washed down with a slice of apple pie.
The point is we ate dinner with some friends on Sunday night and stayed out late because we could. (I'm sad that my definition of late is 10:30, but I need to own my lameness.) And then, GLORY HALLELUJAH, Caroline slept in until 9:55 a.m. on Monday morning. When she finally woke up I hugged her to me and whispered, "I have never loved you more than I do right now." because 9:55 a.m.? It surpassed all my hopes and expectations for Summer 2010.
Then yesterday morning she slept in again. Granted, it was merely 9:00 a.m. but it was enough to make me wish I could travel back in time to visit myself circa August 2003 and let me know there was hope for the future.
Anyway, after we woke up I called my friend Julie and told her we were ready for her to drop S off at our house. Julie is in the process of moving to a new house (and hopefully getting a DVR) and Gulley offered to take her boys for the day and I'd told her we could keep her daughter, S, who is one of Caroline's best friends.
Gulley and I decided it would be a brilliant idea to just take all the kids to the pool because how hard could it be for the two of us to watch six kids? As it turns out, on the scale of difficulty it ranks somewhere between reasoning with an inebriated goat and fitting into your skinny jeans during a certain time of the month.
Oh I kid.
They were delightful. Look at the sweet angels sent straight from heaven.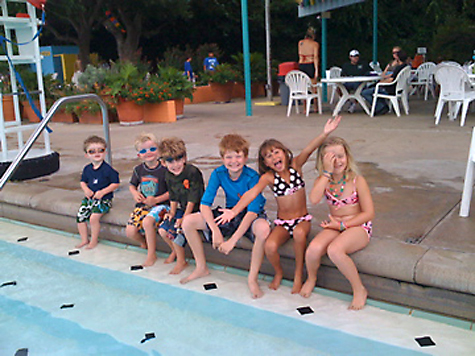 (Whose kid is the camera hog in the polka dot swimsuit?)
I took that picture right after we finally got them all sunscreened up and ready to swim, only to have the lifeguards blow their whistle announcing ten minutes of Adult Swim. So they all sat there patiently and only asked "How much longer?" sixteen or eighty-four times until the whistle finally blew again to signal Adult Swim was over.
And about five minutes later the sky opened up, the whistle blew again and we ran for cover as the rain began to pour. Well, Gulley and I ran for cover. The rest of our group embraced the rain and stayed out in it the whole time.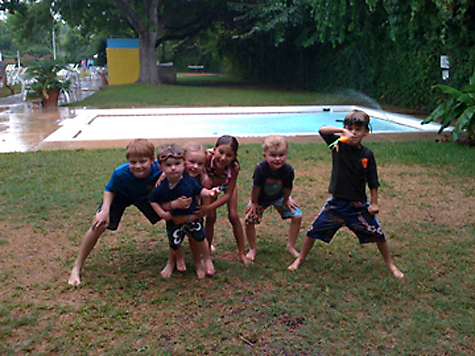 After a few rain dances and a round of ice cream, the rain stopped and we all swam for the next few hours. The original plan was to eat dinner at the pool, but S and Caroline voted to go back to my house and order Papa John's Pizza instead. So we did.
And then I spent the next few hours giving multiple pedicures the same sets of fingers and toes because "Oh, I wanted polka dot toes!" and "Oh! I didn't know we had PURPLE POLISH! I want the PURPLE POLISH!" and "Oh man! I just messed mine all up. Can you redo them?"
All I know is that all this summer relaxation is about to wear me out.
__________________________________________________________________
Don't forget that today is your last day to enter for a chance to win a $50 gift card from BlogHer as part of the Tropicana Juicy Rewards program. Click here to enter.