Y'all.
I was just sitting here with two Double Chocolate Milano cookies and all of a sudden one of them went missing. And then I came to the sad realization that it wasn't actually missing, but I had just eaten both of them in a span of time that couldn't have been any longer than two seconds.
I think I have a problem.
(Wait! As soon as I typed all that out, I looked up and saw the second Milano sitting on the coffee table. I am so relieved to know that I'm not eating cookies unaware. I feel relieved. And vindicated.)
Earlier this week I mentioned that I'd gone boot shopping with my friend, Paige. What I didn't mention was that Caroline managed to score herself a pair of boots while we were at Cavenders. We'd been talking about buying her some real cowboy boots for awhile because the little pink fake ones just weren't cutting it anymore. And so she ended up with a pair of brown cowboy boots with a touch of pink and brown animal print. I'd be lying if I said I don't covet them just a little bit.
As fate would have it, this past week has been Red Ribbon Week at her school and every day has been a different type of dress up day. Tuesday was Wear Your Favorite Shoes day and, naturally, she wanted to wear her new boots. I suggested she wear them with her skinny jeans tucked in so you could see the pink and brown animal print on her boots.
However, she was dubious of my suggestion and decided to try it all on to see how it looked. I'll tell you how it looked, IT LOOKED DARLING. But she wanted to try them on with her bootcut jeans over them to see which look she liked best. I told her it looked cute either way, but I preferred the jeans tucked into the boots.
She looked right at me and said, "I'm going to go ask my Daddy what he thinks".
So she ran outside to find P in the backyard and came back in and announced, "Daddy thinks the jeans look good over the boots. I'm wearing them like this."
Yes. Why not take fashion advice from a man whose wardrobe consists of six Columbia fishing shirts in two different colors? Why would you listen to your mother? Your mother who writes about fashion ON THE INTERNET?
The Bible is so right. A prophet is not honored in his hometown.
The bulk of today's post is all about cowboy boots because several of you wanted to know more about buying boots. But I did happen to find a few other cute things because I always do.
1. Cowboy boots
Finding the right pair of boots takes time. That's the first thing you need to know. Sometimes you have to kiss a few frogs to find your cowboy. I mean, to find your cowboy boots.
Finding your cowboy is a whole different kind of post.
Secondly, a good pair of boots should be viewed as an investment piece. Good boots are going to be a little pricey, but they will never go out of style and they just get better with age.
Kind of like cowboys. But, again, that's a whole different post.
I would recommend that you go to a good western wear store in your area and try on several different kinds of boots to see what you like and what fits best. All boots are not created equal. But if you live in some horrid place that doesn't sell any type of western wear, then you can always order online until you find the right pair. You just might want to find a site that offers free shipping and returns.
All that being said, here are some boots that I happen to adore. Honestly, I could wear my cowboy boots every single day. Except in the summer because that would be ridiculous. But, other than that, I could wear them all the time because they really are the most comfortable shoes I own and I can wear them with just about everything.
Let's start with these Old Gringo Turquoise Diego boots.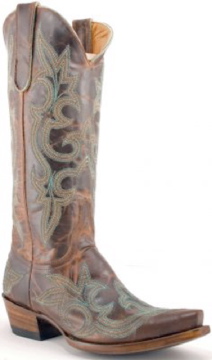 And these Old Gringo Volcano Brass Bonnie boots.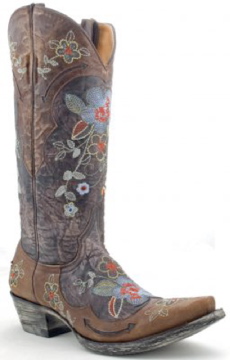 While we're focusing on Old Gringo boots, you should know that I also love these chocolate ones with embroidery and this pair with floral embroidery.
But there are plenty of other good boots to be had. Like these Corral boots with turquoise inlay or these Prairie boots with hot pink stitching. If you're really feeling sassy, how about these Calamity Jane boots in red?
You can never go wrong with a pair of Lucchese boots.
Or you could always go with something simple like these Frye Carson Pull On boots.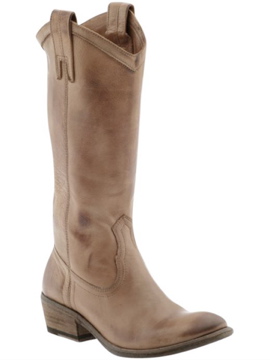 And if you're looking for a bargain-priced boot with some western flair, then you can't go wrong with these Jessica Simpson Rosanna boots or these Roper Western boots or these Mia Western boots.
All I know is that if I'm ever invited to sing at the Grand Ol Opry, I'm buying these.
I probably don't need to start saving up my money.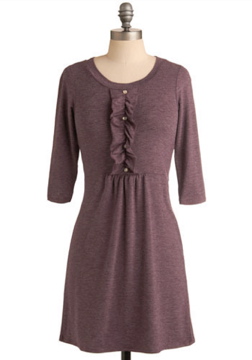 I like this because it falls in the category of dresses that can be worn with leggings or over a pair of jeans. Plus, for you fellow Aggies out there, doesn't it kind of look maroon? I think it could totally pass as game day apparel.
It's plaid. It's flannel. It has a ruffle. What's not to like?
I have long been intrigued by the fur vest. I think I can trace it back to my childhood and all the happiness I felt when my Me-Ma and Pa-Pa bought me my very first patchwork rabbit fur jacket. Oh it was something special.
There are many fur vests out there, but I thought this one was cute because it's white and I could just picture it with jeans and cowboy boots.
I adore this coat. And it doesn't hurt that everything at Ann Taylor Loft is 30% off right now. EVERYTHING.
Which means you could use the money you save on that coat to buy this striped cowlneck sweater. That's just basic economics.
And now I'm off to spend the day helping my friend, AJ, shop for a dress. Only one of us actually likes shopping and it's not the person who needs a new dress. The last time we went shopping together ended with me yelling, "YOU HAVE TO WANT IT" as she struggled to pull a Banana Republic dress over her head.
Pray for me.
Or maybe you should pray for her.
Y'all have a good Friday and a Halloween filled with all the non-lame candy.