I've recently designated Thursday as my day to stay at home all day long while Caroline is at school. I've discovered it's a great way to make sure I get things done around the house, like cleaning or checking Twitter or sitting on the couch and catching up on my DVRed programs. It's good to have goals.
The only problem is I pick up Gulley's boys from school every Thursday. And every Thursday I show up in some version of sweatpants and a "vintage" sweatshirt because I've just been at home all day. I told Gulley yesterday that I'm afraid there are going to be some ugly rumors about why she allows a woman with limited hygiene goals to pick up her children once a week.
Then, last night, Caroline and I were waiting in the drive-thru line at Chick-Fil-A and we could see through the windows into the actual restaurant. Caroline said, "Mama, I can't help but notice that one of the girls that works in there is having a bad hair day".
I looked up and immediately knew who she talking about.
And then I caught my reflection in the rear view mirror and decided that those of us who live in glass houses shouldn't throw stones through the windows at Chick-Fil-A. Or something like that.
I do make the effort to put on makeup and look presentable on the majority of the other days, but I need my Thursdays. So, if you ever see me on Thursday, please be kind.
1. avery washed leather moto jacket
This is a great time of year to find a really cute jacket on sale. Thus, I present a really cute jacket on sale.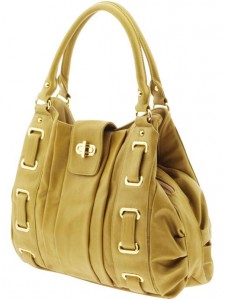 I seriously debated buying this bag in black back in the fall. It is so much better in person than in the picture. And I adore the mustard color. It's the perfect accent for almost any outfit.
Love, love, love this scarf. And it's a great price.
4. calvin klein skirted wool blend coat
See? Another cute coat on sale.
I really need to buy myself a new coat.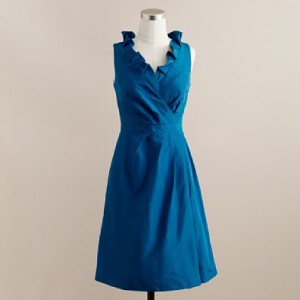 I really like this dress and it comes in a variety of colors. In fact, it comes in so many colors that I would have a hard time making a choice.
6. jingo wrap
I love these Jingo wraps by Lucky. They're made out of really soft cotton and are the perfect layer to throw on over jeans and a t-shirt.
7. kut from the kloth knit jacket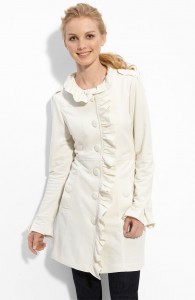 Another cute jacket on sale. Am I being repetitive?
8. wavy colorblock sweater top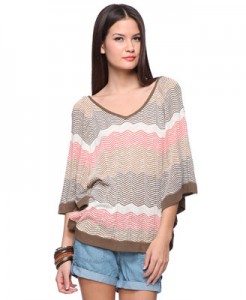 I can just see this top with a great pair of wide-legged jeans and some wedge sandals.
I'm always on the lookout for a denim skirt. And I have yet to find one I really like. However, the buttons on this one may be calling to me.
Okay, I'm going to let y'all on in a little secret. Ebay can be a great place to find jackets and coats from Anthropologie for less than you would pay in the store.
Unfortunately, Ebay lacks the ambience of the actual Anthropologie, but you can't have everything.
And this coat is still expensive, but I love it so much that I wanted to share it with y'all. Maybe someone might buy it and I can live vicariously through them.
11. angel face top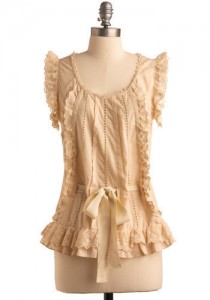 Adore.
12. yantra tee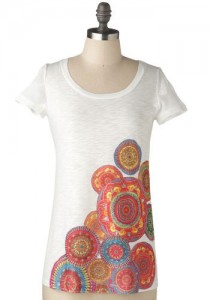 I am always on the search for a great t-shirt. But I think great t-shirts can be hard to find. They're as elusive as a television show that P and I both enjoy.
(As he sits next to me watching The A-Team for the third time in four days. I pity the fool. And myself.)
This one is really cute and I'd love to wear it with jeans and a bright scarf.
That's it for today.
Y'all have a great Friday.