I'm still not entirely sure where the time has gone since January. Honestly, how is it March? How are we just one week away from Spring Break? More importantly, what did I do during January and February?
But since my desk calendar and my iPhone have provided indisputable evidence that it's March, I realized it was probably time to talk about trends for spring and summer. Even though I know it's still -3 degrees where some of you live. This will just give you something to look forward to. I promise the sun will shine again one day.
So, I'll highlight five trends this week and five next week. Or maybe a few less next week depending on how many trends I dig up.
1. bright colors
What says spring like bright colors? I mean besides the pollen, the allergies, the constant sneezing and the soccer games at the crack of dawn on Saturday mornings?
This is the number one item I'd like to add to my selection of bright colors. And trust me when I tell you that I could use a few bright colors to lighten up all the gray and dark gray and black that currently reside in my closet.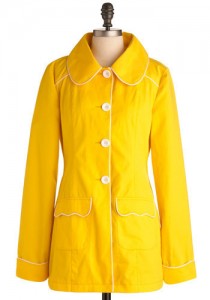 That yellow-so-cute coat is on sale for only $23.99 right now. TWENTY-THREE DOLLARS. That's insane.
But maybe that coat isn't for you. Maybe you have a heart of stone that can resist an adorable yellow coat for only $23.99. If so, I'll suggest something like this central park west sleeveless dress or this bobbie tunic in magenta.
Or maybe you might like this glanz dress from Anthropologie which is the clothing equivalent of floating in a beautiful pool.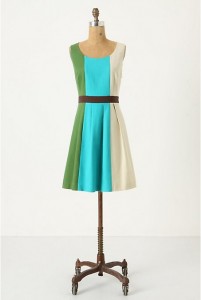 I also love this drawing parallels skirt in green.
Oh, and I DIE for this ruffle knit maxi in coral.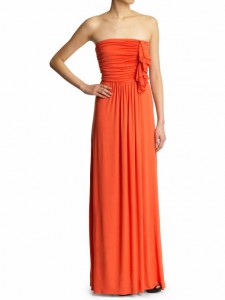 And Old Navy has these great gauze flutter-sleeve tops in lemon or fuschia that would be the perfect thing to throw on all summer long.
2. stripes
Stripes are everywhere. And they come in every size, shape and color.
Personally, I have fallen in love with the kingston road dress from Anthropologie.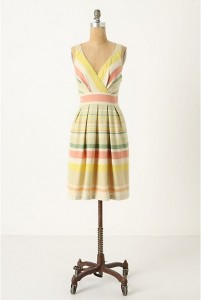 Stop. It's too much.
But there are so many other versions of the stripes to be had. Like maybe this mixed rugby stripe tunic or this rosette striped slub top.
Or maybe you only weigh 98 pounds and could get away with this striped cassidy maxi dress.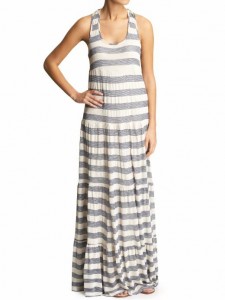 I love this striped boyfriend tee. It would be the perfect thing to throw on all summer long.
And this gondola romance ruffle top is perfection. I saw a similar top at Charming Charlies last week but I can't link to it because Charming Charlies doesn't put the majority of their stuff online which is a crying shame.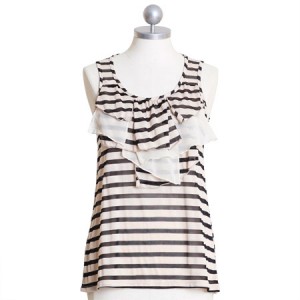 I also really like this striped dolman top.
3. 70's chic (Please read this as "chick" because it will make me happy.)
This is my love language. Maybe it's because I was born in 1971 and spent many years of my childhood wearing bell bottom jeans and patchwork tops and clogs that had to be resoled from all the wear, but this is my favorite genre of clothing. And I don't even know if clothing has a genre.
All I know is this makes me want to put on my bell bottoms, flat iron my hair with a part straight down the middle and pull up to the television to watch an hour of Sonny and Cher. Or maybe to ride in my Nanny's Cadillac while talking on her CB radio and pretending to be in Smokey and The Bandit. Those were good times.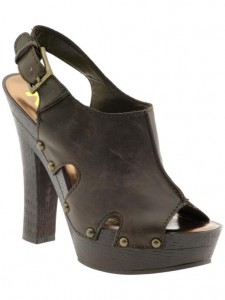 Naturally, you can't do 70's chic without platform sandals like these Sadie by Rocket Dog or Taylor by Kensie Girl platforms. Love them both.
And the wide leg is back baby. It's back. And it's more groovy than ever. I adore these 7 for all Mankind bell bottoms.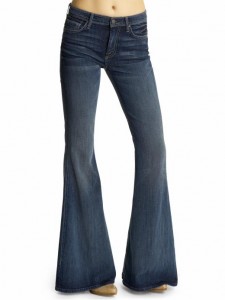 But you can find great jeans anywhere. Check out your local TJ Maxx or Sam's Club or JC Penneys or even Costco. Did you know Costco sells wedding dresses now? They do. They totally do. Which I think is brilliant except for the fact you might experience your wedding dress moment in between a stack of Hanes sweatshirts and an economy pack of animal crackers.
And then there are the tops.
I love this jalisco embroidered knit top.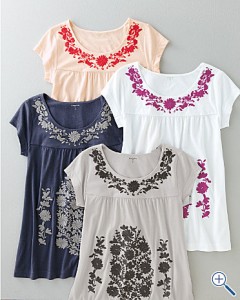 And this pintucked gauze top or paloma embroidered smock top.
This swiss dots and lace blouse holds a special place in my heart.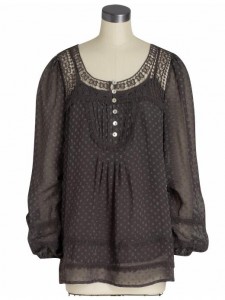 And all of them have the added bonus of being flowy and loose shirts that don't have to be tucked in. Hallelujah.
I think I actually had a shirt in 1978 that looked like this floral print peasant top. I would probably refrain from wearing it with green denim bell bottoms this time around.
The other big key to 70's chic is a maxi skirt like this blu moon almost famous skirt. I can almost hear Kate Hudson singing in the background.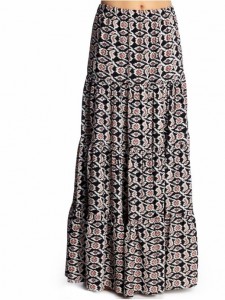 4. whites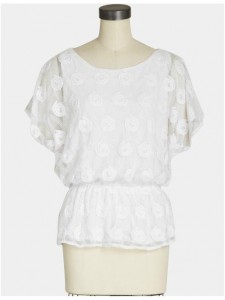 How much do I love that ya-da white lace top?
SO. MUCH.
I would like to take it home and take care of it and never eat spaghetti sauce while wearing it.
I'd also love to own this joie suri blouse which is eight layers of gorgeous.
Oh, and this daniel rainn tie-waist blouse is everything I could ever want in a top.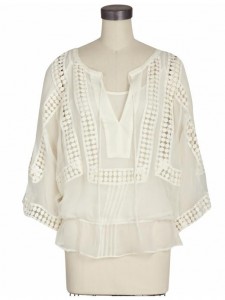 But then there's the maddox tunic top and the free people lace tunic. It's just too much.
TOO MUCH.
And if you don't like any of those white tops, then I have to question your sanity. I'll also point you in the direction of this eyelet skirt from Old Navy. It is the perfect thing to wear all summer long.
5. neutral shoes
I love the neutral shoes because, well, they're neutral. There is something so comforting about a pair of shoes that can be equal opportunity shoes for everything that's in your closet.
I adore these blossoming in style wedges.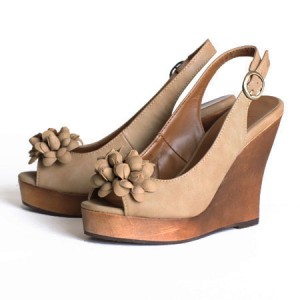 And these pierre dumas sandals are a great flat sandal.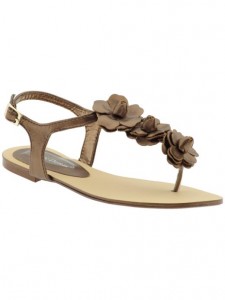 And if you're a ballet flat kind of girl, check out these cutout platforms in taupe or these tan ballet flats from Target.
Honestly, there are a ton of neutral shoes to be found. It's just all a matter of your taste and your high arches and your ability to walk on a wooden platform for extended periods of time.
So that's it for today. Next week I'll wrap it up with the remaining unspecified number of trends.
Y'all have a great Friday.