Oh Ladies. There are some sisters out there crying out for some fashion help. And God love them, I don't know that I'm the answer.
Honestly, I don't even know where to pick up today. But here I go anyway.
Last week I watched "Tim Gunn's Guide to Style" on Bravo. I loved it. I love Tim Gunn and his innate sense of style and elegance. Plus, he gasped at the suggestion of leggings and teared up at the end of the show. What's not to love?
Tim subscribes to the theory that every woman should have 10 essential pieces in her closet. And I kind of agree with that. However, I don't necessarily agree on what those 10 pieces should be.
I don't remember all 10 items, because I don't remember most things that I heard over 3 hours ago, but here's what I recall.
1. A great white shirt
2. A trenchcoat
3. A little black dress
4. A great pair of jeans
5. A sweatsuit alternative
And the last 5 I'm drawing a blank.
Obviously they were very important and relevant.
So, let's start with the white shirt. I agree with him in theory. I see other women in white shirts and I think they look so crisp, so fabulous, so look-at-me-I-have-time-to-iron, but I am not one of those women. In fact, I saw this shirt at Ann Taylor and I adore it.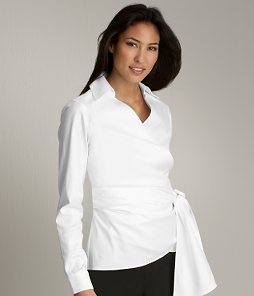 However, the dream sequence version of me in that shirt versus the real version, are two totally different things.
Dream Sequence Me = great hair day, crisp white shirt, laughing and talking with friends at a table in Starbucks
Real Me = I didn't have time to iron this shirt, but I'll wear it anyway because it'll probably end up with a grape jelly stain on it within the next hour and why waste time ironing something that will need to be washed again anyway? Also, picture me tugging and pulling on the shirt, because that wrap feature that looks so cute on the model will either gape open or be pulled open by my child, exposing me to the free world.
I will confess that, over the years, my closet has seen many white shirts come and go. Each season I buy a new one, thinking surely this will be the one that will bring me lasting happiness. So far, they've all proved to be short term commitments. This season, I'm skipping the white shirt.
Moving on to the trenchcoat.
I love the look of a trenchcoat. It's so polished and urban dweller-ish. Sleek and sophisticated. I love the idea of saying, "I'm walking out the door of my loft right now. Let me grab my trench coat."
So, in short, not really a fit for my lifestyle. Plus, maybe it's because I live in South Texas and we don't have these things called "seasons", but I haven't really ever had the need for a trenchcoat. But if I did, this is the one I'd want.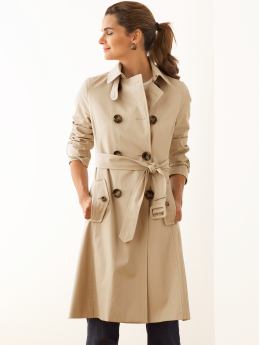 Unfortunately, we don't really have the disposable income for me to buy this coat because I like the idea of it.
But, may I propose the mama alternative to the trenchcoat is perhaps the sweater coat? Still cute, but a little more casual. And definitely more functional. Yet stylish.
Unless of course your trenchcoat includes all the handy features like the one worn by Inspector Gadget. In which case, carry on. (as Tim Gunn would say)
Next up, little black dress. I completely and totally agree. Every woman should have one nice black dress in her closet. If you find the right one, it can truly be an investment piece. Timeless and practical. It can take you from a funeral to a wedding. Even though if you're from the South you were probably raised not to wear black to a wedding. Well girls, it's a new day. If you want to wear black, wear black.
It's so slimming.
Look at this dress.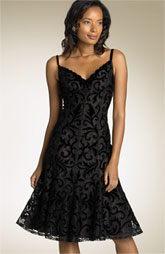 You probably couldn't wear this to a funeral. And really, y'all don't want to know how much it costs. I just had to post it because I think it's beautiful. Please know this dress in no way epitomizes what Tim Gunn probably means by a basic black dress. Think along more simple lines.
Like this.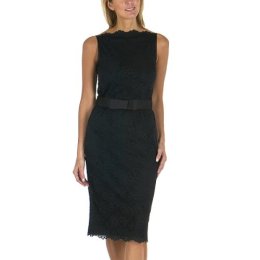 It's from Target and it's $44.99.
I'm not even going to discuss jeans because, let's face it, jeans are a hot, controversial topic. And because of that, jeans will get their very own post later in the week.
Which brings me to, Tim Gunn's next item, the sweatsuit alternative. Wha??? I like my sweatsuit. Why do I need an alternative?
Truly, I was very interested to see what an alternative sweatsuit looked like. Would it have piercings and perhaps some hot pink streaks? Maybe a few tattoos?
Tim's idea of an alternative sweatsuit was a cotton sundress with a sweater type thing thrown over it with some wedge heels. Honestly? It was dressier than what I wore to my last big social function.
And this is where I think the fashion world takes a huge misstep…well, other than gray jeans…isn't there some kind of cute mama wardrobe that is easy and functional, yet doesn't involve elastic waistbands?
I'm going to go out on a huge limb and say that women don't really need a sweatsuit alternative, they need a sweatsuit. There is nothing wrong with wearing some comfortable athletic wear. Tim Gunn doesn't understand that there are days when all you're doing is going to the HEB, trying to manuever a gigantic red racecar, and doling out snacks to an angry toddler, while loading a 75 pound bag of dog food.
It's not the time for an empire waist sundress. Find yourself a pair of yoga type pants and a cute track type jacket and go with it. Here's an example based on my style preferences.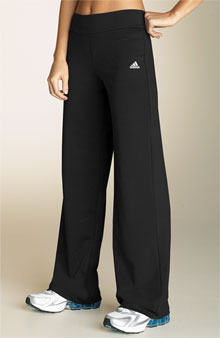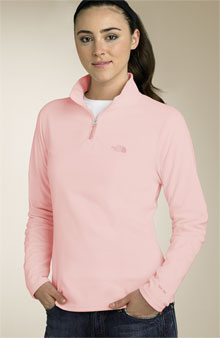 Now, if you're still wearing any type of jogging pant that includes elastic at the ankles, may I suggest that you take a torch to those bad boys and get yourself to Oshmans to look for something a little more modern? Seriously, your circulatory system will thank you.
And no one understands the appeal of an out-of-date tracksuit more than me. My daddy wore a rust-colored, formerly velour, jogging suit up until the pants were at least 2 inches too short. He is a great dresser during the workday, but comfort is key for the weekend. However, ladies and gentleman, he is a cautionary tale of not letting comfort overrule basic common sense.
With that said, I will leave y'all to dwell on the sweatsuit alternative. I'd love to know if y'all have any thoughts on another solution. What do you wear on a daily basis? What's the piece of your wardrobe you couldn't live without?
And don't worry, I'll get to all the questions that have been raised. Before it's all over we'll delve into accessories, including the wide belt. As God is my witness, I won't rest until our fashion issues have been put to rest.