My love affair with jeans started in elementary school with my first pair of Luv-its. They had ice cream cones on the pocket and they looked fabulous with my white roller skates with the lime green wheels.
Enough said.
I had another pair of favorite jeans that got ripped on my swingset. I remember my mama taking me shopping to buy a patch for them. I chose a patch with a cartoon fox and the word "FOXY" written on it. Apparently, I understood the class and elegance the right fashion can convey, even at a young age.
Once I reached junior high, I discovered Jordache and then later, Guess jeans. I can't believe I used to wear jeans that actually zipped at the ankle to create the tightest fit ever. Nothing like creating an ice cream cone silhouette to really flatter a figure.
Denim has been a constant in my life. I love jeans. They are probably the most essential piece of my wardrobe. You can dress them up, you can dress them down, you can cut them into cut-offs and dress like Daisy Duke for Halloween. What other garment gives you those kind of options?
Not many, my friends. Not many.
So, today is the day we will discuss jeans. I have long feared this day would come. The jeans issue is fraught with danger. Everyone has their preferences and their favorites. It's like having children, but with more passion.
With that being said, the opinions stated here are just that. Opinions. They are my personal denim beliefs. The most important thing is finding a pair of jeans that you feel good in, and if I can help even one person accomplish that, then my life will be complete.
Well, not really, but y'all get what I'm saying.
There are several denim options to choose from this season.
Let's start with the skinny jean.
Okay, I'm done.
Stay away from the skinny jean. It is not your friend. Unless you're 6 feet tall and weigh 82 pounds, hence the name skinny jeans.
Next up, the trouser jean. This is a jean made out of a darker rinse denim, but is cut like a trouser. I think the key to wearing these jeans is to find a pair that aren't too loose through the leg and have front pockets that don't jut out at a funny angle. I tried on a darling pair of trouser jeans yesterday at Target.
At least I think they are darling. They didn't have my size, so I had to try on one size larger. But from what I could tell, they are really cute. In fact, I called Sophie and told her about them. She ran up to her Target, tried them on, and purchased them. She said they fit really great.
Best of all, they cost $27.99. Which, for those of you not fooled by Target's clever pricing scheme, is $28.00 plus tax.
So, if y'all need to find me tomorrow I'll be scouring all the local Targets in search of the Mossimo trouser jean in my size. Because I have my priorities straight.
Here's the link to the trouser jean at Target. Please note that they look much cuter in person. This picture doesn't do them justice. In fact, this picture makes them look hideous, but I feel that I must provide the information anyway.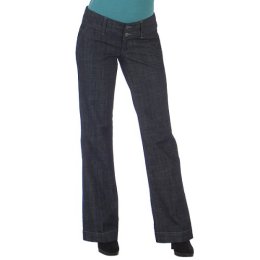 Now, if y'all are looking for just a regular pair of jeans, the sky is the limit. However, here are a few rules you should follow.
1. If the waist of the jeans sits on your actual waist, that's too high. The only button sitting on your real waist should be the one God and your doctor gave you when you were born.
I'm not saying you have to be all Britney and have everything hanging out, that's not good for anyone…especially the people behind you. You can find jeans that are cut lower in the front and higher in the back, which allow you to just say no to crack.
2. If they have pleats, run away. Far, far away.
3. Women with larger bottoms should look for jeans with larger pockets. If you have a small bottom, look for smaller pockets. And do not wear a pair of jeans if the pocket placement hits you below your actual bottom. No one wants to see a bottom on the back of your thighs. It's not a good look.
4. Darker washes are more current. They don't have to be indigo, but you don't really want a real faded wash either. And stay away from the dirty washes. They look dirty.
5. Remember that you can have them altered. If you find a pair that fit great through the hips and thighs, but they're too long, have them hemmed. If you find a pair that fit your bottom, but are too big in the waist, have them taken in. Most of these alterations are minimal and can be done for $10-20. The price of your sanity is worth it.
6. If you find a pair of jeans you like, you may want to buy 2 pairs in different lengths. That way you have a pair to wear with flats or tennis shoes and another pair to wear with heels or boots.
I personally like jeans that have some sort of stitching detail on the back pockets. Maybe it goes back to my childhood days of the ice cream cone pockets, but I think a little stitching detail makes even inexpensive jeans look a little more like designer jeans.
I resisted the allure of the designer jeans for a long time. It seemed ridiculous to pay more than $100 for a pair of jeans. I searched the world over or, you know, the mall, for a pair of reasonably priced jeans. I finally found some that I loved at Abercrombie and Fitch. They were so cute, but had one fatal flaw. They were made out of denim so thin that anytime I bent at the knee, they would rip.
I returned pair after pair of these jeans to Abercrombie and they were always kind enough or stoned enough to exchange them for me. (although they couldn't figure out why I didn't want torn jeans) Finally, I'd had enough. I had to search elsewhere for jean fulfillment.
This quest led to my first pair of 7's for all Mankind.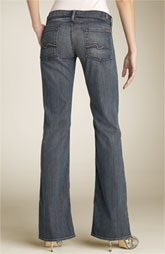 They are pricey, but they are worth every penny. And here's how I justify spending money on jeans, I wear them almost every day. If I amortized their price over a year, they'd end up costing around 50 cents a day.
Fifty cents a day.
I spend more than that on Sour Patch kids.
They feel so good and they have just a hint of stretch. In fact, over time they mold to your body and become better and better with age. Which is good news for me because I bought my pair back when I still had a job and now that I'm on a budget, I may never own another pair.
And here's a hint. If you have a TJ Maxx or Marshall's anywhere near you, you can often find high-end designer jeans for about half price. You have to dig through the racks, but they are there waiting for you to discover them. Also, Ebay can be your affordable high-end designer jean friend.
Now, if you're not as much of a jean person or just need a jean in a lower price range, I like American Eagle jeans.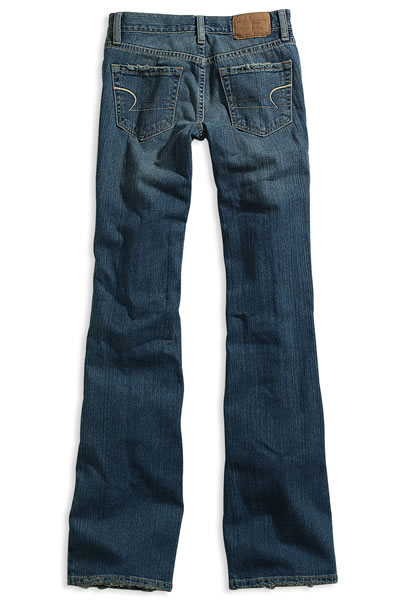 They are about $30.00 and come in a variety of washes and styles. Don't let the adolescent vibe of American Eagle frighten you, I promise the jeans are a good buy.
And trust me, you're better off walking into American Eagle than Abercrombie these days. The stench of cologne (at least I think it's cologne) billowing from Abercrombie will cause you to pass out before you even clear the doors.
Mossimo at Target also has a premium denim line and there are some cute styles.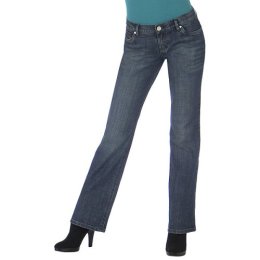 And a lot of people swear by Gap jeans.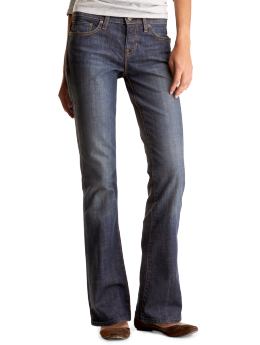 But for me personally, Gap jeans haven't worked for me since about 1994. I don't know what happened. I try them every year thinking maybe they've changed, but alas, it appears this will be a permanent separation.
Oh, and don't forget Old Navy.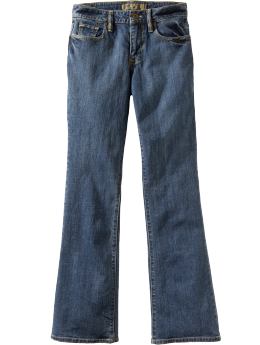 Old Navy has some decent jeans, however, I will caution y'all that the quality isn't always the greatest, so don't go looking for a long term jean commitment. You're going to get about one season out of them. Don't fall in love or you will get your heart broken.
A few last things for today.
Jeana at Days to Come asked about stretch cords. I think a cute stretch cord can be a great denim-type every day option. One of my favorite winter outfits is my camel-colored cords with a denim jacket and boots. And a shirt. I wear a shirt under the denim jacket.
And don't forget a cute denim skirt. Kit mentioned that she has a great A-line denim skirt and I am envious. I have long been on the quest to find a good denim skirt that hits right above the knee, but it is like the mythical unicorn. It has alluded me.
Also, J. Fergie from Mama Law mentioned cargo pants as a sweatsuit alternative. Great call. I love cargo type pants. They look great paired with a hoodie or a cute t-shirt. Plus, you can wear them with flip-flops or tennis shoes. They are what you call, versatile.
I know this is a lot of information, perhaps not all of it, or even most of it useful. The quest for jeans is not to be taken lightly, ladies. Everyone knows a good pair of jeans are the key to true happiness.
Just remember, perseverance pays off. And once you stumble upon that perfect pair, you might want to buy a few pairs of them. Good jeans aren't like streetcars, they don't come along everyday.
And if y'all have a brand you recommend, mention it in the comments. We've all got to work together.
Stay tuned for tomorrow when I will address various questions and concerns that have come up in the comments this week.