Here's what you need to know about our weekend. We experienced the mythical and elusive Easter Bunny/Tooth Fairy exacta on Saturday night. (I wish I could say trifecta because that sounds better, but that would have required Santa Claus or our door guy showing up.) The Easter Bunny even left a note letting us know he ran into the Tooth Fairy in the hallway of our house. What are the odds?
(The Easter Bunny also signed his note, "Hoppy Easter!" because he/she is hilarious. It was a real crowd pleaser. And by crowd pleaser, I mean Caroline thought it was the best thing she'd ever read.)
It all started on Saturday morning. We were on our way to Caroline's soccer game when she mentioned that her remaining front tooth was bleeding. P and I kind of blew it off because the tooth hadn't seemed that loose the day before and he told her to leave it alone since "the middle of a soccer game isn't the best time to lose a tooth".
And then she lost her tooth in the middle of a soccer game.
I noticed that she kept messing around with her tooth during the first part of the game as opposed to, oh I don't know, trying to score goals. Then right after half time, she was running down the field when she suddenly stopped and yelled to P, "DADDY! MY TOOTH JUST CAME OUT!"
He sent her over to me. She looked as if she wasn't sure if she wanted to laugh or cry, but ultimately handed me the tooth and ran back on the field to the cheers of the crowd. After the game she told me that she was running down the field, put her tongue behind the tooth, it popped out of her mouth and she caught it in her hand. I so appreciate her cat-like reflexes even though I can assure you that she doesn't get them from me, especially considering that I watched a wooden cutting board fall on my foot yesterday and couldn't get out of the way.
(My foot appears to be fine, by the way. Bruised, but fine. I did, however, have to ask for forgiveness for my thoughts toward the cutting board and the cookie sheet that propelled it onto my foot. And the white hot fury that tempted me to throw it across the kitchen.)
After the soccer game/tooth drama we came home and dyed Easter eggs.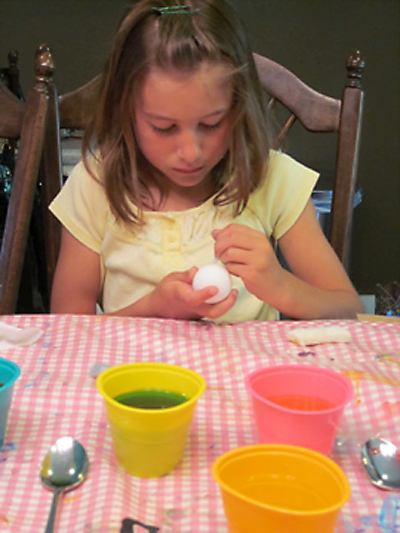 We took it very seriously this year. As opposed to years past when the goal was to dunk each egg in as many different colors as possible until they all were a color that can only be described as tie-dyed mud.
On Saturday night we spent time with some friends and got home a little late. Fortunately, the Easter Bunny and Tooth Fairy had indulged in plenty of caffeine throughout the day so they could complete their appointed rounds. Just like the postman, but without the slew of Boden catalogs I get in the mail EVERY SINGLE DAY.
And ALL THE EXCITEMENT resulted in a Sunday morning wake up call at around 6:00 a.m. But if Jesus can rise from the dead bright and early on Sunday morning, certainly I can make myself get out of bed. Especially since I was being dragged by a toothless seven-year-old.
She had already found the money left by the Tooth Fairy and ran into the living room to see what the bunny had delivered.
That'll do, Pig. That'll do.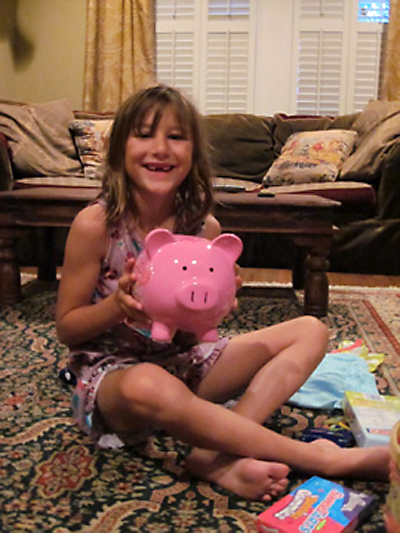 Also, please notice the freaky shadows cast on my walls by the animal mounts. Nice.
And then the search was on for hidden eggs.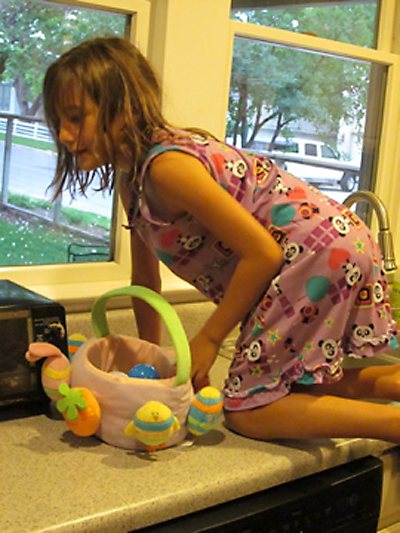 It required some thought and effort. The Easter Bunny upped his/her game this year.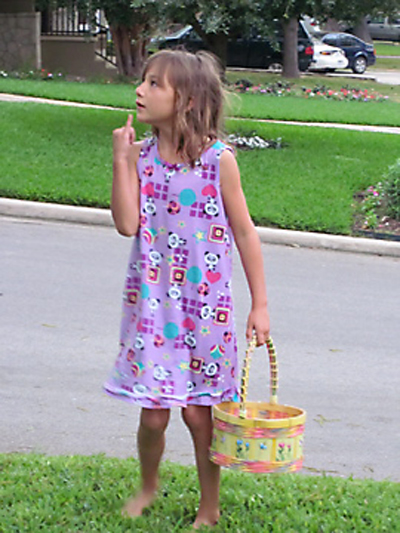 After all the eggs were found, it was time for a nutritious breakfast of chocolate bunny ears.
We all got dressed and headed to church. Unfortunately, in my rush to get Caroline and I both looking presentable, I forgot to zip up the side zipper on my dress. A fashion faux pas I didn't notice until AFTER Easter brunch. Classy.
And now, a million pictures of the day. You can be like Caroline and ask, "WHEN IS THIS GOING TO BE OVER?"
Look how cute they are.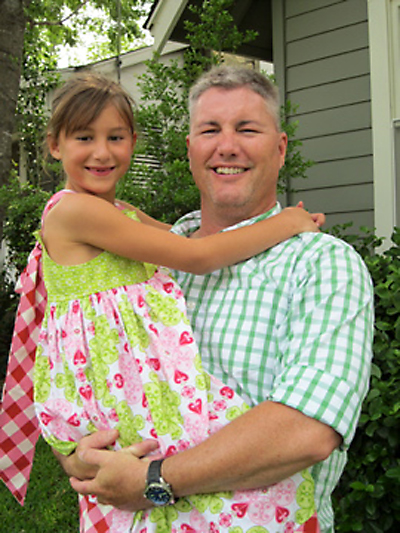 And look at what I had to endure before I got that picture.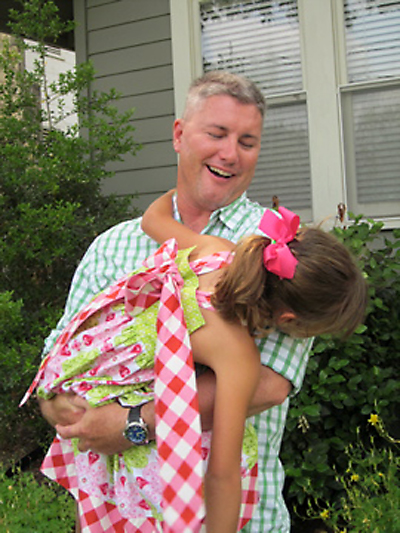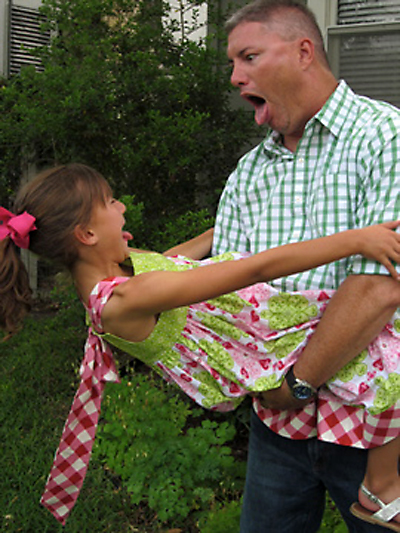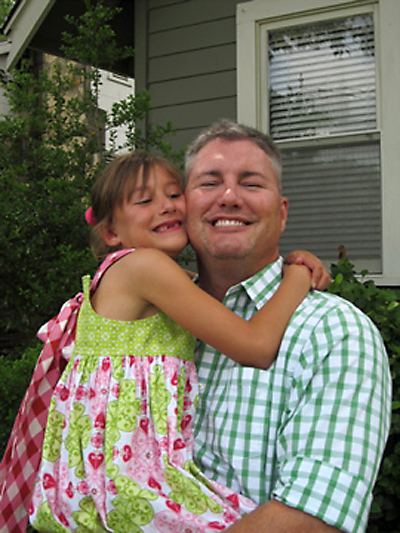 Also, I discovered it's not as easy to hold Caroline as it used to be. I'm seconds from falling over.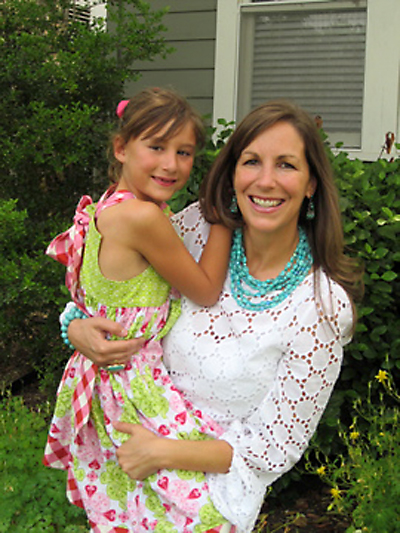 My delicate Easter flower.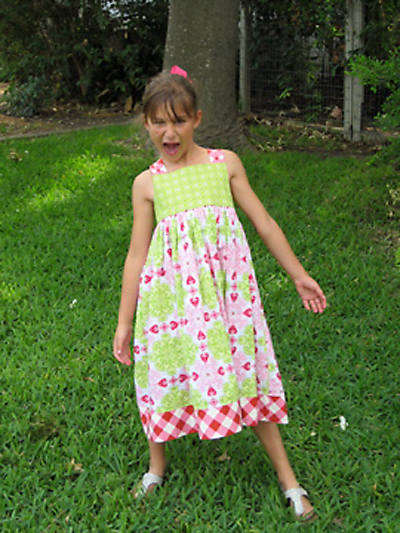 Mimi and Bops and my sister and her family came over for Easter brunch. And guess what? We took more pictures.
Do you know how hard it is to get a picture of all three kids looking at the camera at the same time? If it had been a test, I would have failed.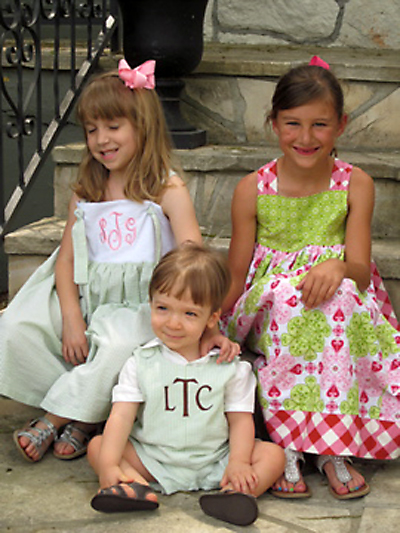 Then the cascarones (confetti eggs) came out.
It was shortly after this picture that I found myself with a hair full of confetti. It should all be out by sometime in July.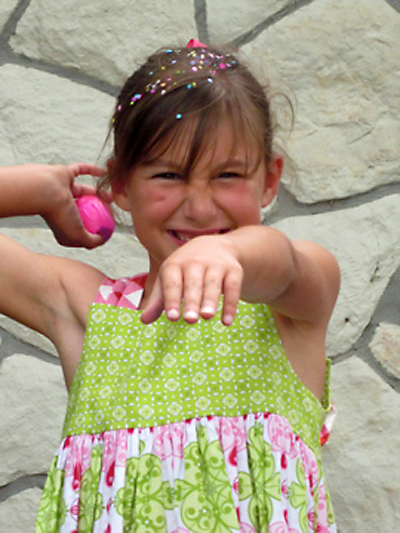 Not even Luke was safe.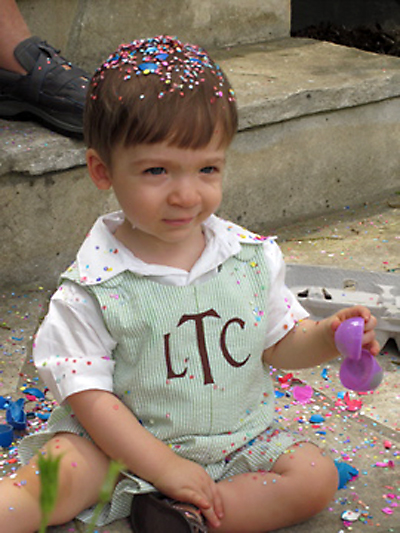 The day ended with some high level Easter egg negotiations.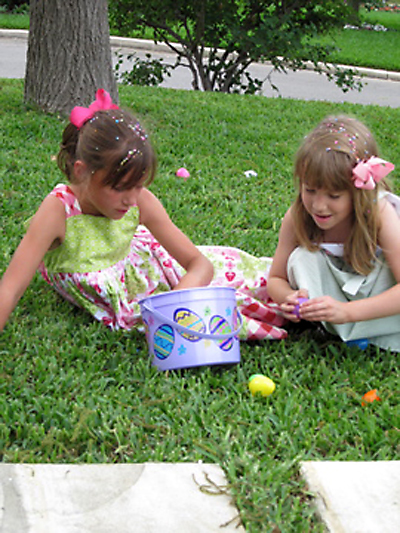 It was such a fun day. I totally understood when Caroline said last night before bed, "I WISH IT WERE EASTER AGAIN TOMORROW."
While she's at it she may want to wish for her two front teeth.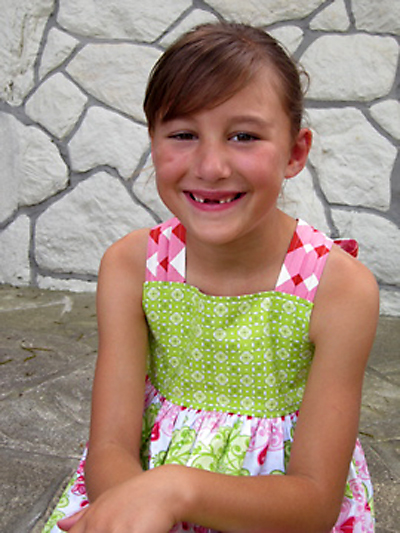 Copyright secured by Digiprove © 2011