Well, this is a sad day.
I feel like I've forgotten how to construct sentences over the last three days and, therefore, actual paragraphs may be entirely out of my reach. I'm not sure what has happened, but it would appear my brain has officially gone over to the summer side.
My point is this may officially be the blog post that describes how I did my laundry and separated the whites from the darks and, OH, did I mention that I washed a tube of Chapstick and a Kit Kat?
(Just so you know, the Chapstick washed fairly well. The Kit Kat? Not so much.)
So it's been a busy few days around here. On Friday night, P went hog hunting because a group from our church is heading to Joplin, MO this week and wanted to provide some meals while they are there. And P is always willing to shoot something for a good cause. Or even no cause. He's not really particular.
While he was out hunting and gathering, Caroline and I went to eat Mexican food with Mimi and Bops and my sister and her family. And then we came home and watched some truly terrible animated movie that she found at Redbox. I can't even remember the name and, trust me, you don't want to know. I guarantee you haven't seen it. And if you have you don't want to be reminded.
Saturday morning we all slept late. Which means P slept until 7:30 and Caroline and I slept until 9:45. We had a lazy morning around the house and ended up at the pool later that afternoon. We didn't order any food, but we did get popsicles since they are pretty hard to screw up. Later that night, we went to a post-wedding party for our friends Stewart and Hannah who got married two weeks ago. We had the best time hanging out with friends we haven't seen in a long time.
(Also, total side note but Stewart and Hannah got married by the river, flew off to Greece for two weeks for their honeymoon and then came home and had a reception. THAT is how you get married.)
I totally overslept and missed church on Sunday morning which is totally worthless but I'm being honest. We'd been out until midnight the night before and I had to take out my dentures and tend to my rheumatism and I was tired. It's not easy having all that carefree fun.
Caroline was invited to a birthday party at the roller skate rink on Sunday that was supposed to be a drop off party. However, once I walked in and realized half of San Antonio was also at the skating rink, I didn't feel like I could just leave her there with minimal supervision. Especially because there seemed to be an inordinate number of older men there by themselves who were very eager to participate in the ADULTS ONLY backwards skate.
(It would have been good to know I was staying at the party because then I might have chosen attire other than my rattiest running shorts and slightly holey t-shirt. Also, the bun on top of my head was a nice touch.)
First of all, I don't feel like we really need to have an ADULTS ONLY backwards skate on a Sunday afternoon. And, secondly, it made me feel like some of them might have a white, paneled creeper van out in the parking lot filled with candy.
Call me paranoid but I am just suspicious about grown men at the skating rink with no children. P would never go to the skating rink alone and participate in the ADULTS ONLY backwards skate. The fast skate FOR SURE, but not the backwards skate.
(I'm just kidding. I've never seen P roller skate. Although I'm sure he did back in the days of junior high to impress the ladies.)
Anyway, I ended up staying at the skating rink for the entire party and listened to more than my fill of Lady Ga-Ga until it was time for us to head home so we could get ready for a dinner party with some friends. And so we went to dinner with friends, came home and put Caroline to bed because she started a week of day camp yesterday and we didn't want her to frighten the counselors with the DON'T ANGER IT thing she can get going if she's overtired.
Yesterday morning I dropped her off at camp and then tried to remember what I do when I have free time. Ultimately, I threw caution to the wind and went to the grocery store AND the bank. I know. I am the wind beneath your wings.
After I ran all my errands, I came home and discovered that P had thrown down the chandelier gauntlet. You probably don't know what I mean by that because I don't know what I mean by that. But he had hung the chandelier I bought for Caroline's room. Granted, I bought the chandelier at a garage sale back in September so he's had a full nine and a half months but, still, it made me feel like I needed to do something productive.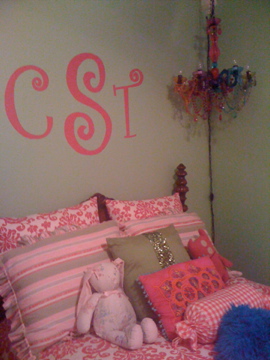 (I realize this isn't a great picture of the chandelier, but I couldn't get a picture with it actually on because THE BRIGHTNESS WAS VERY BRIGHT.)
(Also, if you have any thoughts on how I could make that chain more attractive, feel free to share them. I realize we could hardwire it, but let's not pretend that will happen in the next five years.)
I felt like I should do something productive around the house, yet I didn't want it to involve actual cleaning products. So I decided to organize Caroline's Wii games and movies that are all just piled in the bottom of our armoire. Which is how I discovered a long-forgotten stockpile of VHS tapes in the armoire drawers.
All of which belonged to P.
And had been there for the last twelve or so years after he assured me they were very important and he would continue to enjoy his "movie library" for many years to come.
Here's a look at his extensive collection.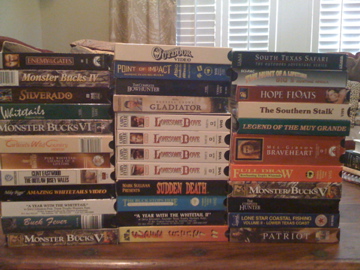 Obviously, "The Buck Stops Here" is a classic. As is "Monster Bucks VI" which everyone knows was SO MUCH BETTER than "Monster Bucks V".
But it felt like it was time to let them go. Especially in light of the fact that we haven't owned a VCR in five years.
Oh, and "Hope Floats" may have been mine because P doesn't really watch a lot of chick movies.
He's way too busy practicing his fast skate for the roller rink.