Before we talk about any other fashion this week, I have to share some very important, perhaps life-changing, boot news. I believe it is well-documented that I love a good pair of boots. And I believe that it is also well-documented that I love the Junk Gypsies. I had loved Jolie and Amie Sikes from afar, but got to spend time with them at their store in Round Top, Texas this past spring and they are even better in person.
All that to say, two of my very favorite things have merged and the Junk Gypsies now have their very own line of boots made by Lane Boots.
There are so many great styles and looks to choose from depending on your taste and your boot needs, but these are a few of my favorites.
This is the She Who Is Brave. They come in this honey color or a dark brown and I will tell you that the word "brave" is embossed on the heel. They are divine.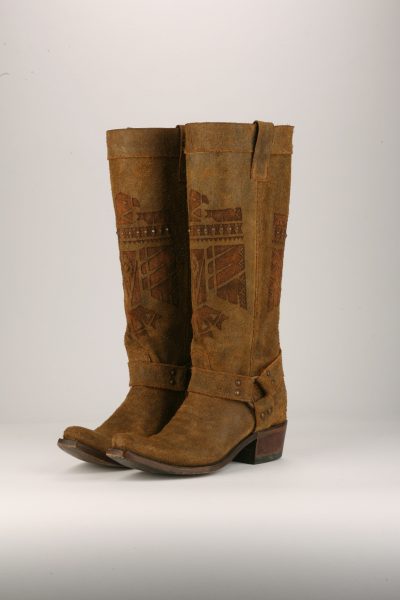 These are the Texas Tumbleweed boots and that fringe kind of makes me feel weak in the knees.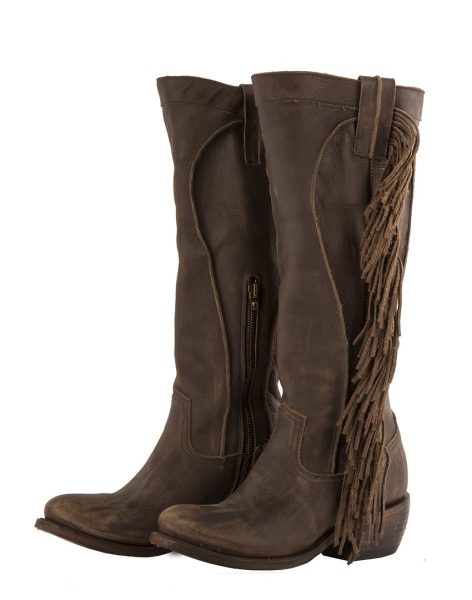 And then there are the Trailblazers.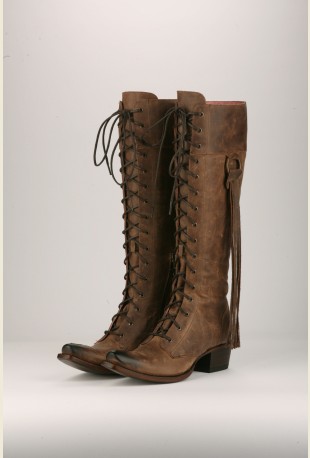 And, finally, look at these Spitfire boots. I've been searching all over for the perfect bootie and here they are. I'm in love. I'm just a girl, standing in front of a fringe bootie, asking it to love me.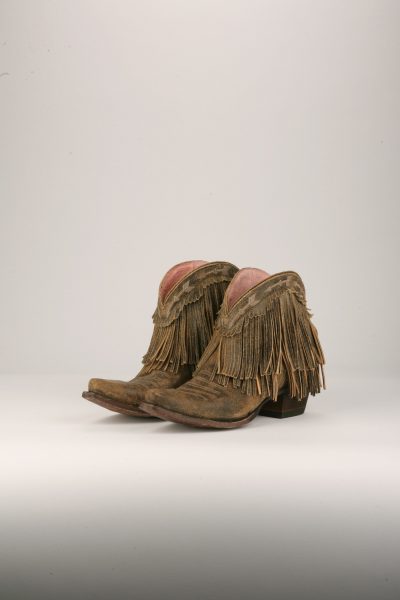 Do you even want to know that the Spitfire also comes in red, turquoise (STOP), buckskin, and electric pink? This doesn't even seem like a fair fight to my willpower.
The Junk Gypsies were kind enough to send me a pair from their new boot collection and I will tell you that they are even more gorgeous in person and they smell like heaven when you take them out of the box. Like all great boots, they aren't inexpensive but they are worth the money if you're in the market for a great pair of boots. You can see all the boots in their collection right here on their website.
As for other things I've found this week: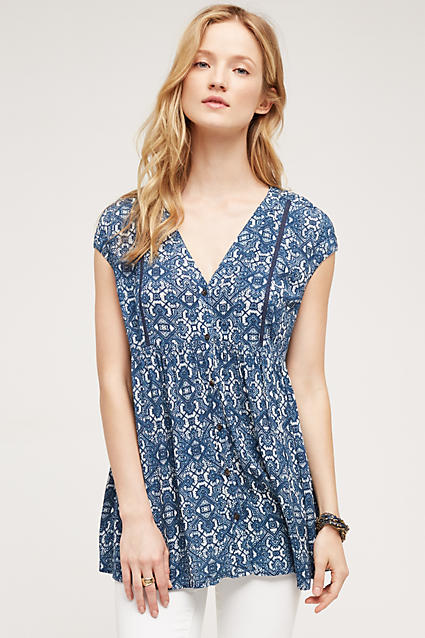 I love the blue and white version of this. It's on sale for $59.95 but Anthropologie is offering an extra 30% off all sale PLUS free shipping on everything with the code STAYCOOL at checkout. They almost never offer free shipping unless it's on purchases over $150 so this is a great time to buy.
And the free shipping applies to everything, not just the stuff on sale.
2. maritsa vest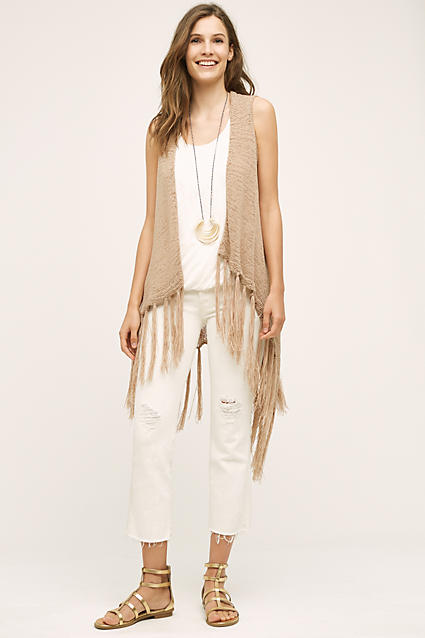 This vest has great reviews and I love the color. It's a great piece to wear with shorts now and jeans and boots later. It's on sale for $49.95 but an extra 30% off.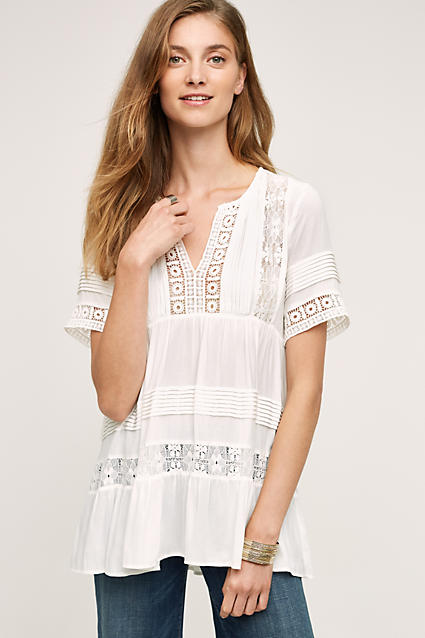 This is one of those full price Anthropologie items that I can't quit thinking about and I want to order it so bad but I just had a white top intervention with myself the other day. But I'm feeling awfully weak. This is $98 but you can get it shipped to you FOR FREE. And doesn't that make all the difference?
This white hi lo top doesn't have the lace detail and is a much more casual version, but is much more price-friendly and just $31.37.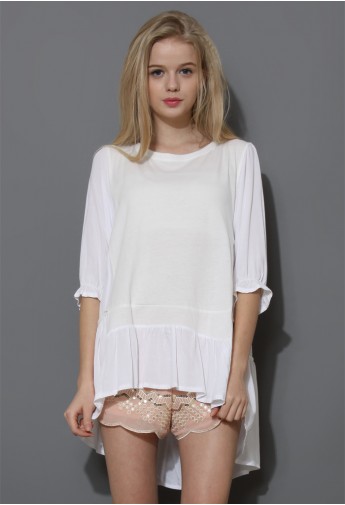 4. victoriana lace detail tank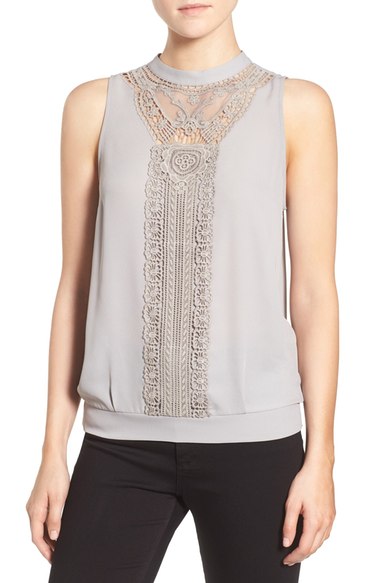 This looks so different from anything I normally wear, but it keeps catching my eye every time I look through the Nordstrom sale. It comes in black, taupe and ivory and is on sale for $45.90. Sizes are limited, but I can just see this with a jacket over it when the weather cools off.
5. halogen oversize v-neck sweater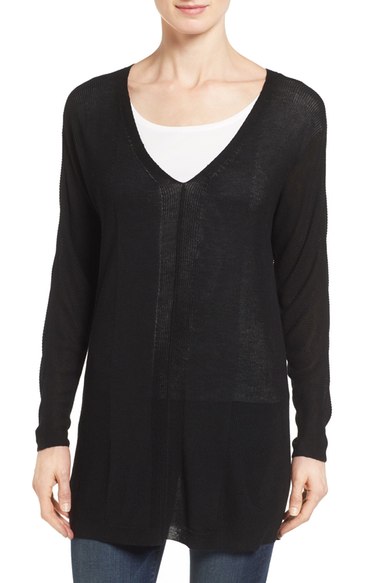 I love these oversize sweaters. Please know that they are semi-sheer so you will need something under it, but the colors are great and it is the perfect lightweight sweater to wear with jeans or leggings. It's on sale for $39.90.
6. halogen long side-slit cardigan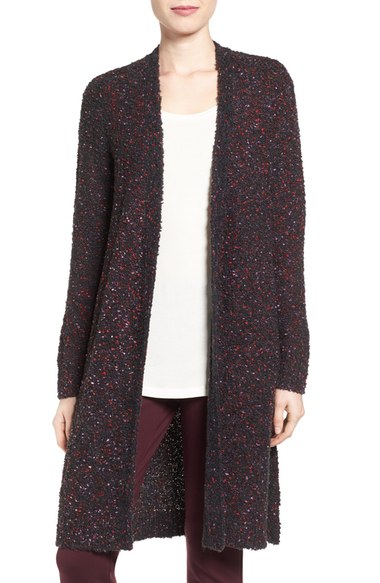 This isn't necessarily something I'd normally wear, but it has great reviews and I do think they look like a good piece for fall and winter. They are on sale for $49.90.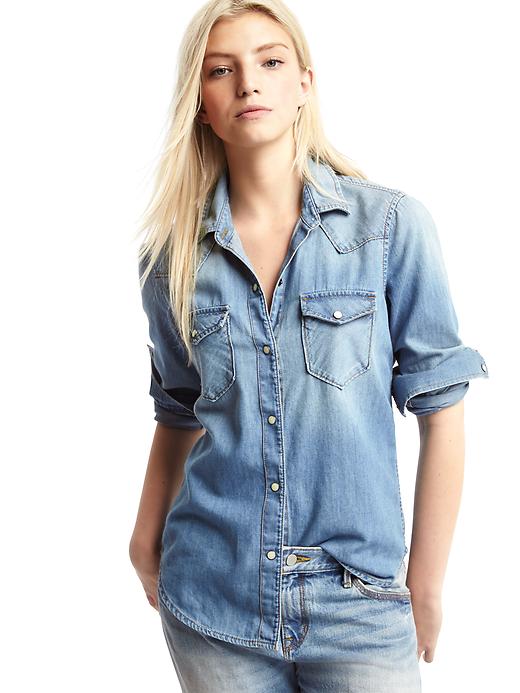 Listen. Gap does a lot of things wrong. So very wrong. But they do know how to make a great denim shirt. I love the western detailing of this one. How great would it look with a pair of those Junk Gypsy boots?
It's $59.95 but 30% off with code HAPPY at checkout. (I'm assuming that code is still good today, but even if it's not, you can rest assured there will be another discount code in the future because nobody pays full-price at Gap anymore.)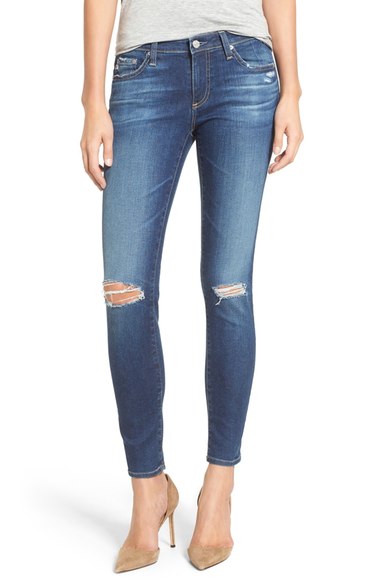 I know not everyone subscribes to my theory of paying more for good jeans, but I wanted to share these for those of you who do. These are $163.90 but normally sell for $245. They sold out super quick the first time around, but have been re-stocked. I will tell you they are the best jeans I've ever owned. They are so soft and keep their shape for days. So if you want to make a denim investment, these are a good bet.
I realize they are pricey, but I still wear nice jeans I bought ten years ago so I'm not one to quit on a garment. Ever. I believe I get this from my father who still regularly wears a t-shirt that reads, "BERMUDA 1989" in neon letters.
And if you don't like the ripped jean thing, I also love these dark wash Paige vertigo ankle skinny jeans.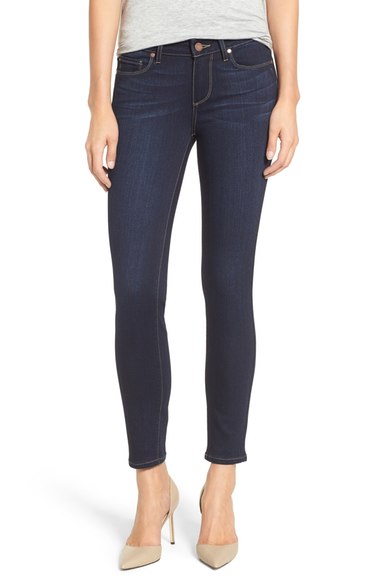 They are on sale for $99.90 but normally $189.
9. j.crew striped shirttail sweatshirt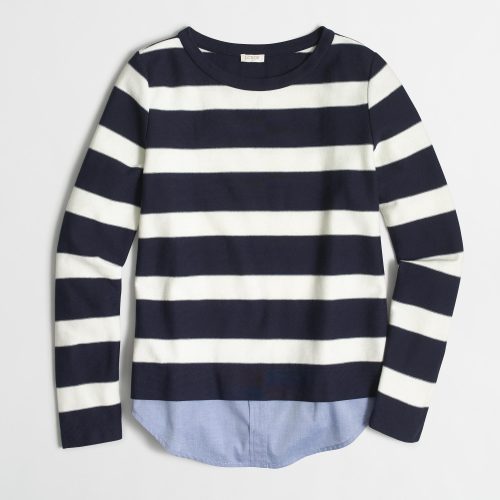 I love this look but would never actually layer a sweatshirt over a shirt because I live somewhere that is too hot for that nonsense even in December. But I think this is so cute and I would like to wear it with white skinny jeans and Converse and summer in Cape Cod. It's on sale for $44.50.
10. ikat elephant's basic gray tee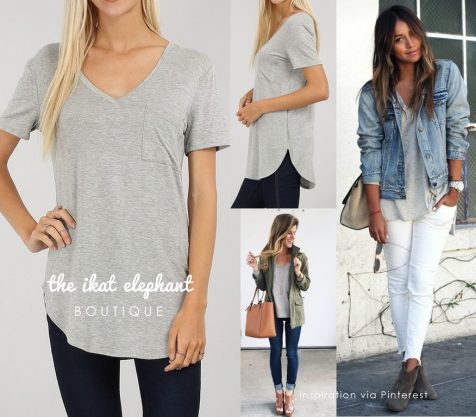 I saw this gray tee on my Instagram and knew I needed it in my life. It's the perfect basic piece to layer or wear alone and it's just $25.50 plus free shipping.
And I also wanted to let you know that this precious tasseled coverup was originally $54 but is now on sale for $31.50 but supplies are limited.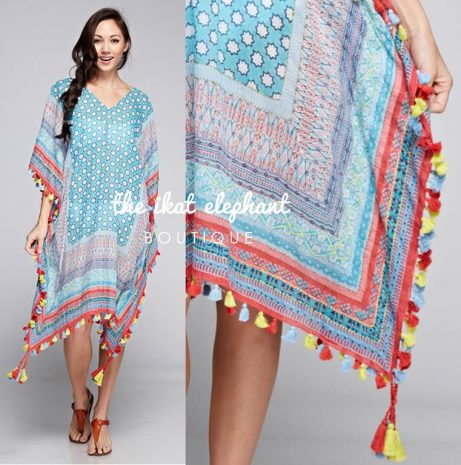 Both pieces are from The Ikat Elephant and there are some other really cute things on their Facebook page that you might want to check out.
That's it for today.
Have a good Friday.