Here are a few quick things I discovered over the Thanksgiving holidays:
1. You can, in fact, eat so many carbohydrates that you become sick of them.
2. I don't really care for leftover turkey. Don't tell me I can make a soup or a panini or whatever out of it. It doesn't matter. Turkey is dead to me after the initial meal.
3. Online shopping is perhaps the greatest invention of our time.
4. If you still have jack-o-lanterns on your porch the day after Thanksgiving, you begin to feel some judgement from the neighbors who have their Christmas lights up.
We had a really nice Thanksgiving with Mimi and Bops and we all agreed the turducken was the best ever. Our only regret was that we didn't realize the piecaken was an actual thing until it was too late to change our dessert plans. I really don't even know what to think about a world where we've discovered you can stuff a pie inside of a cake except well played, America. Because you know that has to be an American thing. No self-respecting European would invent a piecaken. Which is probably why our forefathers got on a boat and dreamed of a land where we could combine desserts at will after stuffing a duck inside of a chicken before stuffing it into a turkey.
Here are my favorite people right before we headed to Bops and Mimi's for lunch.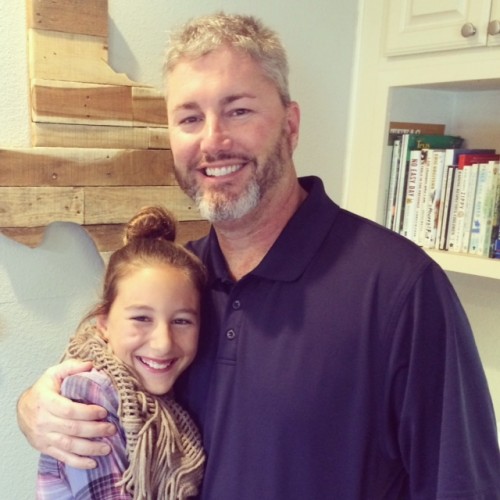 We spent most of the day over there and then made our long half mile journey home as I vowed I would never eat again. And I didn't. Until the next day.
I spent Black Friday taking advantage of all manner of holidays savings as I sat comfortably on my couch. I guess some people may like the thrill of the crowds and the challenges that offers, but I prefer to hit "Checkout Now" while wearing my pajamas and watching The Holiday, then making myself a celebratory plate of Thanksgiving leftovers sans the turkey. Ok. So basically I made myself a plate of broccoli rice casserole followed by chocolate ice box pudding. Whatever. All the food groups were more or less represented.
On Saturday P and Caroline went to the ranch and I drove out to Nordstrom because I'd ordered a fur vest over the phone on Friday when I realized it was sold out online. Then I headed to HEB to buy food that wasn't Thanksgiving leftovers and made a big pot of crawfish étouffée since the Aggies were playing LSU that night and it felt appropriate to eat food from the land of our opponent.
Sadly, our team (specifically our offensive line) seemed to still be in a carb overload stupor and didn't show up in Baton Rouge. On the bright side, I like to think we played a role in helping Les Miles keep his job and that really makes it worth it to me. What would SEC football be without listening to Les ramble nonsense before heading into the locker room at halftime? And I even got teary when he quit talking to the reporter to sing the LSU alma mater. I have to agree with the majority of the LSU fans that Les is More.
I had a speaking event in Groves, Texas on Sunday night so I left San Antonio a little before 10:00 a.m. on Sunday morning to make that drive. It is officially the most tedious five hour drive ever but the holiday traffic wasn't bad and so I considered that to be a win. And I so loved the event. I went to high school in Beaumont and haven't been back to that area in over six years so it was fun to see some familiar faces and places and catch up with some old friends.
On the drive home Monday morning I took full advantage of the time in the car to listen to the new Adele album more than a couple of times. And I really thought (because you have a lot of time to think when you're by yourself in a car for that long) about why everyone loves the song Hello so much. I mean obviously the lyrics are gorgeous and her voice is amazing, but what else?
Then it hit me. It's a power ballad. And we are a world that has been sorely lacking a good power ballad in recent years. We took the power ballad for granted in the eighties because there was a new one out like every week, but then in the nineties we just listened to Nirvana instead. Or maybe just Tony! Toni! Tone!
Either way, the power ballad became a thing of the past.
But it got me thinking about some of my all-time favorite power ballads and so when I stopped at Dairy Queen for a Blizzard, I took the extra time to download a few to listen to for the remainder of my drive home because I am all about making the most of my time.
And just for clarification purposes, I am defining a power ballad as any song that fits the following criteria:
1. About love or heartbreak or both.
2. Makes you want to sing it really loud in your car. Perhaps while occasionally putting your hand on your chest for dramatic emphasis.
3. I bought the piano music for it back in the 80's and tried to learn how to play it like I was going to sing and play the piano at the same time like a white, female Stevie Wonder.
Anyway, here are the ones that immediately came to my mind.
1. Separate Lives by Phil Collins and Marilyn Martin
2. Sister Christian by Night Ranger
3. Remember the Feeling by Chicago (or, let's be honest, the entire Chicago 17 album)
4. Forever by Kenny Loggins
5. The Search is Over by Survivor

And, listen, I'm not saying any of these are even in the same league as Adele singing Hello (except for maybe Separate Lives because I will fight you if you try to diminish that song in any way) but it's the whole dramatic package that just brings me back.
Or maybe it's just because I spent twenty-four hours in the town where I attended high school.
Either way. I'd love to know some of your favorites because if you think I'm not in the midst of making the best power ballad playlist of all time then you don't know me at all.
Copyright secured by Digiprove © 2015