I'm so excited about today's post because it's written by a man I respect so much, Dr. Tony Evans. He's a respected pastor, leader and father. He not only talks the talk, but he lives out what he preaches in his life and in his community. And today I have the chance to give away a copy of his new book, Raising Kingdom Kids.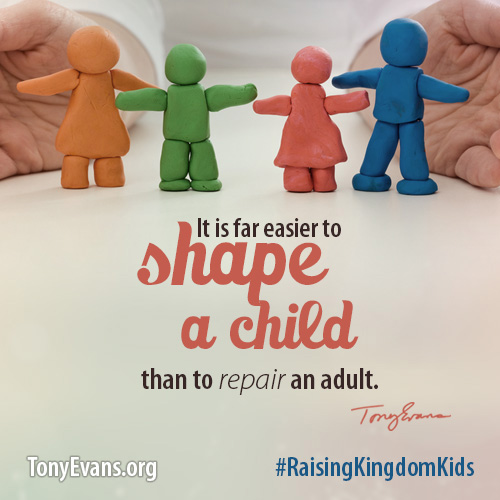 Here are some thoughts from Dr. Evans:
"Raising Kingdom Kids requires time and effort. But there is one thing you can be certain of, the end results are well worth it.

One of the most important things you can do as a parent is to help your child along the path to discovering his or her spiritual gifts, passions, and vision. God has a divinely ordained destiny for your child that merges these things together to enable him or her to live out all they were created to be.

In Psalm 33:11 the Bible tells us, "The counsel of the LORD stands forever, the plans of His heart from generation to generation."

Not only that but He has a plan that is specific to your child. Jeremiah 29:11 it says, "For I know the plans that I have for you,' declares the LORD, 'plans for welfare and not for calamity to give you a future and a hope."

God is a God of both purpose and plans and He has both a purpose and a plan for your child. They are here for a reason. The tragedy is if they never discover what that purpose is.

As a child my oldest son Anthony was fascinated with animals and wanted to be a veterinarian. Even when he reached the age of college, he had plans to go to school to study to be a vet. As Anthony was growing up, it was our job as his parents to help him along this path of exploration so that he could discover if this was truly God's call on his life. I'll never forget the time that Anthony announced to us that he wanted to buy a donkey! Now, we don't have a huge backyard – and we live in the city. But, regardless, we took the effort to go to different animal farms with Anthony to explore this concept of bringing home a donkey. I even went so far as knocking on our neighbor's doors to ask if they would mind if we had a donkey in our yard.

Needless to say, we didn't end up getting the donkey! But my point is that sometimes you may need to go to great lengths to give your child the option of discovering their gifts. We didn't get the donkey, but we did get a number of different animals over the years – as well as provided Anthony with the availability to ride horses and be with animals at family camps or elsewhere – so that he could learn whether or not this was his area of gifting and interests.

As you continue on your parenting journey, remember that God's plan for your child's life is a good plan filled with both a purpose and with hope. At times you may feel that you have a better plan for your child, or you have different dreams for them – perhaps to be successful as a doctor, lawyer or accountant and so you steer them in those directions rather than truly humbling yourself before the Lord to discover His plan for them. Yet trying to improve on God's plan for your child is like trying to improve on a Picasso with a sharpie. You're going to mess up a masterpiece!

God wants you to view your child through His eyes. He wants you to view their futures through His plans because He is all-wise, and He knows the best way for them to live fulfilled and abundant lives."
You can find out more about his book, watch the book trailer, and even read the first chapter on the Raising Kingdom Kids website.
For a chance to win a copy here's what you need to do:
1. Leave a comment on this post. One comment per person please. Duplicates will be deleted.
2. I'll leave comments open until this Friday, October 3 at noon and then choose a winner at random using Random.org.
3. I'll email the winner to get your shipping address and we'll get your book in the mail.
That's it.
Good luck!