The only bad part about a three day weekend is when it's over. I could basically write a sad ballad about the whole thing. Especially because I've lost all my want to when it comes to getting us geared up for another week of school.
On Friday we managed to stay in our pajamas until almost noon and then Caroline and I went to meet some friends for lunch and then she went to her friend Emily's house for a while and then came back here with another friend for the rest of the evening. P was tired after a long work week and so we ate leftovers and I made chocolate chip cookies and homemade mac and cheese for the girls because I believe it's important to serve a well-balanced meal with all the essential food groups represented. And by essential food groups I mean pasta, cheese and chocolate.
Big thunderstorms came through late Friday night into early Saturday morning which is my absolute favorite type of weather for optimal sleep conditions and when I woke up to the smell of P cooking bacon on Saturday morning I assumed Caroline's soccer game had been cancelled due to the weather. And I was initially right. P said we'd received an email informing us the fields were too wet and so we ate bacon and biscuits before he and Caroline left to go on a bike ride and watch the Pooch Parade that was going on in our neighborhood as part of Fiesta.
But about five minutes after they left, I checked email and saw that the soccer game was actually back on which meant we needed to regroup and leave for Austin in the next forty-five minutes. So I called my people and told them to head back home where I was getting the gatorade and water and snacks together.
We made the drive to Austin on what turned out to be a gorgeous, hot Saturday afternoon. This was the first game of the season where I had to break out both my baseball cap and my umbrella in an attempt to protect my face from further sun damage. I said this on Instagram on Saturday but one of the things I love about watching Caroline play soccer is the way she isn't afraid to call for the ball. I was always the kid praying the ball wouldn't come to me and I love that she goes for it.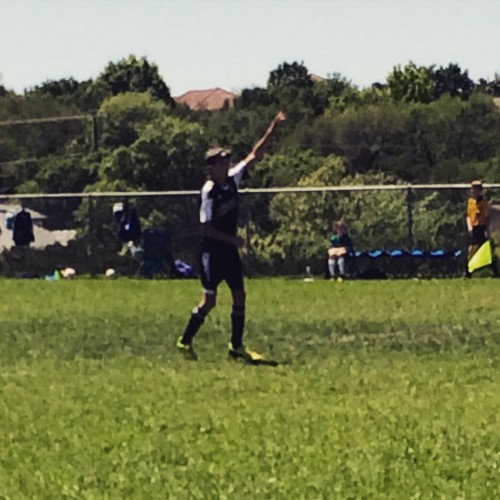 (I realize this picture is terrible but when the sun is blazing and you have on a hat, sunglasses and an umbrella, it's a little hard to even tell if you're taking a picture.)
Our team lost but the girls played hard considering that it was about as hot as the surface of the sun. The best part was about halfway through the game, Gulley texted me to see if we wanted to come to their house for dinner later that night because Jon was grilling ribs.
Um. YES.
This is what I love about these late spring, almost summer weekends. Getting to hang out and cook outside and just that feeling that life is about to slow down a little bit. (Five weeks of school left! Not that I'm counting down or anything.)
We came home from Austin and all showered then headed over to Gulley's where the kids played ball out in the yard and the grownups (that's us) caught up on life and things. It was the perfect way to spend a Saturday night.
Then we went to church Sunday morning before I dropped Caroline off at a friend's house for a birthday party. The bottom line is her social calendar is much busier than ours. And then I decided to spend my Sunday afternoon being productive and began to clean out the bathroom cabinets in the master bath because I was tired of knocking six things to the floor every time I reached for my hairspray. So I grabbed a large trash bag and threw out self-tanner that expired two years ago along with various vitamins I bought with good intentions but apparently not enough motivation because they were also expired. There was cough syrup that had seen better days, prescriptions that were so faded I couldn't tell what they were and so many beauty product samples that I made myself accept I clearly wasn't that interested since they'd never been used.
And then there was this discovery.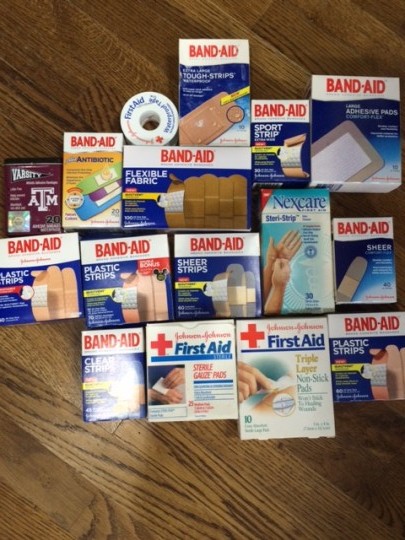 If you need a Band-Aid of any variety, we have you covered.
I'm not sure when I became a Band-Aid hoarder but I suspect it's been a while based on my extensive collection. We take our wound care seriously around here. The irony is that there was a time when Caroline was a toddler when I couldn't find a Band-Aid if my life depended on it because she had a tendency to use them all as body art.
So I did my best to consolidate our Band-Aid collection into a few manageable categories, threw out some nail polish that had seen better days, and then tried to arrange everything by function. Body products, face products, healthcare products, medications, makeup and curling irons. Oh and I also threw out my set of hot rollers. I feel this particular act needs a moment of silence.
It just seemed like the right thing to do since I never use them anymore and, should I ever want to go back to hot rollers, I'll have to put serious thought and consideration into this decision because I'll have to actually drive to the store and purchase a new set.
Once the bathroom was cleaned out, I moved on to my jewelry and threw out necklaces that hadn't seen the light of day since the late 1990's. Honestly, I can't believe I hadn't done this sooner because I'm so serious about my closet organization yet I'd totally neglected my jewelry and there were some pieces that needed to go. I made a big pile to take to Goodwill and then re-organized according to color, style, and what makes sense in my head.
Finally, (I'm so sorry that this is never-ending, but you know how I love a good clean out. I wouldn't write this much if I'd finished a triathlon or War and Peace this weekend.) I moved into Caroline's closet which I believe I just cleaned out not that long ago but she keeps growing and none of her shoes fit anymore and there were several things I kept leaving in her closet hoping she'd wear and I have finally given up. That darling peasant top with the embroidery? She's never going to put it on.
Then I put things into piles to be thrown out or donated and now feel like I've accomplished enough to carry me through at least the next month. Even though I do feel like the pantry and the kitchen cabinets are mocking me which means their day might be coming soon if I get another burst of productivity.
And so that was our weekend. Hope yours was good.
Copyright secured by Digiprove © 2015