Y'all.
Err'body be so tired around here.
I forget every year that the first couple of weeks of the school year are exhausting. It's hard to get back into the merciless routine of homework and carpool and cooking real meals and just all around being a grown up.
I left for Clovis, New Mexico last Thursday afternoon. I flew to Dallas and then Amarillo and then drove the hour and a half to Clovis in some sort of little Kia that was actually very sporty. I did get to sleep in a little bit on Friday morning which was glorious and then made a run to The Coffee Bistro for a latte because Clovis has a Starbucks but it's inside the Albertsons and The Coffee Bistro came highly recommended and I have to say it didn't disappoint.
As I walked back into my hotel, I happened to see the Clovis Daily Journal sitting on the checkout desk. And look who made the front page.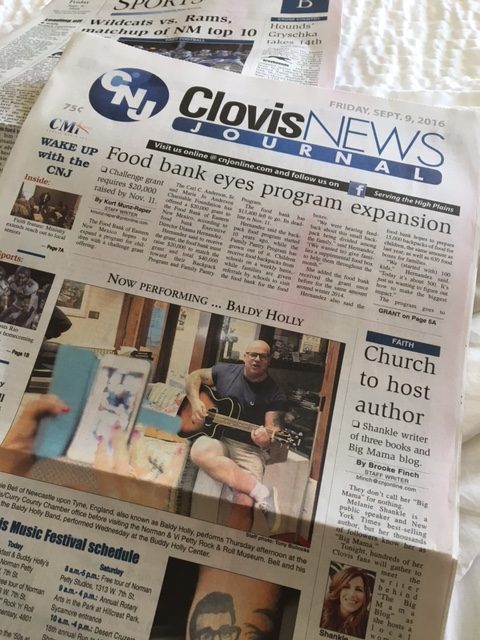 Yes. Baldy Holly. And also me. It's not every day that you find yourself sharing a front page with Baldy Holly.
I spoke at Central Baptist Church on Friday night and it was such a sweet group. And then I woke up at 6:30 on Saturday morning so I'd have time to drive through The Coffee Bistro one more time before making my way back to Amarillo. And then Dallas. And, finally, San Antonio. I also need to say here that when I walked outside in Clovis that morning that a cold front had blown through and it was about 55 degrees outside. I had forgotten what it feels like to actually walk outside and feel cool. I'll tell you what it feels like, HEAVENLY BLISS.
By the time I landed in San Antonio it was almost 5:00 Saturday evening and so I headed straight to a shower and pjs and we picked up Mexican food for dinner and watched college football until I couldn't keep my eyes open any longer.
On Sunday morning, P went to church while Caroline and I drove to Austin for a soccer game. She has to be at the field 45 minutes before game time so he met us there later with Mimi and Bops. After the game we made our way back to San Antonio and it was 4:30 p.m. In short, it was one of those weekends where I kept thinking I couldn't wait until Monday morning so I could get some rest.
But then Monday morning dawned bright and early and it was time to make breakfast, pack a lunch, and get Caroline to school. Then I remembered that my family likes to eat food and so perhaps I should go to the store. So I went to Smart Barre to work out, ran a few errands, went grocery shopping and then came back to the house to grab something to eat for a late lunch. Meanwhile, Piper and Mabel stared at me like this.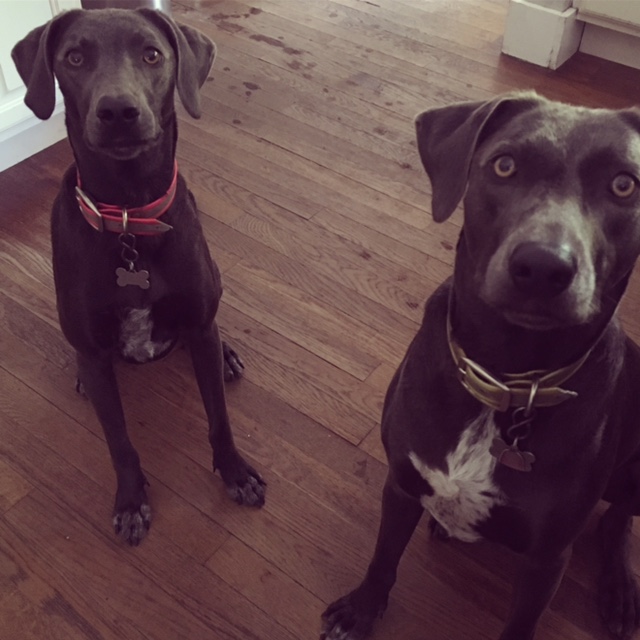 I used to think there might come a day when I wouldn't have someone staring at me, waiting to be entertained.
Mabel wrote a haiku about it:
Boredom in my soul
I need the wind in my hair
Must maintain sad eyes
Piper also wrote about her feelings:
I AM SO BORED I WANT TO DIE.
So what choice did I have but to take them to the park for a little while? They were able to run and then I picked up Caroline from school, attempted to take her to buy a new pair of cleats but had no success. Then we came home so she could hopefully finish most of her homework before we left for soccer practice.
We left for soccer and I am devastated to report it is 10:15 as of this writing and my child just finished her second dinner about fifteen minutes ago and is finally in bed. Or maybe she's still in the bathroom flossing her teeth. I don't even care anymore as long as I can go ahead and go to bed.
Dear Moms of littles, I know the days are exhausting right now. But rejoice and celebrate in the fact that you can put those children to bed at an hour when you're still coherent enough to watch T.V. or carry on a conversation. At the rate I'm going, I may never be able to watch T.V. in prime time again.
And, let's be honest, that's the real tragedy here. I'd have Mabel write a haiku about it but she has no appreciation for prime time T.V. because she and Piper only watch The Outdoor Channel.
Copyright secured by Digiprove © 2016