I meant to wrap up the road trip last night but I fell into my couch and a pile of dirty laundry and the next thing I knew I was sound asleep in my bed. It's always fun to be away, but I always love to get back home. Except for the part where we were down to one roll of toilet paper and I had to go to the grocery story.
On Thursday morning, after two fun-filled days at the JW Marriott, we packed up all our stuff, called for a bellman and watched as he tried to solve the dilemma of fitting all our things into the back of Gulley's car. I'm pleased to report that he made it work beautifully, much better than Gulley and I had done on Tuesday when we basically just crammed everything in and prayed that it wouldn't fall out upon our arrival.
We began to make our way to Bryan, but made a stop at Chick-Fil-A in New Braunfels since we hadn't eaten lunch yet. And that's when I thought to take this picture of the kids in the backseat because it's road trip tradition to get a pic of them all in the backseat. They used to fit much better than they do these days. Now they are just a mass of arms and legs.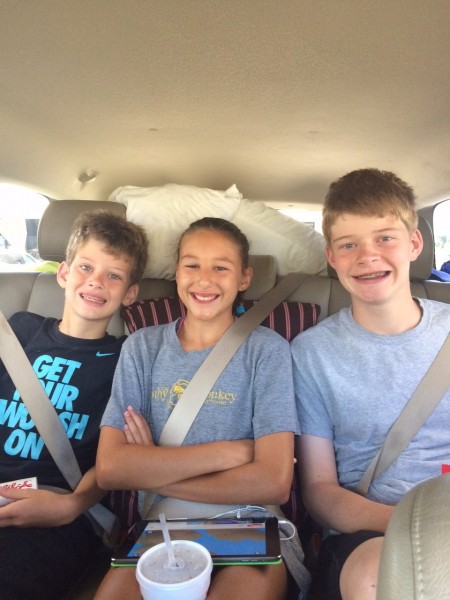 I'm sad to report that less than three minutes after this picture was taken, Will threw up. For those of you who have read my books or this blog for any length of you time, you know that this is practically a road trip tradition and I'm pleased to report that some things never change. He told Gulley it was because he'd eaten too many chicken nuggets, but then she noticed he'd only eaten one. So by too many, he meant one. One nugget. It pushed him over the edge.
I posted that pic on Instagram and several of you mentioned we should tape a penny to his belly button next time which feels kind of like putting Vicks Vaporub on your feet to help with a cough, but who are we to judge? We are totally trying this next time. It feels like carsickness voodoo and I'm on board.
We arrived at Honey and Big's a few hours later without any further incidents and the kids spent the rest of the afternoon and evening playing soccer and basketball outside. Honey had ordered a ton of barbecue for dinner and invited Uncle Johnny and Diane to join us so they came over. Which was fortunate because Caroline got bitten by something in the yard and Johnny came to the rescue with a little tobacco from his cigar.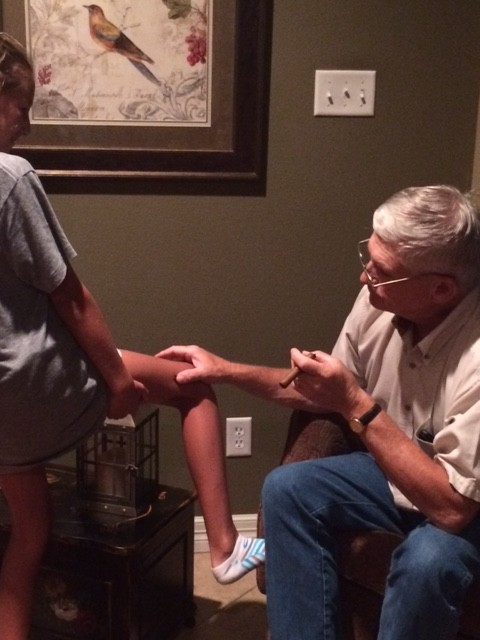 I mean it's no penny on your belly button, but it worked like a charm because a few minutes later you couldn't even tell anything had happened. I believe the life lesson here is that we should all be smoking cigars. Or maybe just always have some tobacco on hand in case of bug bite emergency.
The next morning we all slept in and later on Jo and Dorothy Kay stopped by to visit. If you've read Nobody's Cuter Than You , you know these are Nena's best friends. Gulley and I always love catching up with them and got so tickled when Dorothy Kay told us, "You know Jo and I like drinking at lunch. The only problem is Jo needs a nap afterwards!" and then they told us how Honey will take them out to lunch and they'll all have a glass of sangria and then head to Dillards, but Jo is so tired that she just sleeps in a chair while Dorothy Kay and Honey shop.
Later on, Gulley's cousin, Ashley, came by with her little girl and we ended up rescheduling our visit to the George Bush Library for the next day since we were having so much fun visiting with everyone. We ate leftover barbecue and a second batch of brownies (Jackson can finish a whole pan by himself these days) and then just hung out the rest of the night.
On Saturday morning, Gulley, Honey and I were sitting around the breakfast table when Jackson walked in and asked when we were leaving for the Bush Library. We told him we'd leave as soon as we finished talking and he said, "I know what you're talking about. Blah, blah, blah and blah, blah, blah and that's why one of you has quit watching Scandal again." And we got so tickled because he has totally figured us out.
Eventually we all got dressed and made our way to the George Bush Library on the Texas A&M Campus.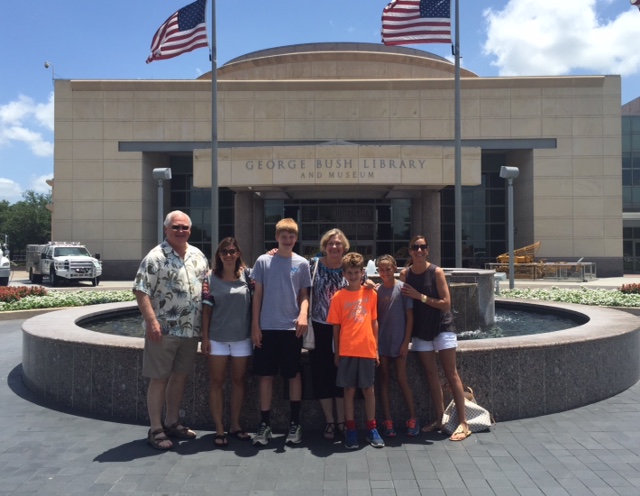 I'd never been to a presidential library before so I didn't know what to expect. We'd always thought the kids were too young until this year, but we all agreed it was a great activity. It starts with a short film about President Bush and then there are all kinds of exhibits detailing his service in World War II, his family history, gifts of state that were given and a complete replica of the Oval Office.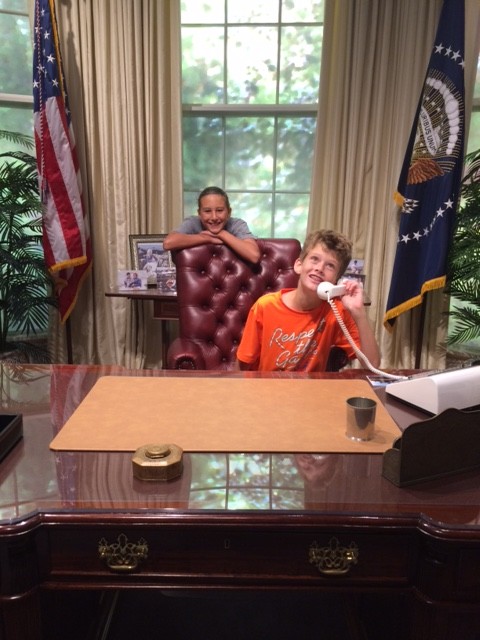 If you don't feel a little scared of this image then you haven't been paying attention here.
After we left the Bush Library, we visited the new Cafe Eccell for a late lunch/early dinner. For those of you familiar with College Station, Cafe Eccell is now in the old Luby's on Texas Avenue and I have to say that the food is better than ever. Sadly, we were all too full for a strawberry tart but it's a must visit if you're in the area. You won't be disappointed.
We spent Saturday night in our pjs on the couch binge watching The Astronaut Wives Club on demand and I'm a big fan. I'd hesitated to watch it because I thought it might be too soap opera-ish. Which is a funny thing for me to say because since when am I too good for a soap opera? But it is really interesting and I'm hooked. It's a winner for me both because it's set in the 1960's and there are congealed gelatin salads in almost every scene involving food.
Finally, we woke up Sunday morning and it was time to pack up the car and head home. Sadly, we didn't have a JW Marriott bellman to help us this time but we did our best to get everything in and then said our goodbyes and hit the open road for San Antonio. And, per usual, we weren't even home before the kids were asking if we could all have dinner together later that evening. I love how much they love each other.
At some point during this road trip we did the math and realized this was our ninth road trip. Which means next summer is number ten. A decade of fighting in the car and throwing up and eating too much candy and seeing all the sights along the way. I suggested to Gulley that maybe we should celebrate next summer by revisiting our top five favorite road trip stops. And she didn't really answer but just looked at me silently.
I think it's because we both know the Snake Farm is making that list.
Copyright secured by Digiprove © 2015