Last Tuesday Gulley and I met for our usual Tuesday lunch and our friend, Donna, joined us. We spent the next hour catching up on life and talking about other important things like hair and jewelry and cute sandals.
At some point in the conversation we started talking about Donna's oldest daughter, Avery, who had just found out she'd gotten a really great summer internship. Donna started laughing and told us that Avery had sent her a text where she'd copied a text that she'd received from her Pop, Donna's father.
(Are you following this? I feel like it's confusing but I'm doing the best I can.)
(Here's the easy version. Avery got a job. She received a congratulatory text from Pop, her grandfather. She copied the text and forwarded it to Donna because it was funny.)
(Why didn't I just say that in the first place?)
Anyway, the text wasn't meant to be funny. The problem, Donna explained, is that Pop sends all his text messages using Siri. And I think we all know how I feel about Siri.
She's unreliable and has no understanding of the nuances of the Southern accent.
So instead of sending his granddaughter a sweet, heartfelt message, Pop's text instead said something along the lines of "That's great about those mumbo jumbo hookers".
Which isn't really a phrase you expect to hear from your grandfather.
And it confirmed that Siri is just as worthless as she was the last time I attempted to use her when she translated my request as this: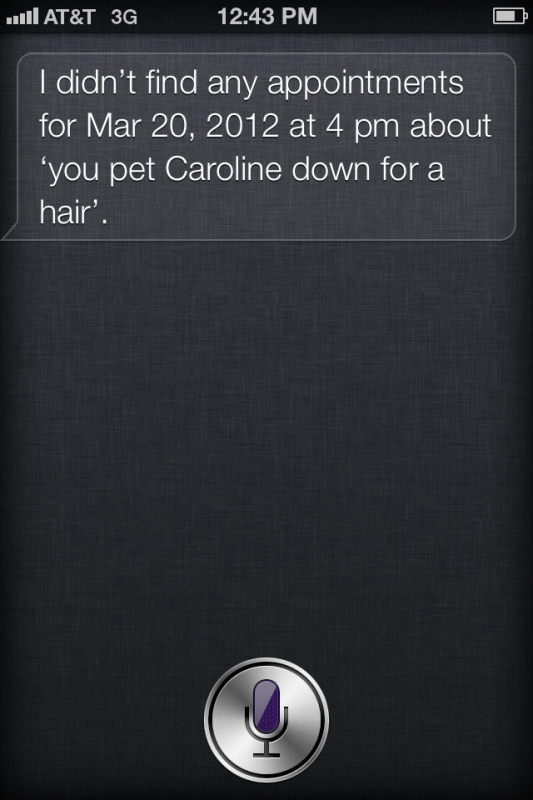 Yes. Please set a reminder so I can remember to "pet Caroline down for a hair". Siri, are you drunk?
And because Gulley and I have the sense of humor of two twelve-year-old boys, we decided it would be hilarious to just use Siri as our primary means of communication with each other and see what happened. But first I sent a text using Siri to Donna since she was our inspiration.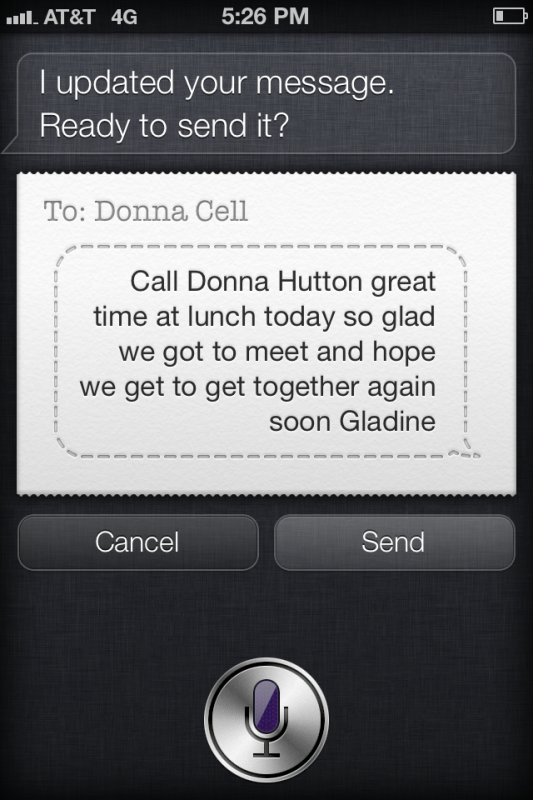 I don't know who Donna Hutton is. And I certainly don't know Gladine. Apparently, Siri thinks I have an alter ego who's an eighty-four year old woman from Mississippi.
Later that day, Gulley and I began to send texts back and forth.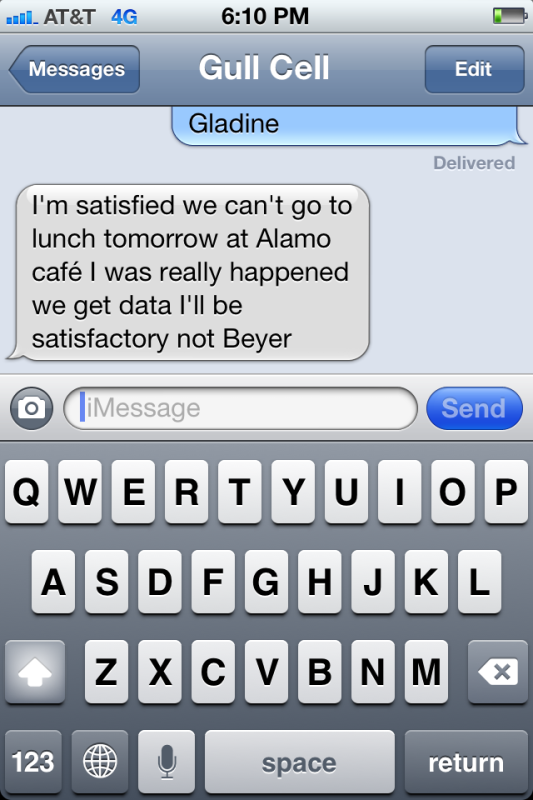 For the record, I was not satisfied that we couldn't go to lunch at Alamo Cafe. I was sad. And I didn't really need any data. And hopefully it all worked out and I was satisfactory, not Beyer.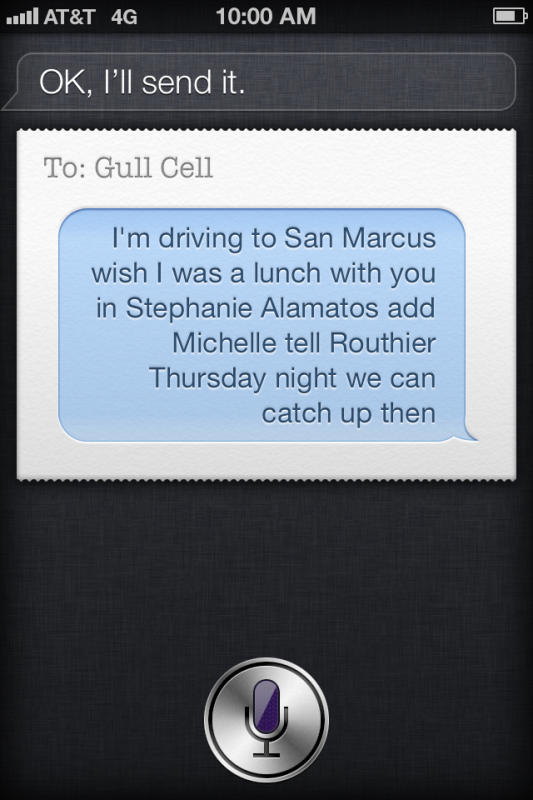 The only part of this that is remotely accurate is that I was driving to San Marcos. I don't know Stephanie Alamatos, Michelle, or Routhier.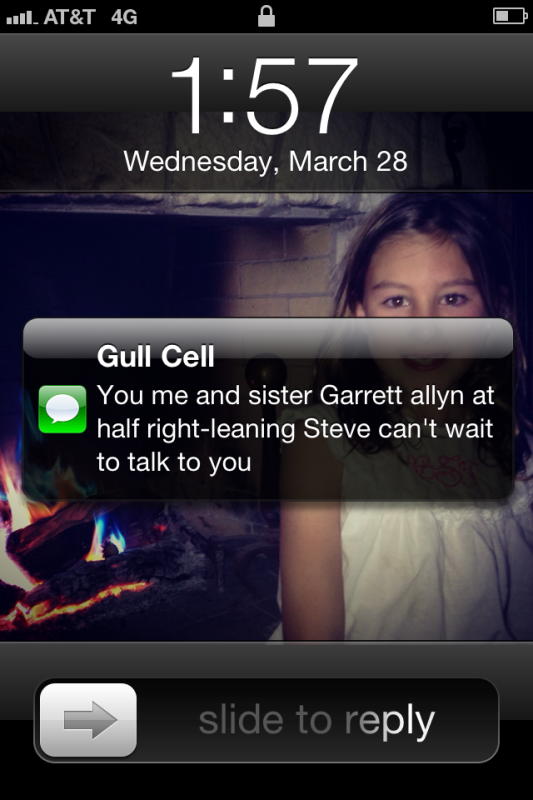 I'm sure Sister Garret Allyn is a lovely person. Can't wait to see her at half right-leaning Steve. Even though it's a shame Steve only leans half right.
Then Gulley ate lunch with our friend, Stephanie, (not to be confused with the mythical Stephanie Alamatos) and Steph decided to join us in our juvenile behavior.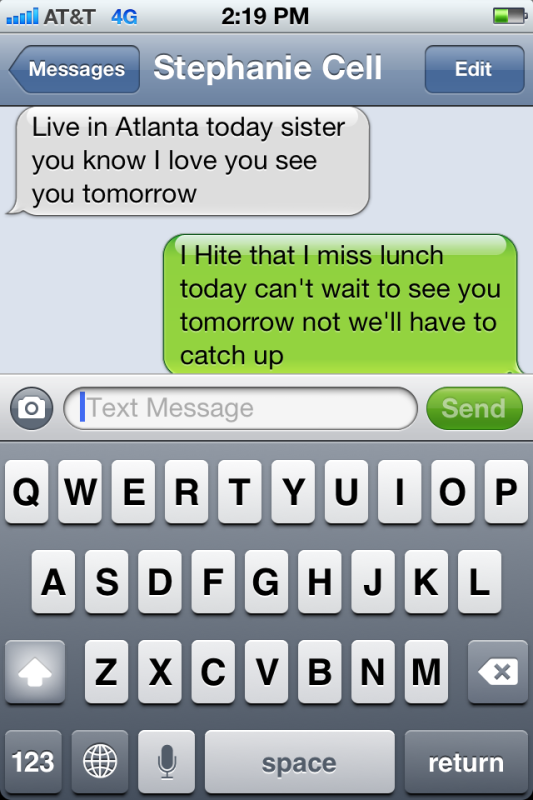 I think it goes with saying that Stephanie was not "Live in Atlanta".
Finally, after several days of our fun at Siri's expense, Gulley and I realized we needed to go back to normal texting. Mainly because we had no idea what each other was trying to say.
Gulley texted me later and was concerned that one of her eyes was swollen and sent me a picture of herself so that I could see if she was imagining it.
(By the way, I'm absolutely sure this is exactly how Steve Jobs envisioned his technology being used. God rest his soul.)
So I looked at the picture and assured her the eye situation was in her imagination. And then we had the following text exchange. I think it will be obvious that I decided to revert back to Siri in my last text back to Gulley.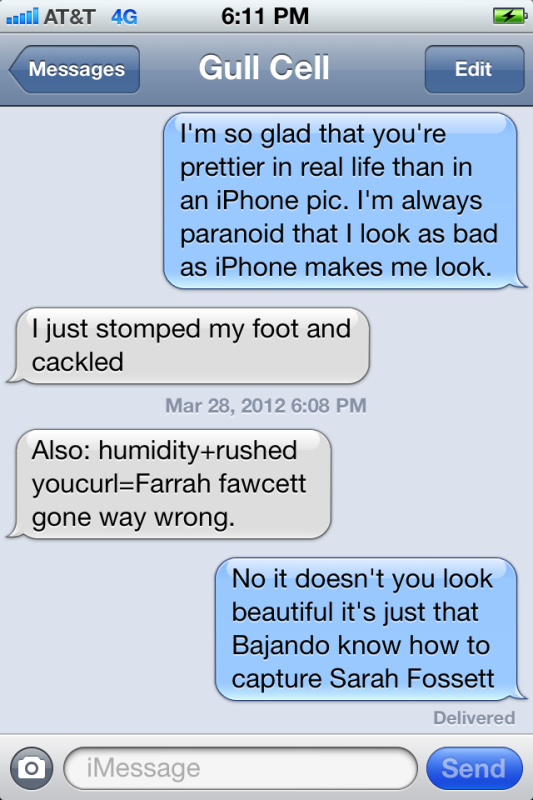 I have always, ALWAYS, believed that Bajando know how to capture Sarah Fossett.
Now if I just knew exactly what that meant.
Other than the fact that Siri and I have a failure to communicate.