I hope you all had a lovely Memorial Day weekend.
We did. Except for the fact that we have three days of school left which just seems nine kinds of wrong. Especially since every time I've asked Caroline what they've done at school for the last week the answer is "Helped pack up the classroom". Let's know when to cut our losses and move on. It's time for Coppertone and swimming pools and lazy mornings that don't involve packing a hot dog weiner wrapped in a tortilla and calling it lunch.
So the big event around here was the garage sale.
That's right. It actually happened.
Gulley and I threw caution and common sense to the wind and went with it. On Thursday night P asked me how many tables we needed for the sale and said he'd drive out to the church and pick them up. I texted Gulley to ask her and she texted back, "Do we need tables?"
This should be your first clue that we walk around the majority of the time with no idea what we're doing.
But on Friday we tried to pretend we were organized. I went to Office Max and bought the official Garage Sale Kit, complete with four garage sale signs and colored stickers for price tags. Gulley bought the garage sale permit and we got a huge container of Country Time Lemonade mix for the kids so they could have a lemonade stand.
And it all seemed pretty easy.
Until P and I began loading up his trailer at 5:15 on Friday afternoon with all the stuff we planned to sell so we could take it over to Gulley's house.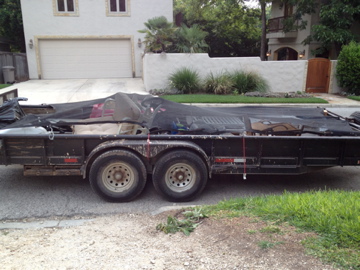 You need to know that my car was also completely filled to the brim.
And that we heard the theme from Sanford and Son loud and clear.
I texted Gulley to let her know I wasn't even sure it was all going to fit in her garage. And I was even less sure once we arrived at her house and I actually saw the garage filled with their stuff. But we spent the next few hours hauling stuff in and putting price tags on the essential items and trying to pretend that we had a plan.
And after a few slices of Papa John's pizza and laughing about Nena's proclamation that Gulley was probably going to buy all my old shoes, the garage looked like this.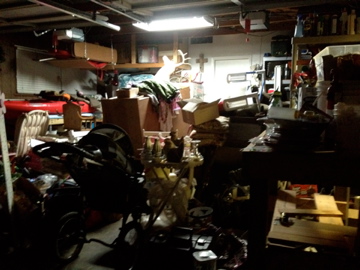 I know.
We had no game plan. Unless you count waking up at 6:45 the next morning to drag everything out to the driveway a plan.
But P had taken care of his business. He'd picked up a few tables from the church and organized himself quite the boutique in a corner of the front yard and even put a nail in the tree so he could showcase the deer mount he planned to sell. It was like how they have those Kentucky Fried Chickens inside a gas station. Except instead of chicken he was selling miscellaneous gun parts, ammo, a deer mount, various off road lights and a game call.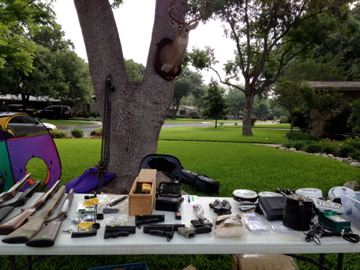 (Those aren't guns, by the way. They're gun stocks. Even in Texas you can't sell guns at a garage sale.)
Saturday morning dawned bright and early. Caroline and I had spent the night at Gulley's house because that seemed easier and more fun. P showed up with Shipley's donuts and kolaches and we all got to work trying to stage our merchandise and/or junk. But it's hard to make four old backpacks, fifty-two stuffed animals and sixty-four pairs of shoes look all that appealing.
Gulley and I put up signs around the neighborhood and posted it on Craig's List the night before, but P was concerned it was going to be a flop because only one person showed up before 8:00 a.m. And I was half afraid he was right.
But slowly and surely the customers showed up. And Caroline, Will, and Jackson accosted each and every one of them with plastic cups full of lemonade.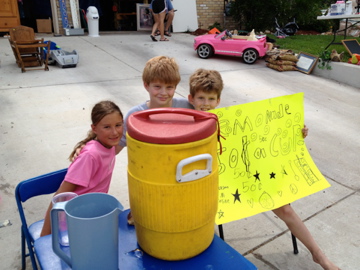 Over the course of the day we sold all the big stuff that we hoped to unload. An armoire, baby beds, strollers, rocking chairs, bicycles, a Barbie Mustang, and a couple of beds. Oh, and P sold the deer head, ammo and several other hunting related items.
We met a few possible hoarders, a man that informed us the United States will be in a civil war within six months and a guy that paid Will $1 to test drive the Barbie Mustang to ensure that it still worked.
(On a semi-related note, Gulley told me that when she was little her grandparents had a garage sale at their house and a man asked her grandfather if he could take her bike for a test drive. Granddaddy let the man ride the bike and the man rode away and never came back. What kind of soul-less person would do that?)
(Consider that your garage sale cautionary tale of the day.)
Gulley and I also pulled out a purse for Nena because Nena loves herself a purse from a garage sale.
And then around 2:00 p.m. we realized we'd been sitting around the table at P's Boutique for an hour and hadn't had any customers. So Gulley and I packed up everything that was left and dropped it off at Goodwill.
We all sat around and counted our earnings while the kids did the same and then divided their lemonade profits by three. They made $17 each which is a pretty good haul after a morning selling lemonade for fifty cents a cup. Of course it helped considerably that Mimi and Bops showed up and paid $5 for their cups of lemonade.
On the way home I told Caroline that they could have made even more money if they'd stayed out there longer, trying to drive home a point about working hard and being committed. The truth is that for all their early morning enthusiasm, they were over the lemonade business and jumping on the trampoline by 10:00 a.m.
But Caroline said, "I know. But we got bored. And some of those people just said no and there were a few people that were too picky."
"What do you mean? What did they say?"
She replied in an exasperated tone, "Well, one man asked for more ice and another lady asked for a whole new cup just because there was a wee little hair in her lemonade."
Yes. That is so picky. I can't imagine why she wanted a new cup.
Personally, if it had been me, I'd be done with lemonade forever.
On Saturday night, after the longest, hottest shower of my life (think Silkwood), I fell into bed and didn't move for nine hours. And when I finally got out of bed the next morning, every muscle in my body ached and I limped into the kitchen.
Which either means I'm really out of shape or offers insight into why Fred Sanford walked the way he did.
Selling junk is harder than it looks.
Copyright secured by Digiprove © 2012