I'm sitting here on the couch right now and trying to keep myself from eating an entire bag of Lifesavers Gummie Sours. They are my kryptonite.
Actually, they're only my kryptonite on occasion. I can go months without eating them and then all of a sudden I'm hit with a massive craving and then I'll eat them until I can't feel my tongue. I think this particular craving started when I took Caroline into Dylan's Candy Bar in The Galleria last week and she got some of those rainbow sour belts.
And then I ate them all.
It's the sour. I love the sour. She also got all manner of gummy alligators and sharks and bears. And I couldn't care less about those. But the rainbow belts got me. And now I'm about to eat myself into a sugar coma.
Anyway, we had a great time in Houston. We spent the last day at The Galleria looking around but left with nothing but a couple of drinks from Starbucks even though the Starbucks in the middle of The Galleria is the slowest Starbucks that has ever been created and I vow every time that I'll never stop there again.
And then we went and looked around Kuhl-Linscomb which may be my favorite store ever. If you're ever in Houston you should check it out. They have everything from books to makeup to bedding that will make you want to hide out until they close just so you can sleep there like those kids did in The Mixed Up Files of Mrs. Basil E. Frankweiler. Except that was in the Metropolitan Museum of Art in New York but whatever.
(Now I'm also thinking about the book Where the Heart Is when the girl spends every night in Walmart but none of this is important and I could follow this rabbit trail all the live long day.)
On Thursday morning we drove from Houston to Bryan in the middle of a torrential rain storm. It was that kind of rain where you can barely see the tail lights of the car in front of you and I told Caroline I needed her to be quiet so I could concentrate on driving. It didn't really comfort me when she took that moment to ask if I had ever written out a will. What on earth? Like she was worried if she was going to get the house?
Fortunately the rain cleared up around Hempstead and we made it to Honey's house just in time for a late lunch. The kids were glad to see each other and I was just glad to be out of the car and not discussing my last will and testament with my child.
And when we arrived I immediately got to hear about Nena's hair. Gulley's cousin was getting married on Saturday so Honey had made Nena an appointment to get her hair cut and styled on Thursday and Nena was not happy about this. She exclaimed, "THURSDAY? Oh, my hair will look like hell on Saturday. And you know I hate to use that word but I know my hair."
Friday was Gulley's birthday and her husband surprised us with a trip to the spa for massages and facials. Truthfully, I already knew about it but I'd been keeping it a secret for over a week which felt like an eternity because when Gulley and I were both talking about how much we needed a break it killed me not to blurt out "WE'RE GETTING MASSAGES TOMORROW. WITHOUT THE KIDS."
So that was heavenly. And then we followed it up with a super classy birthday lunch at Wings-N-More because everyone knows a place called Wings-N-More is pretty much the same as a fancy tea room. Meanwhile, Gulley's husband took the kids to eat lunch at The Dixie Chicken which is an Aggieland landmark for those of y'all who might not be familiar.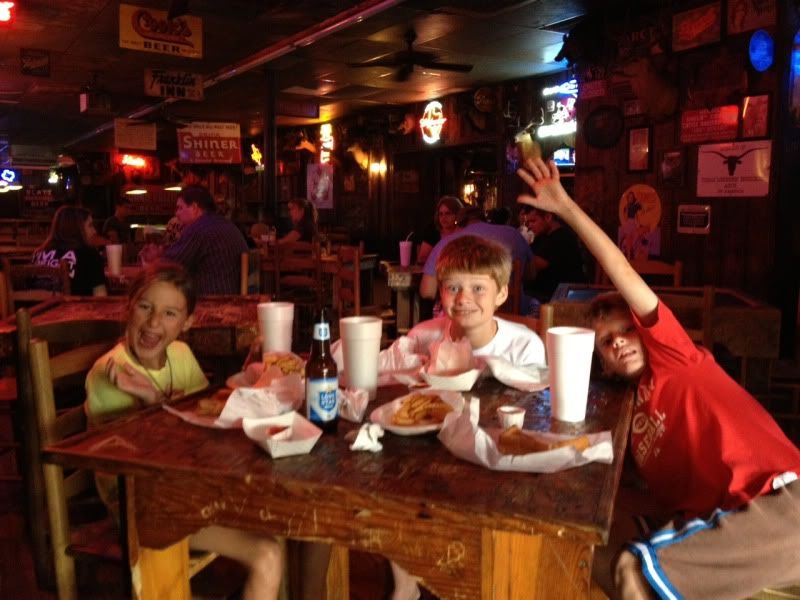 I think it's safe to say the kids were thrilled by the whole experience. Especially because there's a real live rattlesnake in a glass cage there and really what goes better with cheese fries than a rattlesnake viewing? J told us the kids said, "This place is COOL. The Moms would never take us here."
Yes. Mainly because The Moms might have forgotten that the Chicken isn't just a place to drink beer.
Later that night we all went to eat at Christopher's for Gulley's birthday dinner and it was just a great night. We warned the kids on the way over that this wasn't the type of place where it was acceptable to play the "Who Ate The Burp?" game or to see how many times they could visit the restroom in one meal and they listened to us. For once. In fact, I feel like they embraced their fine dining experience.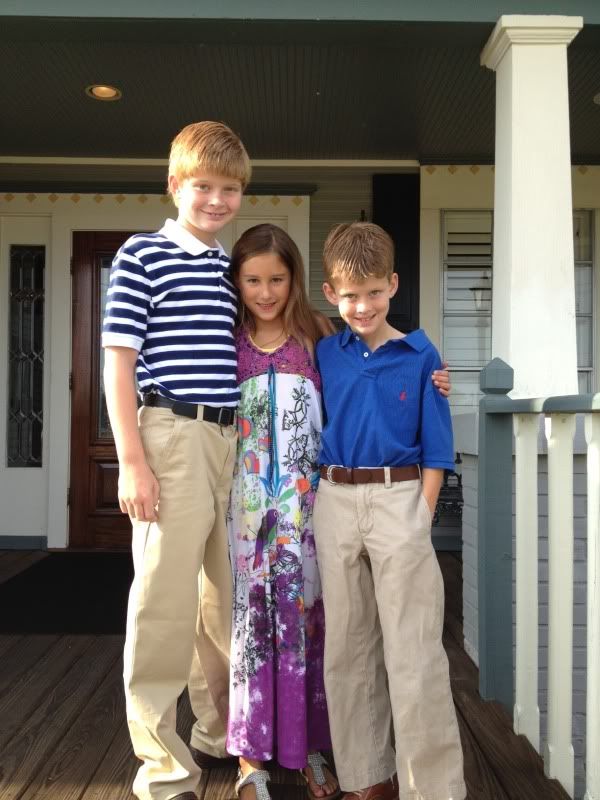 It was a great meal and just a great night. Lots of love all around the table and thankfulness for years of family and friends.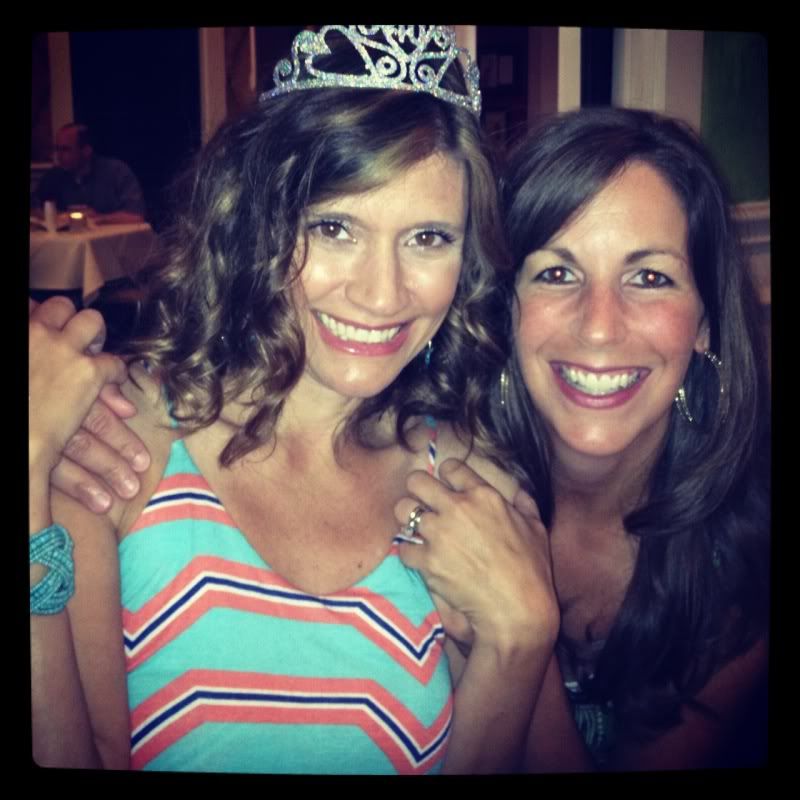 Saturday morning Caroline and I drove back to San Antonio and I've been doing laundry ever since. Except for the two hours when I went to the grocery store to buy food.
And Lifesaver Gummie Sours.
Copyright secured by Digiprove © 2012