Who knew that compiling a hair retrospective would involve so much work and intense soul searching? Of course, truth be told, a large part of the soul searching has involved to what extent I am willing to share the sins of my hair past. To what degree will I shame myself?
Judging by what I've decided to put on display for all the internet to see, there is really not much of a limit. In fact, it has made me grateful that I did not come of age as part of the MySpace generation because otherwise there is no telling what I would have posted at age 19 when I thought pictures of Gulley and me sitting on a wooden Indian's lap with glassy eyes (us, not the Indian) were hilarious.
God knew I was not meant to be a part of the internet generation during my perilous teens and early twenties, because while He removes my sins as far as the east is from the west, the internet remembers forever.
Anyway, judging by the comments the majority of y'all seem to be risk-takers when it comes to your hair. Y'all are members of the it will grow back club.
It's caused me to examine the roots (pardon the pun) of my conservative hair ways. I've spent minutes of the last several days searching the deepest recesses of my soul to understand why I am afraid to take a hair leap of faith. I have even compiled some photographic evidence.
I realize I have a lot of time on my hands.
However, all my minutes of research made me feel compelled to present a hair retrospective, also known as the life and times of Big Mama's hair.
This is me at five months old. Is it just me or do y'all see a hint of a mohawk?
And let's all have a special moment of silence for the fabulous shag carpet used by Sears Portrait Studios everywhere in the early 70's. Also, why all the lumps in the carpet?
Now here I am during my christening.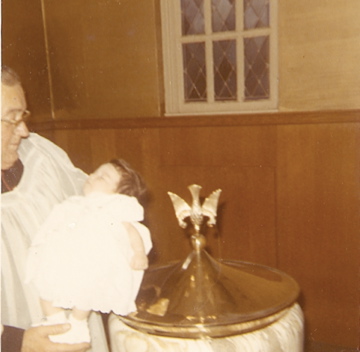 I can't say for sure but I would be willing to bet money that my mama asked the priest to say a special blessing on my hair. I come from a long line of women who believe strongly in the power of good hair.
God surely heard the priest's words because here I am at age three.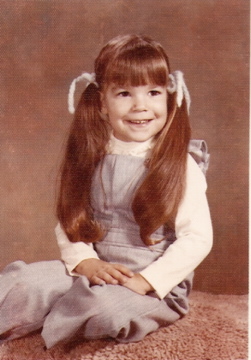 Hello lush, thick locks. Please note that at this age I did not have any type of bang issues.
For the rest of my earliest years I had long, thick hair that could be pulled back in various ponytails, pigtails, and braids. Then I became best friends with Michelle. We were in second grade, she had a Dorothy Hamill haircut and she convinced me that I wanted to sport the Dorothy Hamill, too.
Somehow the seven year old salesman in me managed to persuade my mama to let me get my hair all cut off. Here is the result.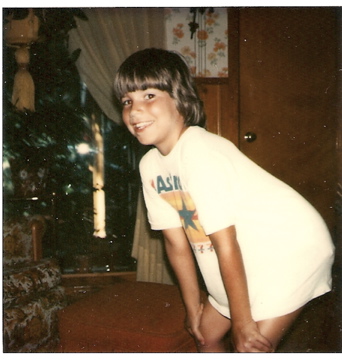 Apparently, the short hair also made me very sporty and ready to strike athletic-like poses.
Also, now that I'm looking at that picture closely I realize that I have already had the Katie Holmes bob once in my life. Only it was called the Dorothy Hamill because Katie Holmes hadn't been born yet.
By the way, my friendship with Michelle ended shortly after I got this haircut because I forgot to wear my pink corduroy pants to school and instead wore my green Luv-its. In short, Michelle was a bad seed that led me into the valley of bad hair and left me there.
After this, I spent years in a downhard hair spiral as evidenced by this series of school pictures.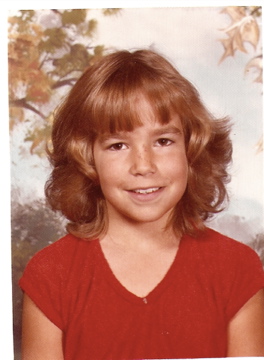 I wish this was a full length picture because that is a red, terrycloth dress that I wore with Yo-Yos and my first pair of real pantyhose. I was very sophisticated.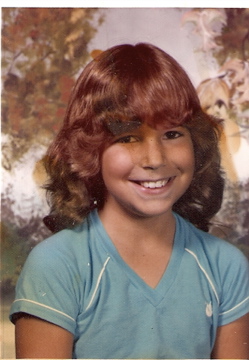 Again, great outfit. Aqua Gloria Vanderbilt shirt with aqua Gloria Vanderbilt jeans that were sadly ruined by battery acid when I was changing the batteries in my eight-track tape player. It was the first real tragedy of my young life.
Those pictures are proof that my bangs issues can't be completely blamed on postpartum hormones. For further evidence, let me present this picture.
That is my sister and me in some sweet matching dresses that came from Weiners. My daddy took us to have our picture taken and obviously, let us fix our own hair. Please note the cowlick in the middle of my bangs.
I apologize to my sister for throwing her under the bus by posting this picture. It's the blessing of being related to me by blood and sharing a room, our clothing, and our DNA. Also, she's proof that the bangs issue is most likely genetic.
Now, we progress into the years that my hair felt the influence of Farrah Fawcett and the wings phenomenon. My best friend at this time was Caroline Fletcher and she had the most glorious feathered hair in the universe. She could flip her head upside down and come up with some wings that made me weep with envy. I tried, very unsuccessfully, to achieve the same results but there wasn't enough Final Net in the world to make it work.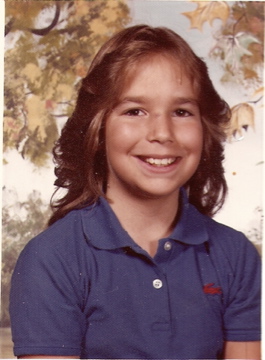 I can't even express how cool I was in fifth grade. Not only did I have the fab Izod shirt but I was wearing it with my Jordache jeans and the original Nike canvas tennis shoes with the baby blue swoosh.
Truth be told, I probably peaked in fifth grade.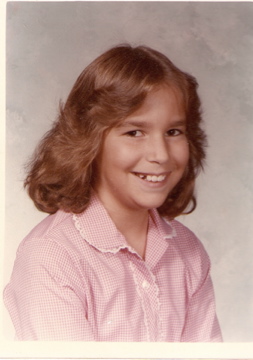 Oh sixth grade. You were a cruel time period as evidenced by this gingham shirt that I wore with a denim prairie skirt and brown topsiders. This was also the year that I wasn't allowed to play the flute in the band because my mouth was shaped wrong.
Seriously, sixth grade band director whose name I can't remember? Look at that hairstyle. Look at those teeth. I had enough issues without being told I had to play the clarinet due to my lip structure.
By seventh grade, I decided to go with a new look. I think if you look closely you can see that I paired that yellow shirt with some yellow eyeshadow.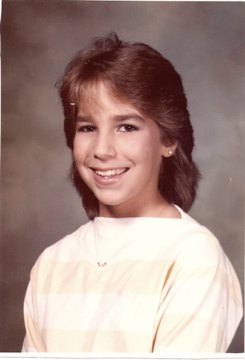 This is a hairstyle still favored by women who regularly participate in tractor pulls and monster truck races.
As is this.
In eighth grade I stuck to the same style but just slightly poufier. I didn't know it then, but this was leading me into dangerous hair territory. Hair territory that would require that I never left my house without a teasing comb and a gallon of Aquanet hairspray. I was so young and naive. I had no idea where the poufy would lead.
That's really all anyone should have to digest in one day. I will be back tomorrow with the continuation of my hair history which will involve more permanent solution and trauma than any one head of hair should have to endure. I refer to that time as high school.
It is grueling retracing this history, but I believe I will come out a more complete person on the other side with a better understanding of my roots.
Sometimes we must look back to be able to move forward. I think my sixth grade band director told me that.