Well, all I can say is if you're one of those people that loves to look at slideshows of other people's vacations, then today is your lucky day.
Of course if you like to look at slideshows it may also mean you like to time travel back to 1984 when people still watched slides on those little carousel things. I can still hear the "CHA-CHOO" that my Nanny's slide carousel made when you hit the remote control to advance to the next slide. Now that was technology.
Way back when Caroline was only about four years old, she began to talk about how much she wanted to go to New York. I have no idea why except that Bops used to fly to Newark for business trips all the time and brought her back a little Statue of Liberty. I guess at that moment a dream was born. A dream to see the big city.
So Mimi and Bops decided this was the year and told us way back in early September that they wanted to take us all to New York for Mimi's birthday/early Christmas present. This works out since Mimi's birthday is in December. P declined to go because he isn't a fan of the big city and, also, it's hunting season in South Texas. But Caroline and I jumped at the chance along with my sister, her husband and daughter, Sarah. They left Luke at home because he's just three and would probably whine and cry and be bored and cold.
Which are really the same reasons that I was glad P decided not to go.
We decided we could always just photoshop them in to any important family photos we took while in New York. And that right there is why slide technology is almost obsolete.
On Wednesday morning we had a 6:55 a.m. flight. Which meant we had to be at the airport by 5:30. Which meant we had to wake up at 4:30. Which meant that I didn't sleep at all the night before because that is what I do when I have to get up at an hour that I still consider to be the middle of the night.
We made it to the airport in plenty of time, got through security and made a necessary stop at Starbucks for caffeine. Except Caroline and Sarah had hot chocolate because kids don't really need caffeine for extra energy. Even at 5:30 a.m.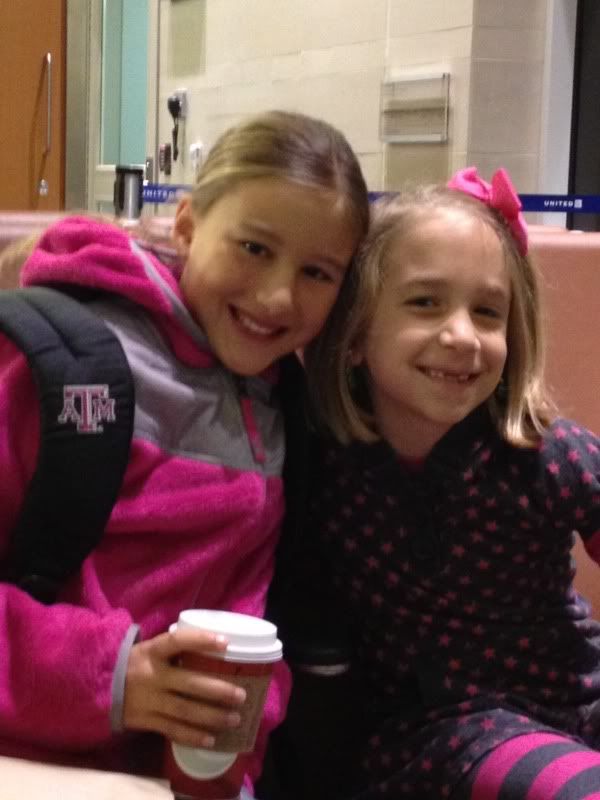 When we arrived in Newark, a Good Times van picked us up to drive us to our hotel. (Not really, but how awesome would that have been? Maybe a brown one with a scene of a sunset on the side.) It was actually a very tasteful, roomy black van that wasn't heated to the surface of the sun like the flight we'd just been on.
As we drove into the city we pointed out the Statue of Liberty and Brooklyn Bridge to the girls. And Caroline was fascinated by the Lincoln Tunnel even though she was sure she could see it leaking.
We made it to the city by mid-afternoon and immediately walked down to Rockefeller Center to see the Christmas tree.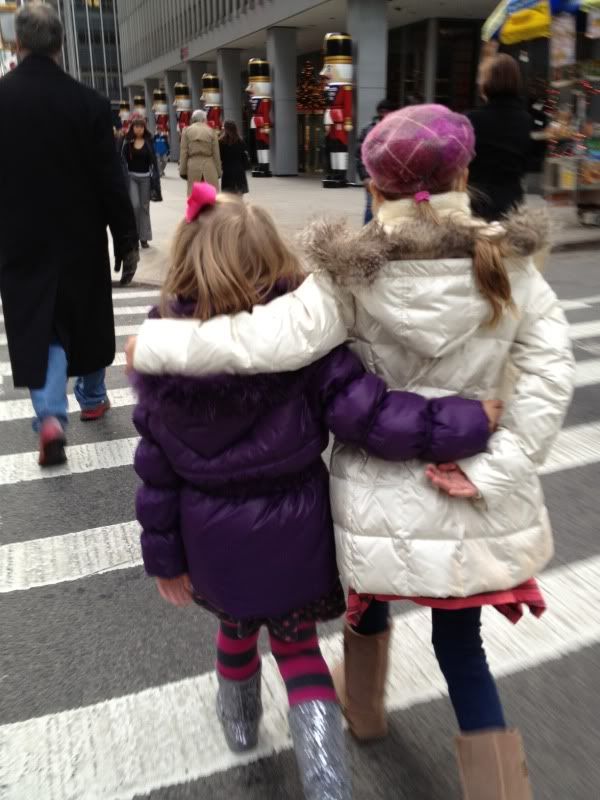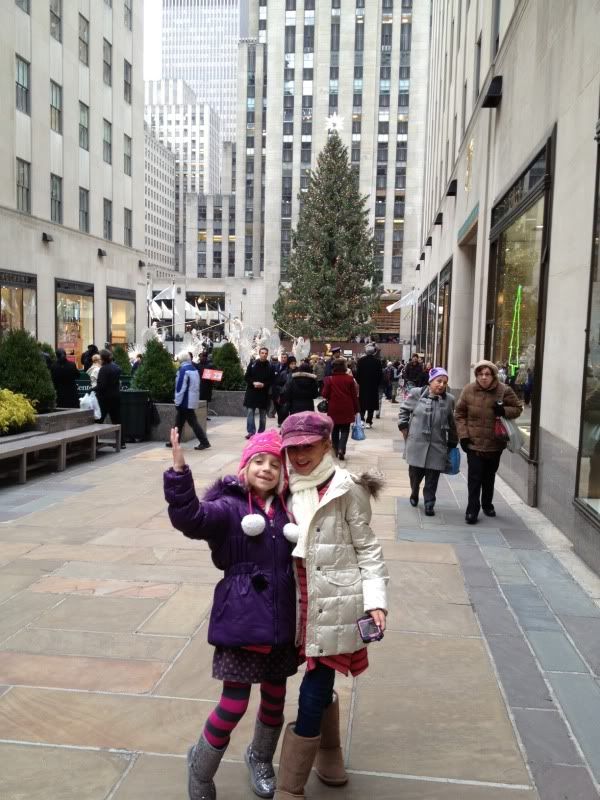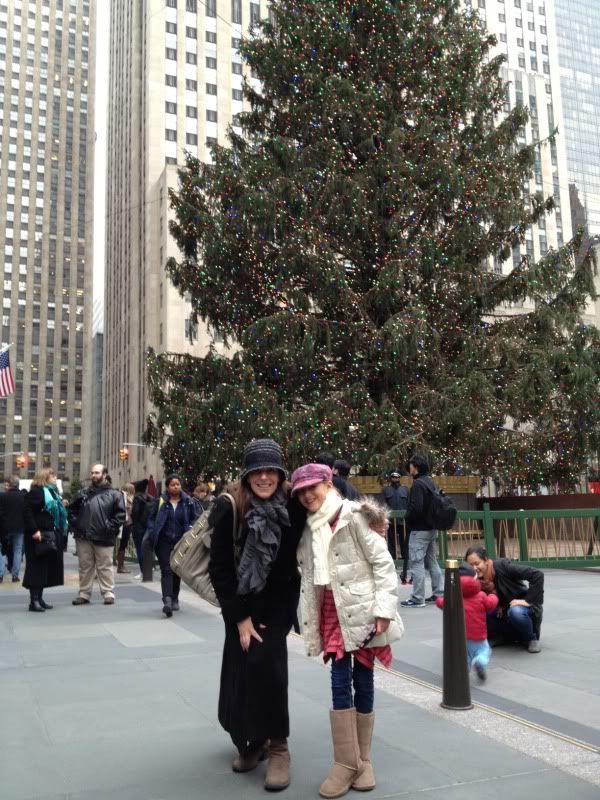 I decided it was a good day to do my impersonation of a member of Fat Albert's gang. Note to self: NICE HAT, LUCILLE.
And then we just walked up and down Fifth Avenue, looking at amazing store windows, until we realized we were all starving and needed to eat dinner.
It was 4:15 p.m.
We party like rock stars.
Or senior citizens. I can't remember which.
But after some good Italian food, we had renewed energy and made our way to Times Square. That's where the girls discovered the M&M store and I accidentally bought $20 worth of M&Ms because ALL THE COLORS. And then we saw Johnny Manziel's billboard and discovered that New York isn't like Disney World and if you take your picture with Mickey and Minnie Mouse they expect a tip.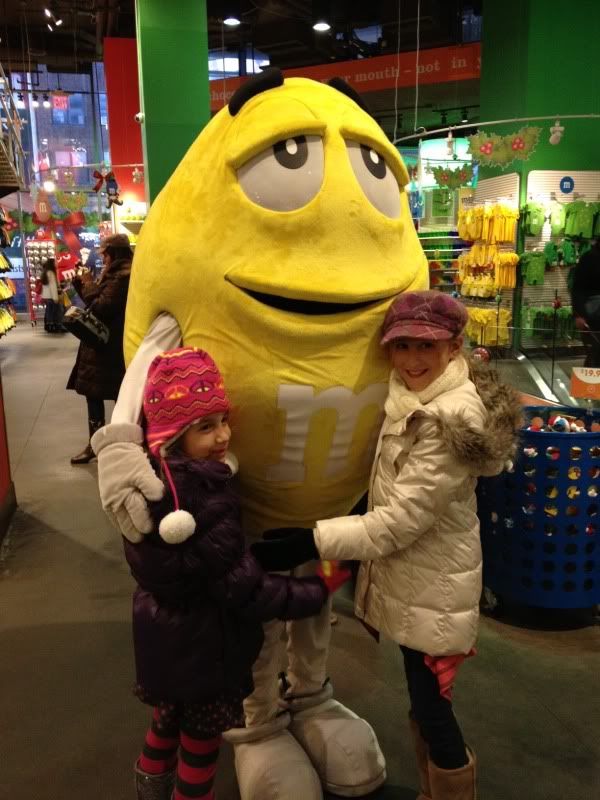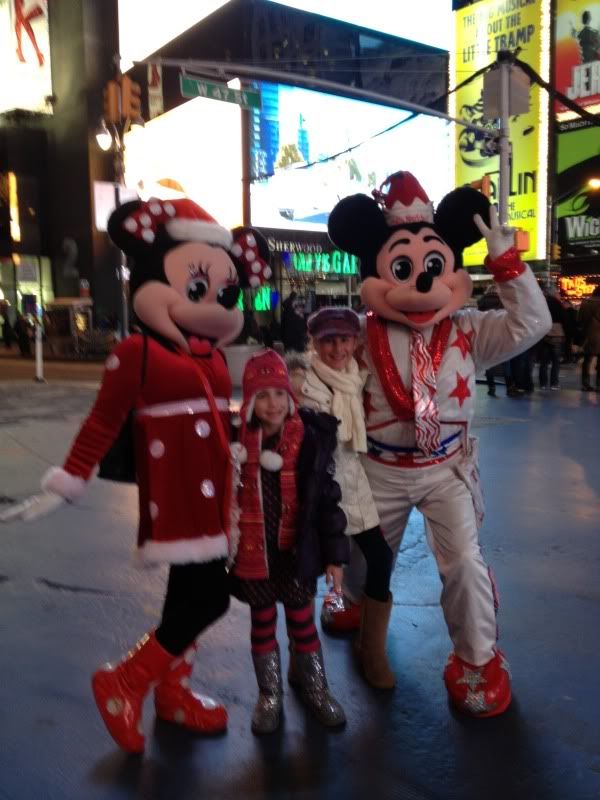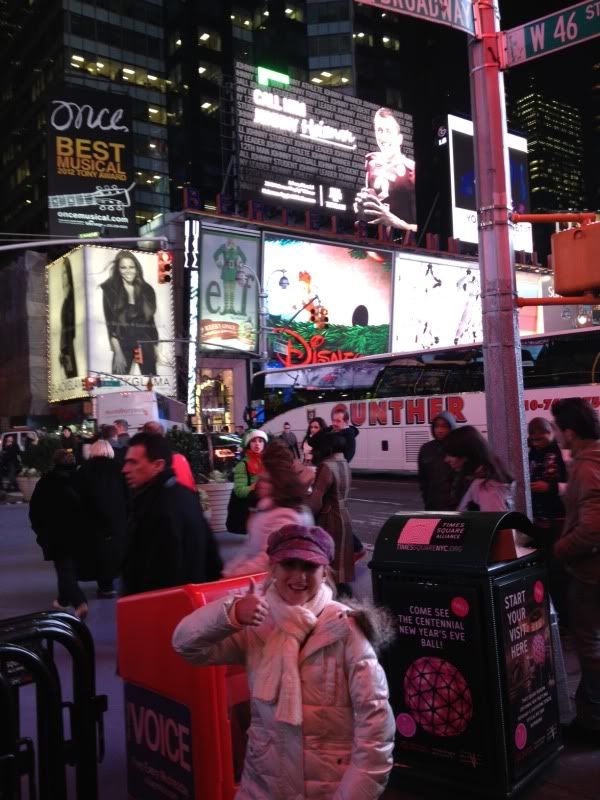 And, finally, we went in the Toys 'R Us store where a kid can be a kid or suffer some kind of sensory overload because they've been up since four in the morning and there is a FERRIS WHEEL IN THE STORE.
Caroline looked at me after we'd been there about thirty minutes and said, "Mom? My head kind of feels like blelrlsh shiflenth flvuen". I felt like that was a sign it was time to head back to the hotel and get some sleep.
So that's what we did.
At 7:30 p.m.
In our defense, it felt like midnight.
(On a side note, the Toys 'R Us in Times Square is open twenty-four hours a day now through Christmas. I bet that's just how the shepherds who visited the manger envisioned future generations commemorating the birth of our Savior.)
The next morning we were up and out early because that's how Bops does vacations. Time is money. We went to the American Girl doll store so Sarah and Caroline could get their dolls ears pierced and hair styled. This was a precious time filled with running commentary by Bops about how the economy can't be that bad if the American Girl doll salon still exists and wondering how you keep a straight face while you give a doll an exfoliating treatment.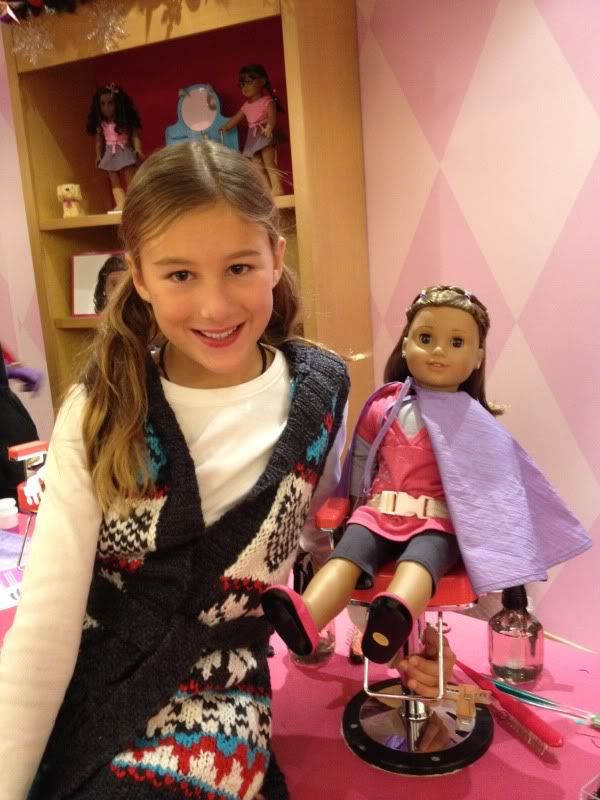 But the girls loved it and the hairdresser who styled Caroline's doll's hair marveled at what good condition it was in. And it took everything in me to say it's because that doll has spent its entire existence sitting virtually untouched in the playroom.
We made our way to St. Patrick's Cathedral after that. With freshly coiffed dolls in tow.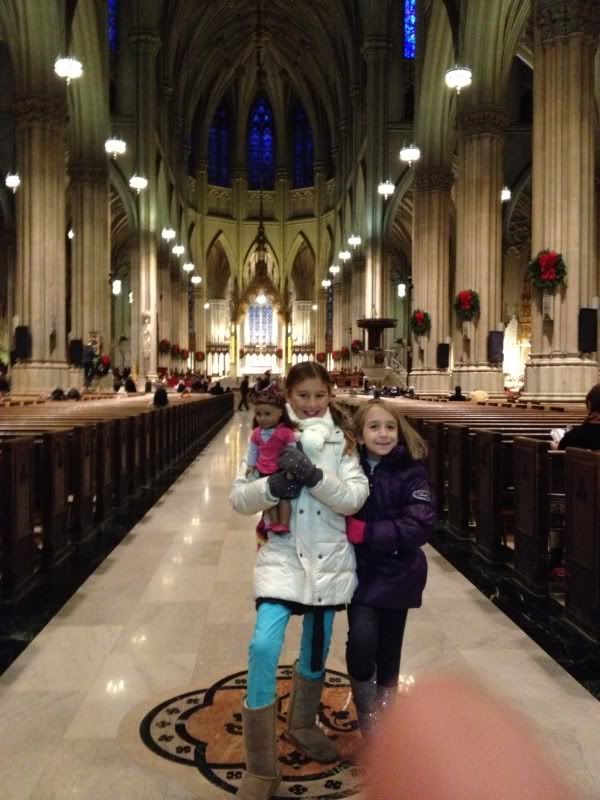 And then walked until we got to Central Park. Where Caroline discovered the beauty of climbing every single rock in the park and causing me to hyperventilate.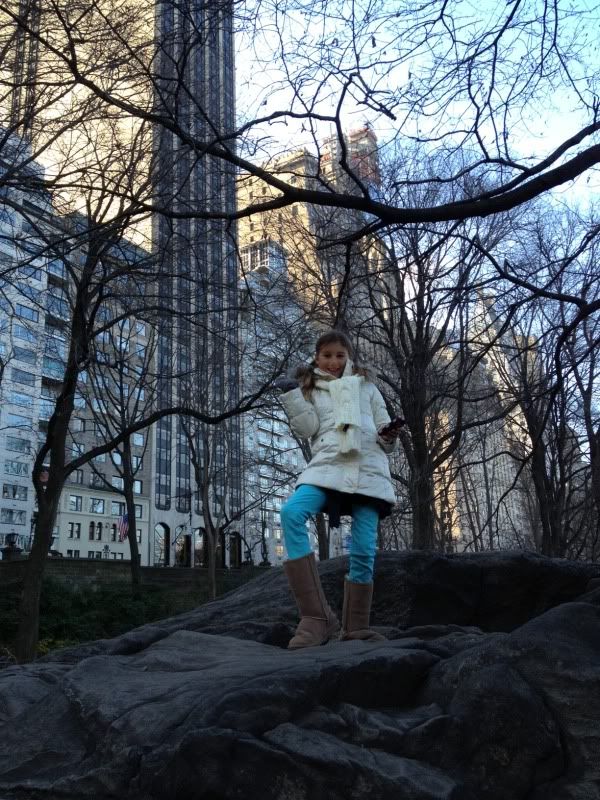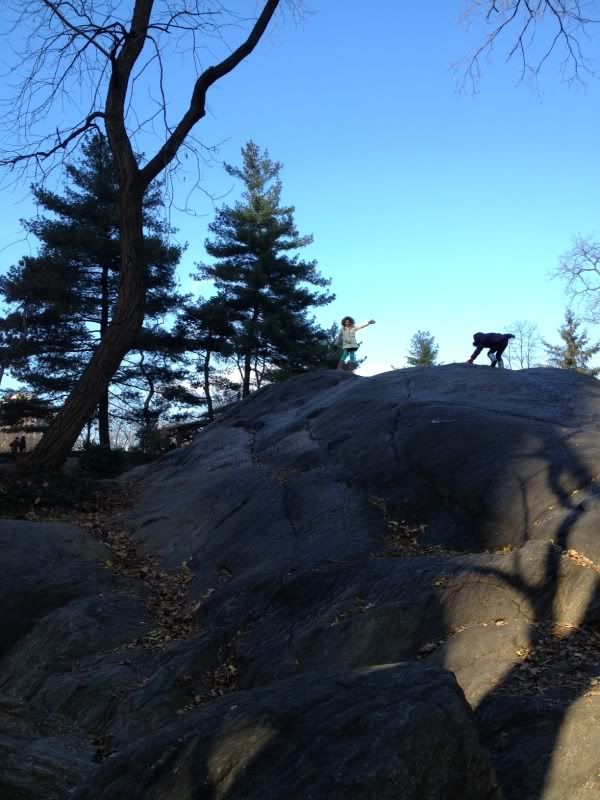 Eventually I gave up the fight and climbed up there to join her. And I'm so glad I did because this may be one of my favorite pictures ever of the two of us.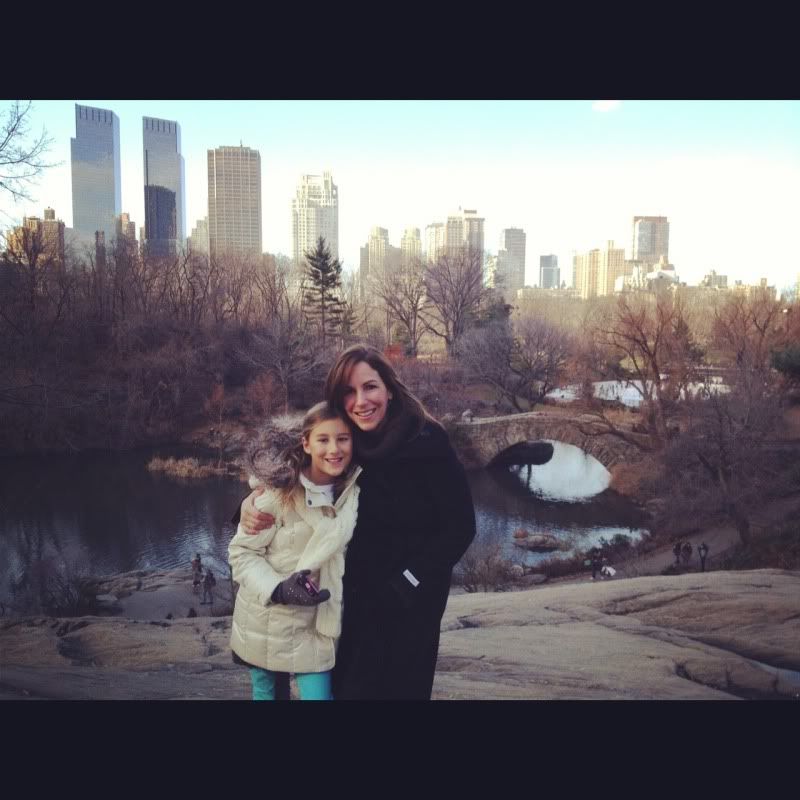 We also ice skated, and by we, I mean my brother-in-law and the two girls. And I'm also playing fast and loose with the term "ice skate". It was more an "awkward ice walk".
Afterwards we visited Eloise at The Plaza.
Right after this we learned you're not supposed to take your picture with Eloise.
And then we played the giant piano and visited Zoltar at FAO Schwarz. Caroline also ended up getting some kind of mini-facial from a salesgirl who told her that she needs to take good care of her skin because "most damage occurs before the age of seventeen". And Caroline proved that she is her mother's daughter because she was immediately ready to own the entire beauty set. This is a child who complains about having to brush her teeth so I didn't feel bad about turning down the purchase of skin care regimen that would make Victoria Principal weep.
But she has reminded me a million times that "most skin damage occurs before the age of seventeen". Yes. Let's start with remembering to shower every day.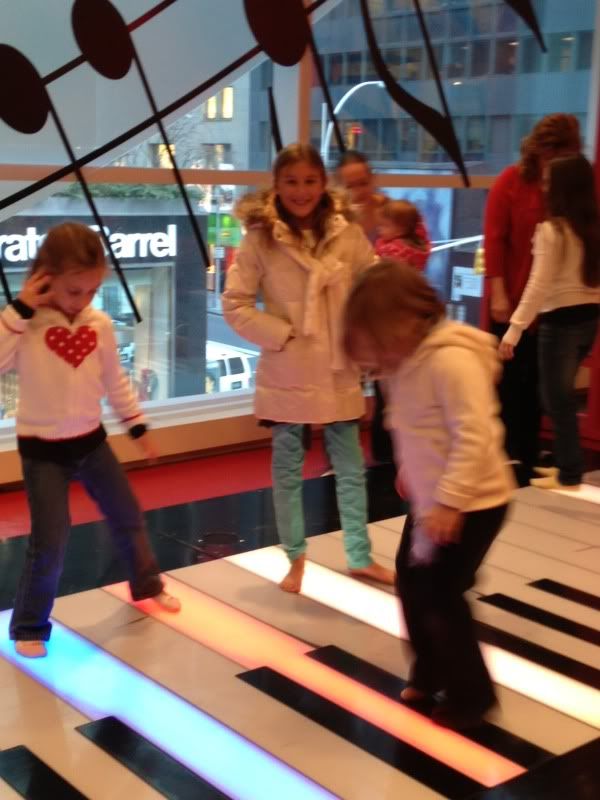 Later in the day (Are you exhausted yet? Because I am just reading all of this.) we rode the subway down to Chinatown and Little Italy. Caroline bought a cool bag, we ate some delicious homemade pasta, and made our way back to the hotel to crash.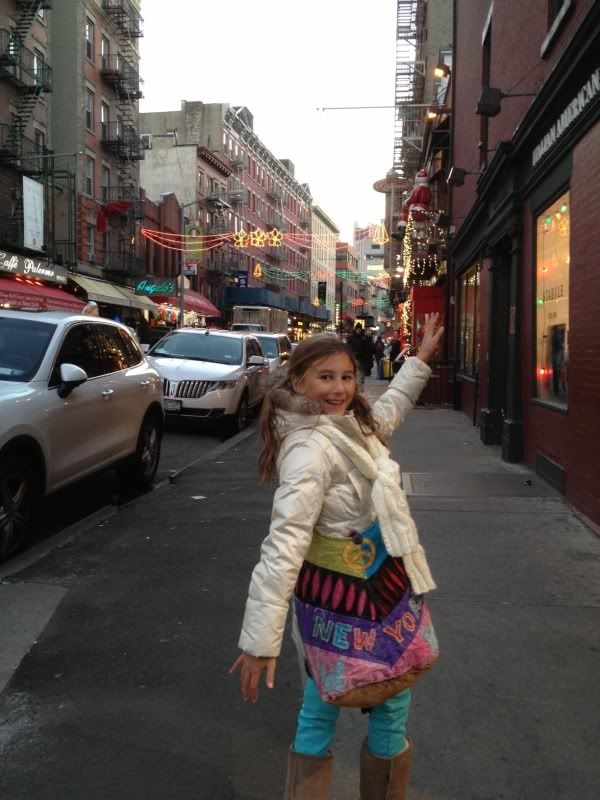 And I think that has to be it for today because MY WORD at the lengthiness. Good news for all of you who love a good slide show. There's a sequel.
Copyright secured by Digiprove © 2012