First of all, I just wanted to say thank you so much for all your sweet words about Jen and prayers for her friends and family. I'm not ready to talk about it yet and not sure when I will be, but the last week has brought both tears and laughter and I guess the bottom line is I am so thankful for Jen's life and the impact she had in her time here on earth. We will miss her so much.
In other news, today is our nineteenth wedding anniversary. Nineteen years ago today, at noon in San Antonio, P and I vowed to love and cherish each other in sickness and in health.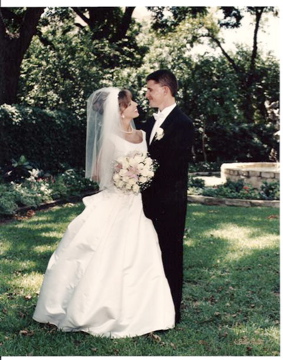 It seems appropriate that we woke up yesterday morning to a power outage and I found P in the kitchen, wearing a headlamp while making a pot of french-pressed coffee. He is a man that's prepared for just about any life situation. Meanwhile, I sat on the couch and couldn't figure out why the internet wasn't working. It's our differences that make us stronger. And often drive the other one crazy.
But I wouldn't trade it.
Happy Anniversary, P! Love you more today than I did nineteen years ago.
I'll be back for Fashion Friday, but other than that I'm out for the rest of this week. Caroline starts school on Monday and we're trying to make the most of the last days of summer.
Copyright secured by Digiprove © 2016