A few weeks ago I was looking through some Christmas pictures that my sister emailed to me. There were a bunch of cute ones of Caroline and her cousin Sarah and then I saw something that left me puzzled.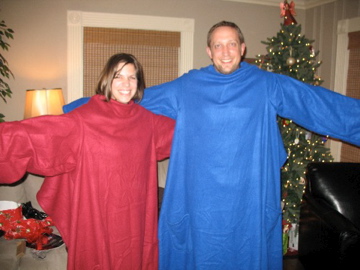 My sister and I don't talk about everything, but I couldn't believe she didn't mention that she and her husband played the role of shepherds in some kind of Christmas pageant.
But, oh no.
On closer inspection I realized those aren't shepherds robes. Those are Snuggies.
I called her and asked, "What is up with the Snuggies? It's like I don't even know you."
She explained that they got them for Christmas as a practical joke, but I told her that doesn't explain why they were actually wearing them. And posing for pictures. And confessing that they've continued to wear them long after the joke is over.
I can't even talk about the part where she told me how much they were enjoying the two free booklights they received with Snuggie purchase.
Some family skeletons need to stay in the closet.
Next to the stack of ShamWows.