Well. I hope you all had a lovely Easter with your friends, family and various loved ones. Personally, I have no desire to ever see another egg in any given form for at least a few weeks. We have had boiled eggs, deviled eggs, egg casserole and egg kabobs. Not really on the egg kabobs but I felt like Bubba from Forrest Gump and so I went with it.
Last week went by pretty fast because I drove to Dallas on Tuesday morning for a speaking event that night. The weather was horrendous, but the event was so fun and I got to spend the night with my friend, Jamie, and catch up on life so it was all totally worth it.
Here I am signing books at the Say Something event.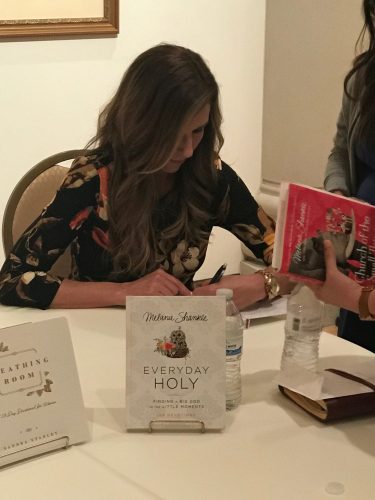 They were able to get in early copies of my new devotional, Everyday Holy, that comes out on April 10th and it was fun to see it live and in person.
Anyway, I drove back home on Wednesday in the pouring rain and made it home in time to pick Caroline up from school. I'd tell you what we did for the next two days except I am sitting here and can't remember. I guess it wasn't very exciting. Oh, except I did go to Target to get some grand prizes for our egg hunt at church. Which is how I ended up driving through the car wash with a giant chicken.
Friday was a holiday so we spent most of the day just hanging out. The weather was gorgeous. And then Caroline ended up going downtown with some friends that night to the music festival that was part of the Final Four festivities and so P and I had a big night of grilling burgers and sitting out on the back porch.
On Saturday, I cooked most of the day to get ready for Easter brunch. Then we dyed Easter eggs because the rule in this house is that you are never to old to dye Easter eggs. If you don't go to church on Easter Sunday with blue and green fingers, then you're doing it wrong.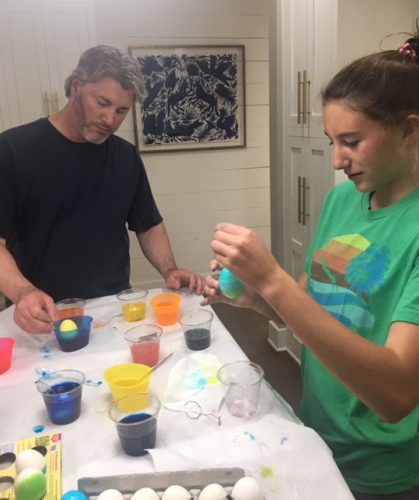 Sunday morning we attempted to leave earlier than usual to make sure everything was set up at our Community Worship but failed miserably. This was due to several factors that included, but were not limited to, hair issues. Caroline may be a teenager now, but she still loves to throw in a last minute hairstyling challenge for me about three minutes before we walk out the door. We eventually made it and it was a really nice service complete with an egg hunt afterwards.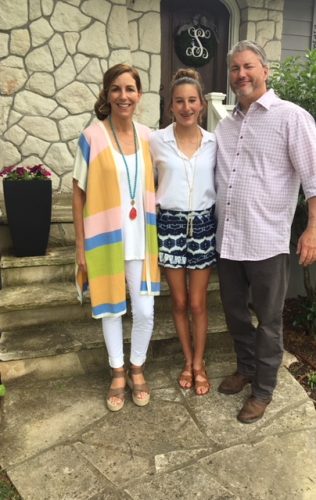 (A few of you have asked about my sweater. I regret to tell you that it's at least three or four years old. But I originally bought it at Blue Door Boutique.)
After that, we came back to the house and Mimi and Bops came over for lunch, along with my friend Jamie and her family because they were in town for the Final Four. We ate and hung out for a while before everyone went their separate ways and then I took a nap that was one of those where you wake up and have no idea what day or time or maybe even what year it is.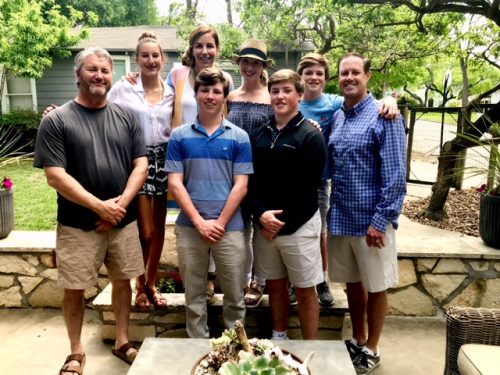 Every Easter I fight the battle of getting P and Caroline to stay in their church clothes long enough to get a good picture. Clearly, I lost that battle with P this year. Sometimes a man just needs his Birkenstocks and a t-shirt.
Other than that, we've watched a lot of basketball, some Netflix and enjoyed the sunshine. I also feel like maybe the oak pollen is trying to kill me. And in what is a particularly disturbing turn of events, I've left my house three times over the last few days while wearing my reading glasses and haven't realized until I'm outside that they aren't my sunglasses or that I can't see things that are far away very clearly. This feels like something I used to make fun of other people for doing and, yet, here I am.
Hope all is well in your world. And that you have figured out ways to use all those boiled eggs and leftover ham.
Copyright secured by Digiprove © 2018