The good news is it rained last night and the oak pollen appears to be temporarily defeated because I can actually breathe and my eyes aren't watering.
The bad news is the thunderstorm came through while we were sitting in metal bleachers at the high school watching a soccer playoff game. Not necessarily the place you want to be when a lightning storm hits.
And we'd left Piper and Mabel in the backyard while we were at the game, so they were none to pleased with us when we got home and they'd had to find shelter on the back porch instead of under the bed which is their preferred thunderstorm location.
Mabel wrote a haiku about it:
Thunder and lightning
Left outside on this dark night
I will now shun you
Here are a few things I wanted to share today that I think you might want to know about.
1. An excerpt from Everyday Holy in MTL Magazine – The Glory in Our Midst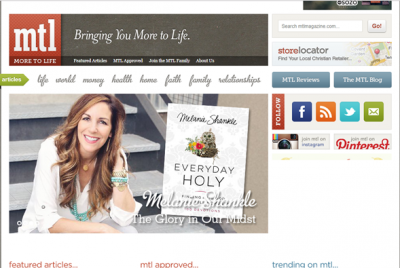 This is an excerpt from Everyday Holy that I thought you might want to read. I still can't believe I wrote a 100 day devotional. In fact, I was thinking that in high school I could've been voted Most Likely To Never Write a Devotional Book. Life is funny.
Just a reminder that it comes out on Tuesday, April 10th, but if you pre-order before that day you can get a matching journal. It's a little confusing, but just follow this handy tutorial.
A. Go order Everyday Holy from your favorite online retailer. It's lovely in person and a hardcover book for just $12.32 and it would make a great gift for graduation or Mother's Day.
You can find it here on Amazon, here at Barnes & Noble, or go to the Everyday Holy book page to see all your other online options.
B. After you order, go to the Everyday Holy book page and fill out the form on the bottom of that page. Make sure you fill out all the information correctly. You have to fill out the form to get the journal.
C. In the section of the form that asks for your receipt number, please enter your receipt and/or order number. Then, if you ordered multiple copies and would like to receive multiple free journals, put the total number you ordered in parentheses after your receipt/order number.
D. The journals won't be ready until a week or so after you get your devotional so don't panic if you don't receive one at the same time. It will ship separately.
E. Thank you so much for spreading the word and buying it!
2. Advice to writers by Joanna Puccini
I get so many emails from aspiring writers asking for advice or how to get started. This article written by literary agent, Joanna Puccini, is about the most comprehensive guide to the writing and publishing process that I've ever read. I found it very informative and thought some of you might enjoy it if you're interested in this sort of thing.
3. When Life Grabs You by the Baseballs: Finding Happiness in Life's Changeups by Jon Peters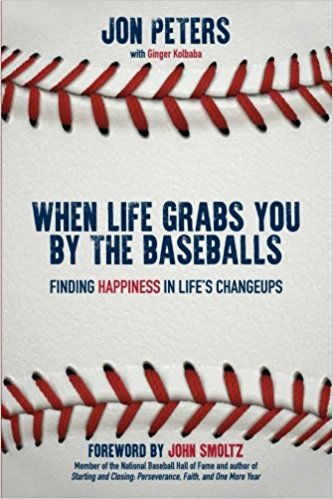 My friend Jon Peters has written a fabulous book about his life. We became great friends while we were both at Texas A&M and I'm so proud of him. He is the national record holder for the most consecutive wins by a high school picture and the first high school baseball player to be on the cover of Sports Illustrated. The book is about his life in baseball and his struggles after his dreams collapsed.
I tend to recommend so many books that are more for women because, well, that's what I read. But this would be a great one for any aspiring athlete, man or sports fan in your life. I really enjoyed it.
4. lucid wrinkle resistant microfiber sheet set
I bought these sheets from Overstock on a whim because we needed new sheets and figured I'd take a risk. I was skeptical because there are few people on earth who are pickier about sheet softness than me. I am high maintenance and do not even come at me with some sheets that get pilled after three washes. But these are incredibly soft and have held up really well so far. I highly recommend them.
They're on sale and just $45 for a king size set which is a bargain.
5. Thoughts on soccer from Caroline, age 6
I was looking through old videos in a fit of nostalgia because I just signed this baby up for Driver's Ed and what has happened. But this video made me laugh. Some things never change, such as her love of soccer, winning, ability to be easily distracted and that I don't know as much as her dad.
Thoughts on Soccer from Big Mama on Vimeo.
Also, I still have to remind her that her cleats only need to be worn on the soccer field if she wants them to last. Of course, back then, I had to tell her that because she wanted to wear them to first grade.
Happy Wednesday. Keep it cool, guys.