Listen.
I don't know where the time goes. I just know that I look up and another week has gone by and a new one is starting, I feel like Caroline when she was a toddler and threw huge fits and then would look up at us after she calmed down and say, "Happen? Happen?"
What happened was you lost your dang mind because the straw to your juice box broke. Kid, I'm sorry about your level 10 reaction to a level 2 situation, but all I can tell you is you come by it honestly.
Anyway, we left town a week ago this past Friday for College Station. We spent the weekend with Honey and Big, along with Gulley and her family, and loved every minute. I fully embrace a weekend that involves eating chips and dip, watching various Aggie sports and being with people I love and this one included all of those things.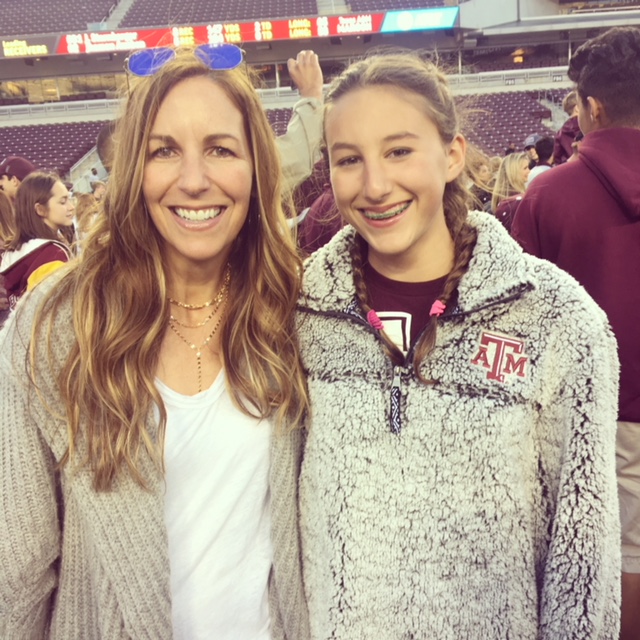 Caroline and I drove in that Friday night and just hung out after making a quick stop at Aggieland Outfitters to buy their last three remaining Aggie sweatshirts since there was a cool front blowing through. Then Saturday we headed out to watch the Aggies play baseball against Alabama before eventually making our way over to Kyle Field for the maroon and white game. While it lacked some of the excitement of an actual football game, it was still fun to see the players on the field and you'll be glad to know that I was doing a careful study of Jimbo Fisher's coaching style and I believe he has it all under control.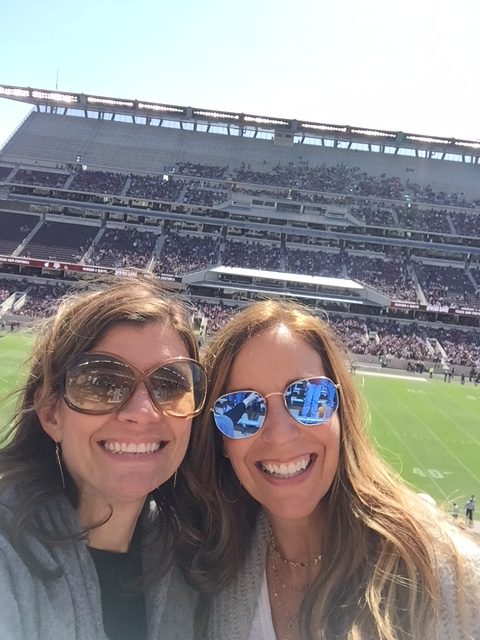 We drove home on Sunday and stopped at the Buccees in Bastrop along with what was apparently everyone else in the state of Texas. Caroline and I were both hungry and agreed that the chopped barbecue sandwiches they were selling smelled delicious, but felt that they would leave us with some regrets later on so we stuck to a bag of chips and Sour Patch Kids.
Then last week was basically banana crazy pants. I can hardly even remember what we did but it involved a lot of trying to figure out geometry homework (Lord give me strength) and preparing for a Biology lab practical on a fetal pig dissection. (Lord give me even more strength)
In the meantime, I did a lot of trying to figure out things to cook for dinner, laundry and attempting to get started on my next book.
But on Thursday, our high school girls' varsity soccer team was playing in the state semi-finals in Georgetown, Texas which is about a two hour drive from here and I ended up taking a carload of Caroline's friends to watch the game. Caroline rode on a bus with the JV soccer team, but several of her friends wanted to go watch the game and somehow I ended up agreeing to being their chauffeur. Here's what I learned from the experience:
1. High school girls are very loud.
2. There will never be a time when they see a sign that says "Road Work Ahead" that they don't say "Road Work Ahead? I sure hope it does!" (This is apparently from a Vine and it's the joke that keeps on giving.)
3. They will decide to listen to "oldies music" on the trip which for them means Maroon 5 songs from 2012. Or, when they really want to throw it back, Britney Spears singing "Oops I Did It Again" from 2000.
The honest truth is I enjoyed every minute of it and they were very sweet and made me laugh multiple times. Our soccer team ended up losing the game in the last 72 seconds which was a heartbreaker, but they played their hearts out and I was so proud of the girls for how hard they fought.
As for this past weekend, we just did a whole lot of nothing on Friday and then went to Caroline's club soccer game on Saturday. She's out right now with an injury but we still wanted to support the team and then we had everyone over for fajitas on Saturday night.
Also, I posted this on Instagram, but her coach had the girls do ice baths after the game in these huge trash cans in the back of his truck since they had another game on Sunday afternoon and needed to have fresh legs.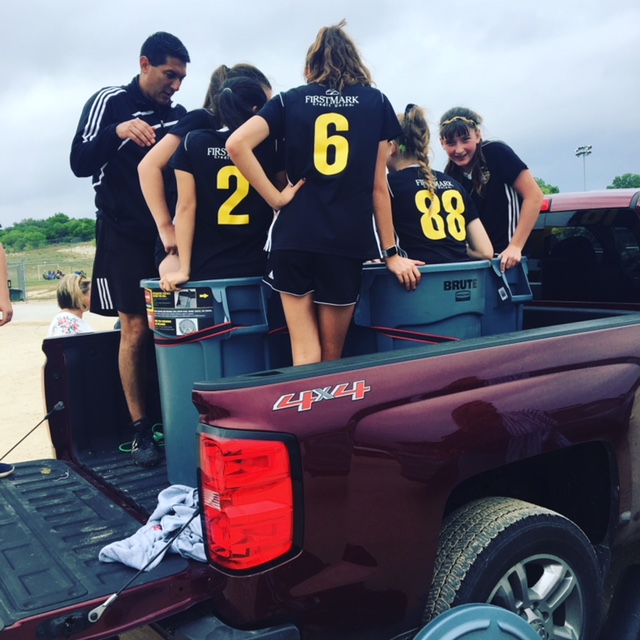 I mean. If any picture ever summed up soccer in Texas, then this may be it.
So that's a not so brief look at life here over the last week or so. I'm sure I'm forgetting something but I can't remember if there's more. Of course I also couldn't get the coffee pot to work this morning so it's all relative.
True story. P left early on Sunday morning to go to church, but I slept in. When I got up, I turned on our Keurig and attempted to make myself a cup of coffee, except it wouldn't brew when I pushed brew. All I got were a few sad drops of coffee in the bottom of my mug. I'd just cleaned it thoroughly a week ago when the same thing happened so I knew that wasn't the problem. I decided to use my best technological knowledge and unplugged it and plugged it back in. But this time it wouldn't even turn on. I kept plugging and unplugging and pushing the button to turn it on…NOTHING. It was dead. You know what's a sad turn of events on a Sunday morning? A dead coffee maker. (By which I mean a coffee machine that doesn't work, not a dead barista. Clearly, a dead barista would be the worst thing that could happen on a Sunday morning.)
Anyway, I decided I'd just have to stop at Starbucks on the way to Caroline's soccer game. P got home from church as we were walking out the door and I announced, "The Keurig is dead! I've plugged it in and unplugged it and pushed the button and NOTHING!". He asked, "Are you sure?" I walked over to it triumphantly and said, "LOOK! IT WON'T TURN ON!" as I pushed the button repeatedly.
That's when Caroline looked at me and said, "Mom. That's not how you turn it on. You need to use the power switch in the back." And then she and P died laughing at my expense.
As my Pa-Pa used to say, "It's hell to get old".
But, in my defense, P attempted to make a cup of coffee after we left and used the power switch and everything and it STILL didn't work. So the bottom line is I WAS RIGHT. IT WAS BROKEN.
And so I spent part of my Sunday afternoon going to Bed, Bath and Beyond to buy a new Keurig because COFFEE IS LIFE. Apparently without it, I don't even know how to work basic appliances that we've owned for ten years.
Have a happy Monday.
Copyright secured by Digiprove © 2018