So these two crazy kids got married over the weekend.
Maybe you heard about it.
I think it was on T.V.
(Side note: I have so many thoughts and feelings about the wedding and Sophie and I are recording a podcast all about it later today, so stay tuned for that.)
We spent our weekend in College Station at a soccer tournament. It wasn't quite a royal wedding and there was nary a carriage ride to be had, but I was pretty happy all weekend because it was Caroline's first time back on the soccer field after two months of being injured and, well, we were in College Station and got to stay at Honey and Big's house.
The three of us left town on Friday afternoon as soon as Caroline got out of school. Apparently 4:00 is the new 5:00 rush hour and the traffic gets totally backed up on I-35 because I-35 is the devil's road. But we eventually made our way to College Station and met Honey and Big for dinner at Wings-N-More. That was P's favorite back during his time in College Station and he always loves to go back there for wings when he's in town, which isn't that often. In fact, the last time he was in College Station was several years ago when we picked Caroline up from Aggie Soccer Camp and that's when he learned that hot, spicy garlic wings aren't nearly as good as he thought they were when he was nineteen. I feel the same way about pepperoni pizza rolls dipped in ranch dressing.
Actually, I take that back. I still think those are delicious. I'm just older and wiser and have a slower metabolism now and know that pepperoni pizza rolls are bad for my goal of being able to wear pants that button and zip.
Caroline's first game was Saturday morning so we had to be up bright and early. I took the time to get a quick glimpse of Meghan's dress because I couldn't stand not knowing and then we headed to the soccer fields. Caroline played about half of the first game because none of us were sure how long she could last, but she did pretty well considering that she'd been out for so long.
After the game we went to lunch with the team and then back to Honey and Big's house to cool off and rest until the next game at 3:30. It was during that game that a couple of Caroline's teammates got hurt and so she ended up playing almost the entire game because we basically had no subs.
I also got to see my friend Tiff because her daughter was playing in the same tournament. So we took a picture with Honey because it was like a mini-reunion at the soccer fields.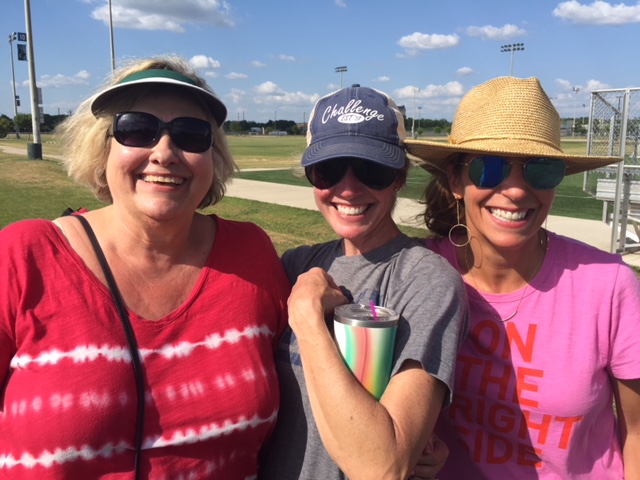 What this picture doesn't show you is that it was approximately the same temperature as it would be if we'd been sitting on the sun. Except it was even more humid.
Later that night we went to team dinner and then basically fell into bed. We had one last game on Sunday morning and that's when it decided to pour down rain. There's really not much that feels as good as being soaking wet from the rain and then having the sun come out to really heat things up. And it's an extra special touch when it lightnings and there's a thirty minute lightning delay which means you take your sweaty, drenched self to sit in the car until the weather passes.
But the girls were able to finish the game after the delay. It was a rough one. Gulley texted me later and said, "Honey says Caroline got hurt during the last game. Is she okay?" And I texted her back, "She didn't really get a specific injury. She was just kicked in the stomach, elbowed in the stomach, kneed in the back, and did a flip on the ground when a girl tripped her."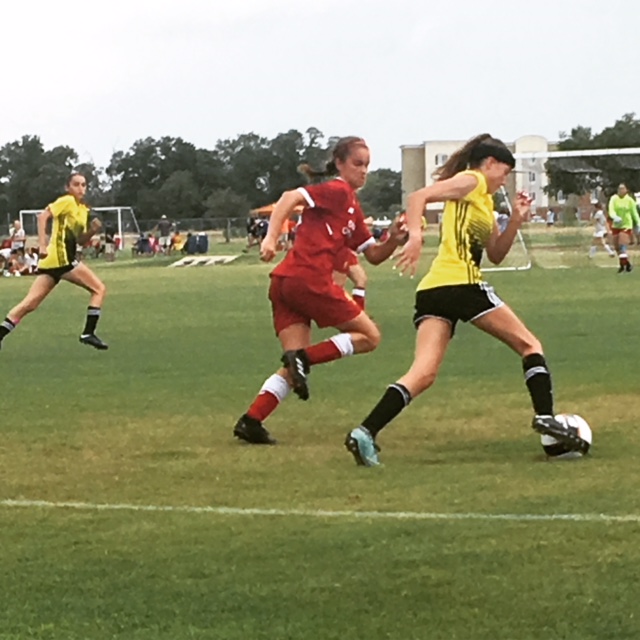 Seriously.
Needless to say, she was a little sore on the drive back home to San Antonio. We were doling out all manner of Advil, chocolate milk and ice packs.
We had to board Piper and Mabel at the vet over the weekend and couldn't pick them up until Monday morning. P went to go get them first thing and then took them immediately to the park to let them burn off all their pent up energy. They both gave me the cold shoulder when they first got home. Especially Mabel. But then I let them get on the couch and we all watched the Royal Wedding together and that seemed to help, although Mabel requested a tiara and was really put out that I didn't have one for her to wear.
She wrote a haiku about it:
I would like a crown
Spent the weekend at the vet
I think I earned it
And now we're just getting through the last real week of school. I had to make the tough decision to throw away her lunch box yesterday morning even though it only had to get her through a few more days. But apparently some combination of spilled salad dressing and fruit came together in the interior lining of the lunchbox and created a smell that can't really be described without excessive profanity.
Anyway, that's what has been going on around here. And I realize it's kind of boring, but I really just wanted to check in and say hi.
Hi.
Copyright secured by Digiprove © 2018