I'm finishing this up while watching the Aggies play Texas State and so it's going to be quick. The good news is we are currently up 14-0 and so I'm feeling fairly relaxed even though I have some concerns about our offensive line.
Here are some cute things I found this week: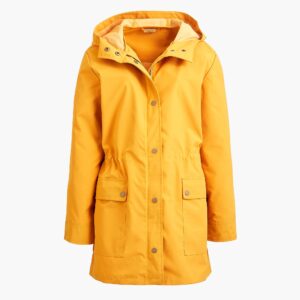 I love a yellow rain jacket because it just seems like it's what God intended rain jackets to be. It's like sunshine on a cloudy day. This one is a great length and fit, plus it's 50% off and on sale for $59.
It comes in other colors in case yellow isn't your thing.
2. chic perspective beige sweater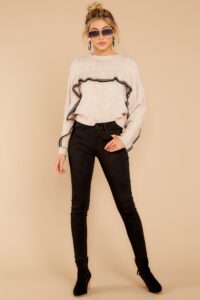 This is a great sweater with cute ruffle detail. I like that it could be dressed up for the office or dressed down with jeans and booties. It's $60.
3. cozy boyfriend pocket sweater with monogram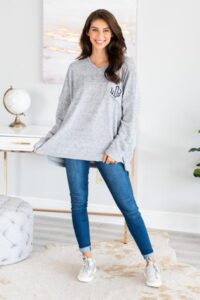 This is the kind of thing I will live in when the weather cools off. I love a monogram and I love that it's long enough to wear with leggings. It would also make a great Christmas gift if you are the kind of person who thinks about these things in September.
It's $40 and comes in several color options.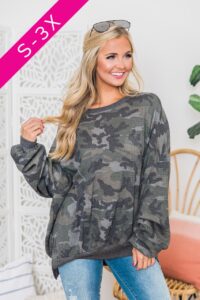 I actually own this and love it. It's a waffle knit so lightweight and super soft. And it's long enough to wear with leggings. The fit is oversized so you may want to keep that in mind. It's $38.
This comes in a few stripe options, but I like this one. It would look great over a simple black t-shirt dress when the weather cools off. Or perfect to wear with jeans and a tee. It's $44.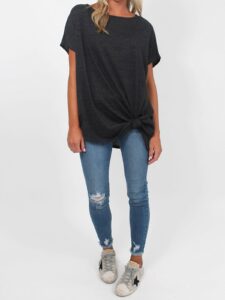 Shop Talulah is one of my new favorite places to shop online. They have new arrivals every Tuesday night and I bought this shirt a few weeks ago. It's long enough to wear with leggings with an asymmetrical hem, but looks really cute tied in a knot on the side. It also comes in white and it's $32.
7. gibson hi sugarplum tie front skirt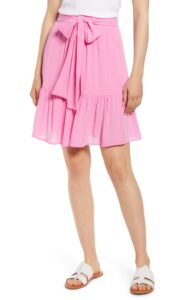 I've had my eye on this skirt and now it's on sale for $35.40. I love it in all the colors and patterns but this pink could be really cute paired with black and a denim jacket for fall. The reviews say to size up so keep that in mind.
8. dolce vita wedge slip on sneaker
These wedge sneakers are everywhere this fall and these are a great deal at $79.99. They also come in dark gray.
9. vivaldi textured tie neck tunic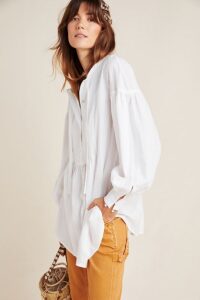 This is on sale for $59.95 but there's an extra 50% off all sale items at Anthro. Keep in mind that it's all final sale. However, this tunic might be worth the risk. I can see it paired with skinny jeans and boots for the fall. And it's hard for me to resist a crisp white shirt.
10. free people smocked shoulder top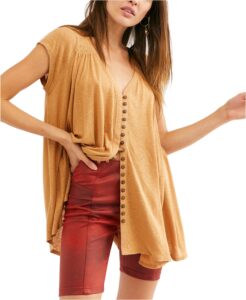 Macy's has a ton of stuff on sale for Labor Day, including some Free People things at 50% off. This top is just $34.00 until Monday, September 2 and comes in several other colors.
That's it for today.
Have a good Friday.
Also, the Aggies are now up 21-0 and our offensive line looks better. I knew you'd want to know.
Copyright secured by Digiprove © 2019