Today is the day that I am going to speak some truth in love.
Several people sent me a link this week to something called Pajama Jeans.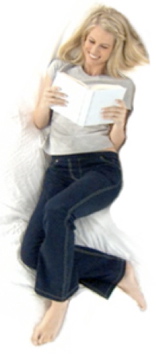 Their slogan is "Pajamas you live in, jeans you sleep in".
I am all for some comfortable clothing, but that is just wrong. Pajamas are for sleeping and for wearing when you drive school carpool in the morning. That's it.
I'm just concerned that we've reached a point in society where we feel like we need a casual alternative to jeans. Gulley reminded me this week that I called her several years ago to discuss my disbelief that grocery stores were actually selling frozen, pre-made peanut butter and jelly sandwiches. At the time, I honestly believed that America had reached the pinnacle of laziness. After all, how hard is it to slap some peanut butter and jelly on a piece of bread and call it a day?
But now I'm wondering how hard is it to put on some pants that require a button and a zipper?
We're better than this, America.
We're better than this.
Although I have to admit that I saw several commercials for the Hoodie Footie yesterday while P was watching Nascar (we lead a rich life) and maybe it was just because it was freezing cold and rainy outside, but I found myself wishing for my very own Hoodie Footie.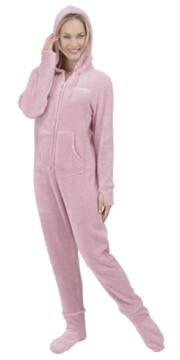 Needless to say, I wouldn't wear it in public.
Or try to pretend like it could take the place of an actual outfit, although that hood is kickin'.
I just think if you can't muster the strength to put on a pair of real pants then maybe you should just stay in your pajamas, eat a block of cheese, and admit that you've given up on life.
It's a harsh word, but I say it with love. LOVE.
Remember how I've repeatedly mentioned trying to replicate this look that looks like an outfit Sandra Bullock wore in The Proposal?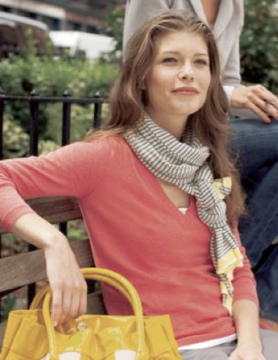 So I found the grey stripy scarf at Old Navy, but hadn't really found the right sweater. But then Lindsee sent me the link to this coral sweater from Land's End and it's pretty darn close.
Now if I could just get my hair to look like Sandra Bullock's hair. Too bad there isn't a link for that.
2. Chambray Drop-Waist Shirt Dress
My friend Steph told me about this dress this week. I think it would be so cute with black leggings while the weather is still cooler or with some cute sandals and bare legs once the sun decides to show up again.
I have no idea where I'd wear this or how many pushups I'd need to do to get my arms in shape to wear it, but I think it is so cute.
I can't remember if it was last summer or the summer before that I declared it to be the summer of the skirt, but I do know that these are the perfect skirts for Spring and Summer. They are great with a cute tank or a t-shirt.
5. Embellished Linen Blend Dress
I saw this dress in an email I got from Nordstrom this week and fell in love with it.
However, right now I'd need about eight coats of spray tan for that yellow color to not make me look like I have the jaundice.
This ring is so soft and pretty. Love it.
I linked to this on my Daily Links page earlier this week because it is the kind of top that I adore. I'd wear it all summer long with turquoise jewelry.
I think this would look great with jeans.
My love for bracelets tends to run hot and cold. On the one hand (I'm so sorry) I love the way they look, but on the other hand (Could not be sorrier) they can drive me crazy with all the moving up and down on my arm.
But this one might be worth it.
This would look great with a cute skirt and a denim jacket over it. Or even just by itself.
Of course considering it was 34 degrees and rainy here yesterday, I probably won't be wearing it anytime soon. Or I may be wearing it next week because it's Texas and it might be 80.
For more fashion, you can visit Jo-Lynne at Musings of a Housewife.
Y'all have a great Friday.