Well here it is, multiple days after Christmas. I guess I better take the time to recall all the Christmas memories before I forget them all. Especially considering that I can't even make a trip to the HEB anymore without forgetting at least two things that are WRITTEN DOWN on my grocery list. I used to be able to remember all sorts of things, but have reached a point where the only thing I can recall with total clarity are the words to just about every Beyonce song. Which is a handy life skill.
Caroline spent the night with Mimi and Bops on the eve of Christmas Eve with her cousin Sarah. I knew things hadn't gone that well when Bops showed up at my house with both girls by 8:15 the next morning. Word on the street is that they were all hyped up on the Christmas excitement, woke up around 3:30 a.m. and never really went back to sleep. I think they should consider themselves lucky that Bops didn't just come to a rolling stop in front of my house as he kicked them out of the car. Not that he would do that. He's a grandfather and grandparents tolerate things that parents don't because they have the luxury of dropping kids back off at their house the next morning and going home to take a nap.
The girls helped me roll out the dough for the fourteen pans of cinnamon rolls I was making and by helped I mean that they punched their fingers in the dough and forced me to have to roll it all out multiple times while I wondered if these are the kinds of conditions Mrs. Baird had to work under.
Later on in the day it was time to head to church for the Christmas Eve service. Before we left the house I wanted to take some pictures of Caroline in front of the tree. This is what I got.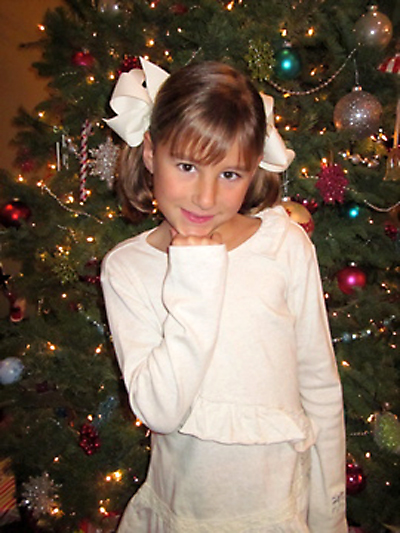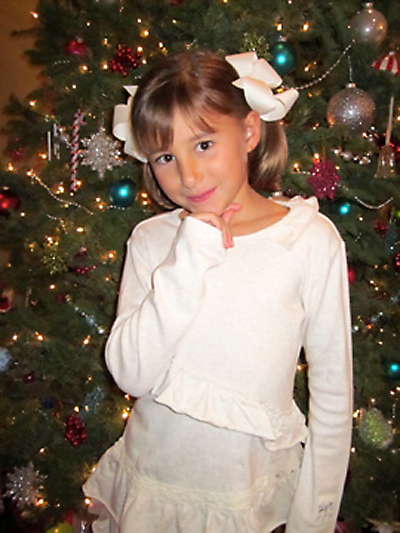 Bless her heart. It's like she's never seen a camera.
After church we went to Mimi and Bops' house to eat tamales and open presents with my sister and her family. At that point I was able to get a few more candid shots of Caroline that more accurately depict her Christmas Eve countenance.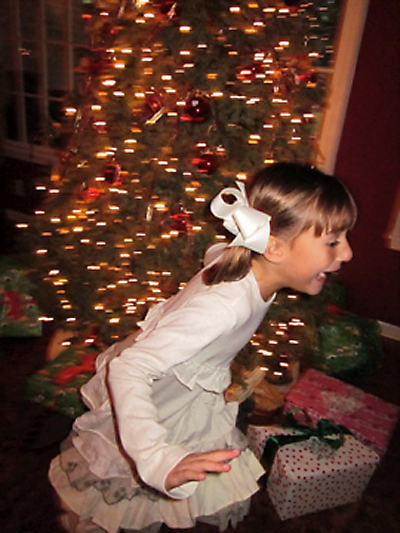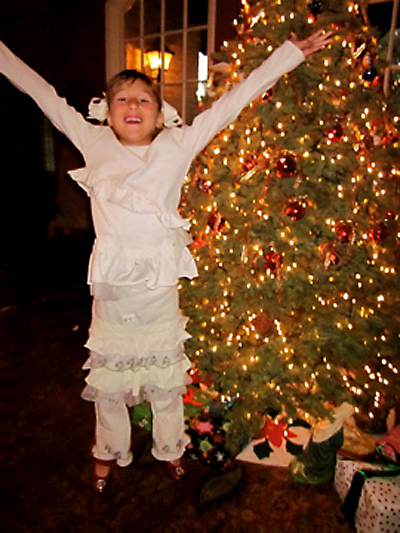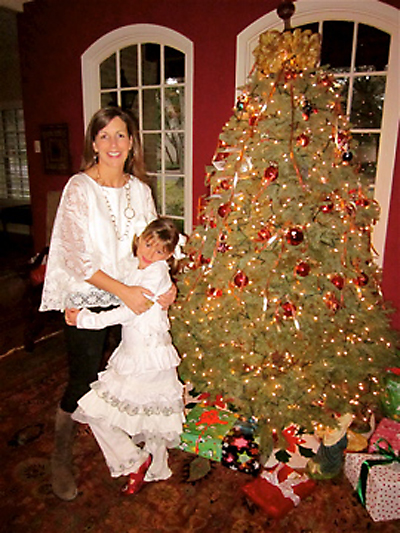 We ate tamales and then Caroline read The Christmas Story to us before we opened our presents.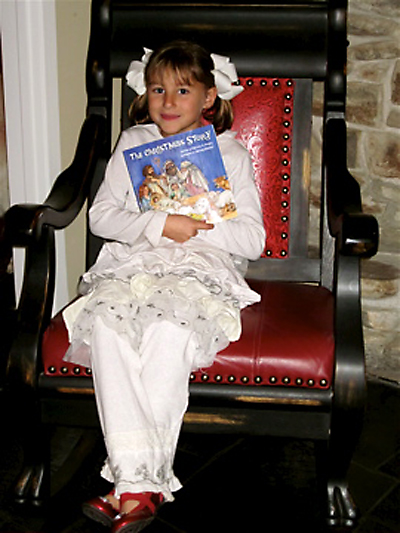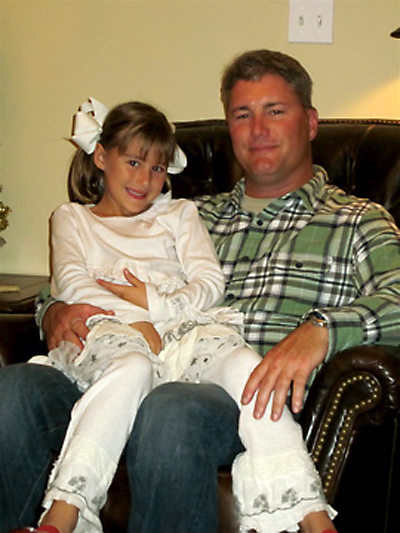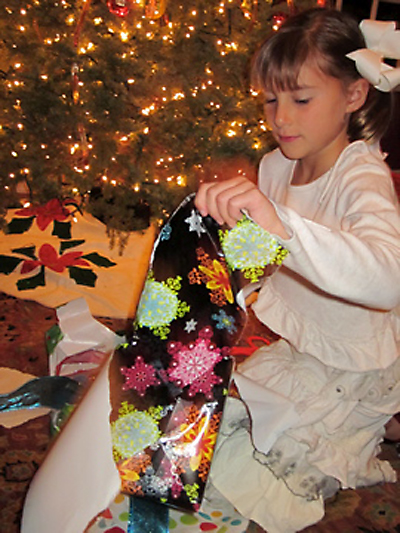 My nephew Luke was busy being a muppet and had on white knee socks and black dress shoes. I could have sopped him up with a biscuit.
After we opened presents, we cranked up Caroline's new iDog from Mimi and Bops and just enjoyed being together and playing a little Scrabble Flash until we realized she and Sarah had been up since 3:30 a.m. and might be about to head south on us.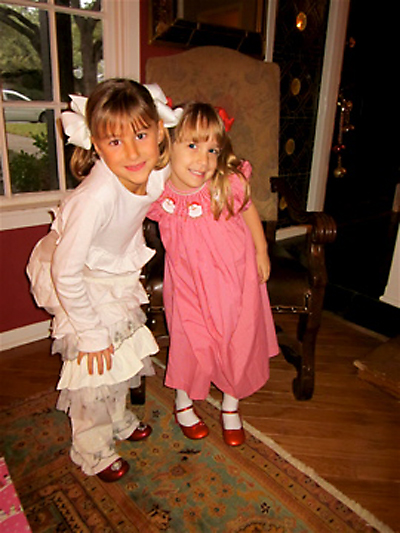 We headed home so Caroline could put out milk and cookies for Santa and get in bed.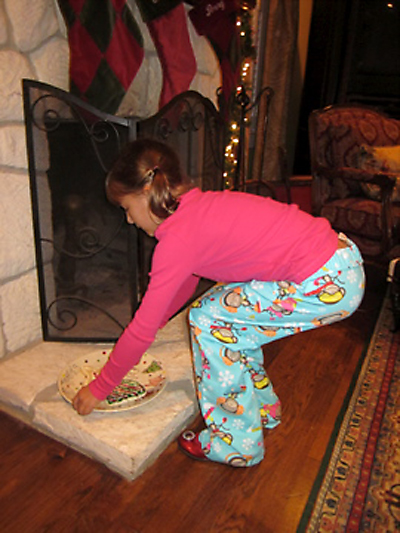 And then Santa Claus began the daunting task of trying to figure out how to hook up the Wii. Santa is a little frightened by all modern technology, particularly cables that have to go in the back of televisions and possess the potential to possibly screw up all the recorded programming on the DVR. Not to mention that Santa had to perform feats of strength to move the T.V. out of the armoire so his elf could help run all the cords through the back. It's all fun and games until a television crashes to the ground and ruins Christmas.
Fortunately, Santa managed just fine and in the scheme of all the past "some assembly required" Christmases, it wasn't so bad. In fact, it was much easier and required far less wine than the Polly Pocket Shopping Mall Roller Coaster Debacle of 2008.
Caroline woke up Christmas morning and was so impressed that Santa not only brought the Wii, but that he took the time to set the whole thing up. She and her daddy immediately began to play.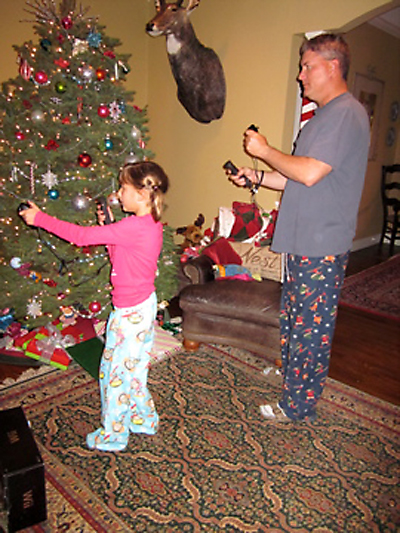 While an antelope watched his tree by night.
Yes. He's still here.
There were cinnamon rolls and breakfast casserole to be eaten and more presents to be opened.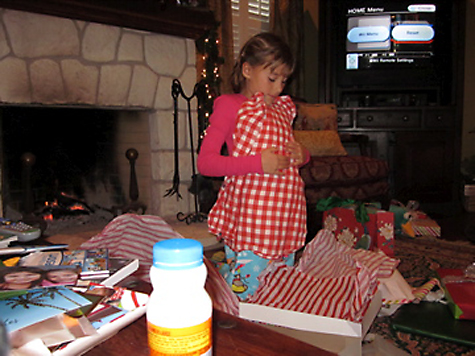 And then Bops couldn't resist the call of the Wii, so he and Caroline took each other on in a round of boxing.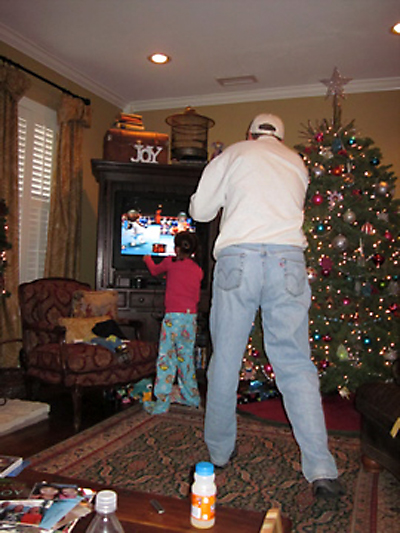 I wish I were kidding when I tell you that not only did he do the whole deep-breathing boxer thing with every punch, but he went full on Rocky Balboa and lifted both arms as he danced around in victory after defeating his seven-year-old granddaughter.
It was a precious moment.
After that we got dressed and headed over to P's mom's house to have Christmas with his family and apparently that's the point when I completely forgot to pull my camera out and take a few pictures. There were more presents and food and family.
Later in the afternoon we finally got back home. I could have laid down on the couch and slept for about six or seven years, but we hadn't busted out the Just Dance 2 yet. And my need to dance triumphed over my need for sleep.
Caroline put it in the Wii and picked "Call Me" by Blondie. Ten minutes later I had stripped off my sweater, taken off my boots, put my hair in a ponytail and was dancing like a woman possessed. Or obsessed. Unfortunately, my moves seem to be too much for the Wii. It doesn't understand me or my rhythmic sensibilities.
And so ultimately this will be the Christmas I'll remember as the one where my child learned to talk trash to her mother.
Good times.