Well my goodness, y'all know how to make a girl feel good. From now on I'm going to put up a picture of myself once a week. Of course, it only took me about 153 tries to take one that I'd actually put up in the first place, so finding one to put up once a week should only take an extra 6-7 hours out of my day.
Here's one of my less than successful attempts.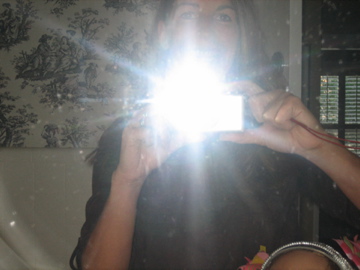 And here's another one.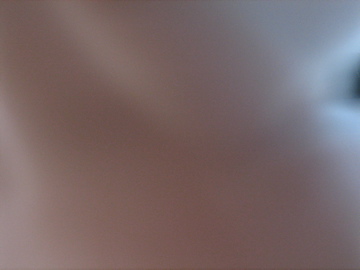 I am a whiz at the photography.
This weekend was the scene of a little experiment here at the house of Big Mama. We've had problems getting Caroline to stay in her own bed. (And by we, I mean me. P is usually sleeping blissfully, completely unaware of all the nighttime theatrics being performed in the very next room) She calls me in her room around 2 a.m. every night and plays on my emotions by telling me "I'm just so lonely in here by myself. I need someone to cuddle with me."
And I am a big sucker and think, oh bless this baby's heart. She's all alone. She's going to end up needing extensive therapy and it will be all my fault because I forgot to have another child.
So, I let her come in my bed and kick me in the kidneys for the rest of the night. There is nothing like waking up with a 4 year old plastered to your torso to make you feel fresh as a daisy for the long day ahead.
Anyway, it's created major guilt because I can't help but think if she had a sibling, she would have someone to share a room with and wouldn't feel lonely at 2 a.m. The problem is even if, hypothetically speaking, I conceived a child tomorrow, it would be a good 3 years before they could successfully share a room.
That's called delayed gratification.
I talked to Boomama the other day and she mentioned that one of their dogs has slept with Alex for the past week. Now, when he wakes up in the middle of the night, she just reminds him of the dog's presence, and he goes back to sleep.
It's a much easier solution than having another child. Plus, we don't have to worry about paying for the dog's college tuition or listening to him whine about "how everyone else has a new car" when he turns 16.
So, during halftime of the Aggie game on Saturday (I can't really even talk about my feelings on the game because this is a family friendly blog and the game made me want to say a few words that are stronger than DANG) Caroline and I went outside and gave Scout and Bruiser a bath. I told her if she woke up in the middle of the night and felt lonely, I'd let Scout come inside and sleep in her room.
Bruiser will remain outside because Bruiser is aware that he is just a dog. Scout is of the firm belief that he is, in fact, a person and should be treated as such. Part of this could be due to the fact that we got Scout in our pre-child days and he was the first dog I'd ever owned.
I may have sung him lullabies.
We definitely paid for him to have open heart surgery when he was just 8 weeks old because HE WAS MY BABY and I'VE NEVER LOVED ANYTHING MORE. And we also have an entire photo album filled solely with pictures of Scout.
And I cried the first day I had to go to work after we brought him home.
Drama.
Of course, after Caroline's birth, Scout became more like a dog as opposed to the crown prince of the Big Mama and P estate.
Sure enough, around 2 a.m. on Saturday night, Caroline woke up. I let Scout in the house and he immediately jumped up on her bed and curled himself into a ball. I'm not kidding when I say he let out a long sigh as if to say FINALLY, back where I belong.
I tucked them both in and headed back to my room while marveling at my brilliance. I couldn't wait to call Boo and tell her of my astounding success.
About 30 minutes later I woke up to "MAMA! MAMA! MAMA!" I went in her room to find Scout still curled up, sound asleep. Caroline was wide awake.
"I want to go in your bed."
"Well, baby, Scout's in here with you."
"Scout smells. I think he has toots. I want to get in your bed."
For the record, I am weak and tired at 2:30 a.m., so I let her get in our bed. However, I felt bad for Scout because he looked so comfortable, so I left him sleeping in her bed.
Let's get this straight. There are 3 people crammed into our king-size bed, while the dog has his very own twin bed all to himself.
He slept the sleep of angels, while I slept with a 34 pound weight on my right arm.
Needless to say, Scout was the only winner on Saturday night.
I am a big fool.