This is just a theory I have and is no way necessarily scientific, but I believe the weeks are getting longer. It feels like it took us approximately 472 days to get from Monday to Friday. But, finally, here we are. Welcome, Friday, we are so glad to see you.
You might remember that a few weeks ago I told y'all about a new online boutique that some friends of mine have started. It's called The Nod and they have some really great stuff and just thought I'd share two of my favorites with you.
I love this caroline top and not just because it has a great name. It also has a great back that makes it different from the other black tops I have in my closet.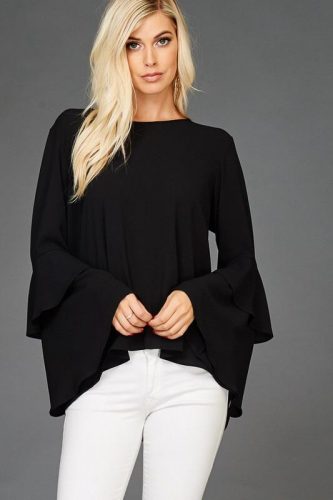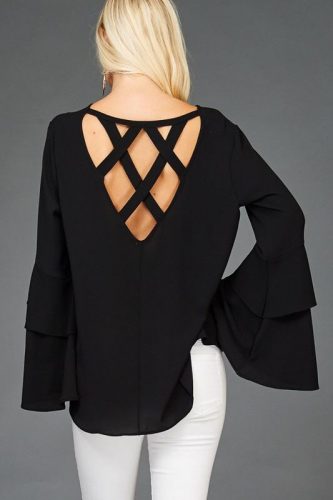 And I also love this lana layered necklace because I adore the look of layered necklaces but sometimes it feels like too much work.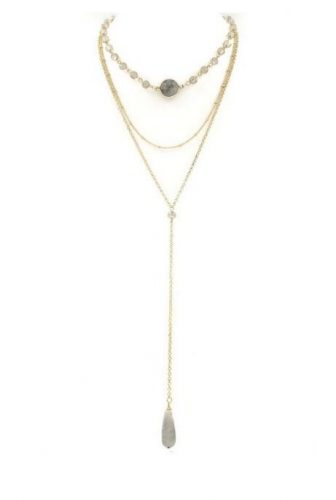 As for some other cute things I found this week, here we go:
1. camo print stretch ankle leggings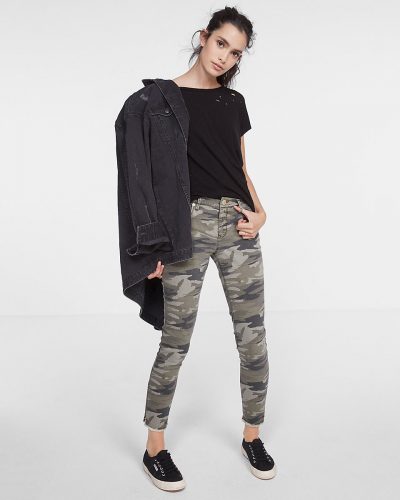 I took Caroline shopping last Saturday which explains how I found myself in Express after years of not finding myself in Express. And I saw these camo jeans. I have a pair of camo jeans that I have loved but they are getting worn and are in need of a replacement. This is the perfect camo jean, not too bold and just the right amount of faded with a distressed hem. They run small so you might want to go up a size, but they are so cute.
2. j.crew side slit sweatshirt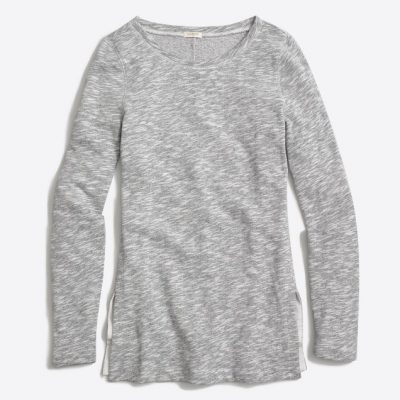 You might notice that I have chosen a lot of comfort clothes this week. It's because this week has worn me down and I'm ready for clothes that feel like a warm hug. I love this because it'll look great with anything from jeans to workout leggings to pajama pants. It also comes in navy.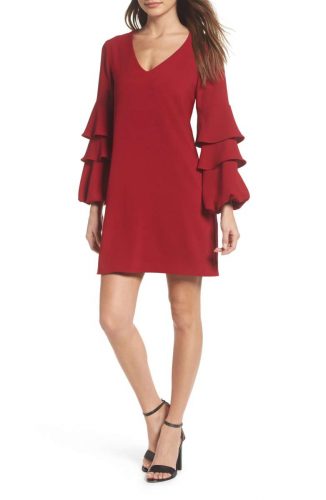 But just in case you have an occasion coming up, I think this red dress is really pretty. I love the sleeves and the simple v-neck. It would be perfect for the holidays.
Every year I debate buying one of these city coats because I think they are so cute. And then I remember I live in San Antonio and I basically need a coat two days a year. But now I've seen it in this gorgeous green color and I might be powerless against us, plus the long term forecast is saying we are going to have a colder winter than normal. You call it justification, I call it being prepared.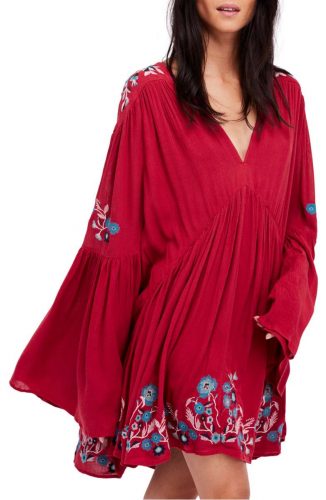 Red is such a big color for fall and I really love this. It also comes in black or white, but this red is stunning. Clearly, I would wear this with leggings.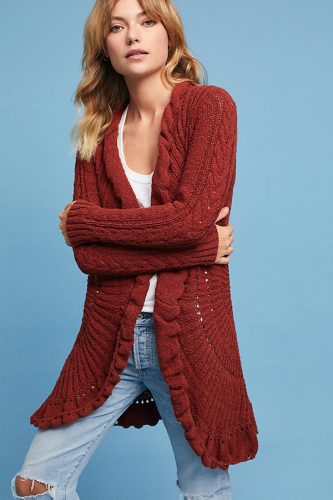 Anthropologie has 30% off all sale right now. This is $89.95 and I think it's so cute and the color is perfect for winter.
7. gap soft spun marled joggers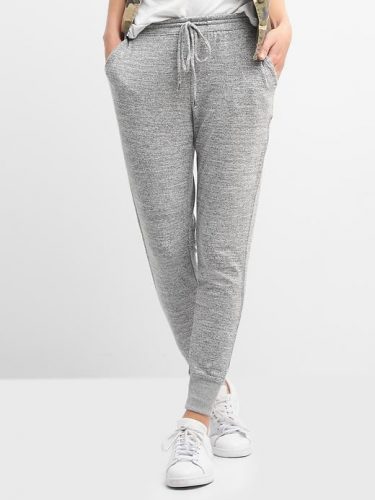 I ran in Gap last week because I'd seen a black jumpsuit online and I was intrigued. They didn't have the black jumpsuit, but they did have these "joggers" that we all know is just a fancy way of saying sweatpants. They are so soft and fit great without being bulky. I bought a pair for me and a pair for Caroline and we may not take them off all winter long.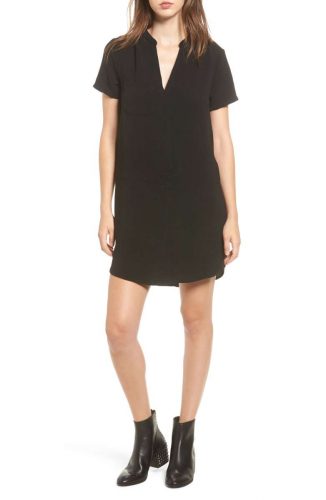 I ordered this a few weeks ago because I needed a simple dress that I could dress up or down. I was skeptical as to whether or not it would work, but it is so cute. I think you'd need something under the lighter colors, but the darker ones are great.
9. asics gel-fit sana sneakers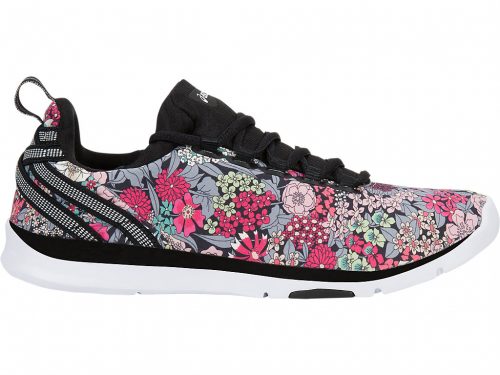 Look at these Asics that were made with Liberty of London patterns. I DIE. I need these to wear with my sweatpants. I mean "joggers".
10. gap striped ribbed leggings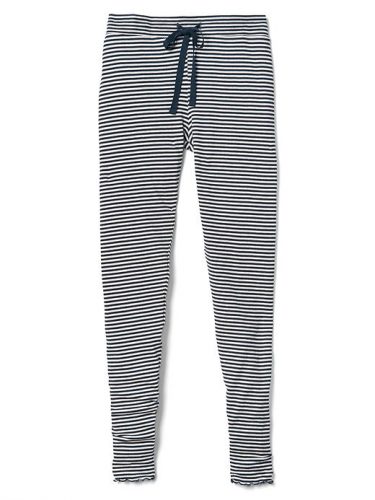 While I was in Gap I went to look at their pajamas because Gap pajamas are usually a win. These leggings are perfection. They are super soft, fit like a dream, don't get all bagged out at the knees and are lightweight but warm enough that I'll wear them all winter long. They are on sale for $25.
I also love this sleep graphic pullover. I have been needing a sweatshirt type thing to wear at night because I always get cold before I go to bed. I've had the same on that I bought at Anthropologie years ago and it is so worn down that the material on the inside was starting to scrape my elbows to the point that they'd get raw. How embarrassing is it to say you have an injury from wearing a sweatshirt too long? That's a low.
And these gap mix and match sleep shirts are super soft and on sale. Some combo of all these pj pieces would make great Christmas gifts.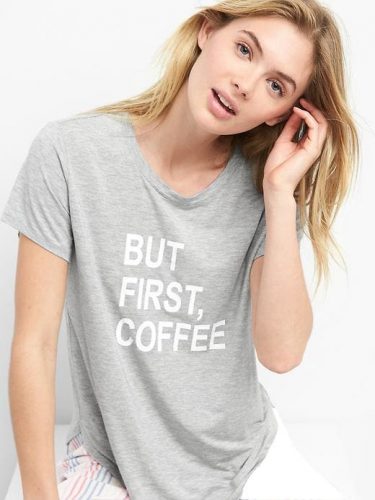 That's it for today.
Have a good Friday.