My next few weeks are crazy busy with all the book release stuff and so I purposely didn't plan much for this week so I could just enjoy a little downtime. And the weather has even cooperated because it has rained pretty much all day, every day which has been very conducive to my ability to both get some work done and watch several episodes of Hart of Dixie on Netflix.
I have also been conducting an experiment with Caroline's lunch that I'm calling "Will the grapes go bad or get eaten?" This experiment involves me packing grapes in her lunch on Monday and then putting those exact same grapes back in the refrigerator that afternoon when I discover she didn't eat any of them. I repeat this process daily until the end of the week, at which time I throw the grapes out because they are a little worse for the wear after all the mileage they've seen at the bottom of her lunchbox. So why do I pack the grapes? Because it makes me feel better that she has a healthy fruit option in her lunchbox.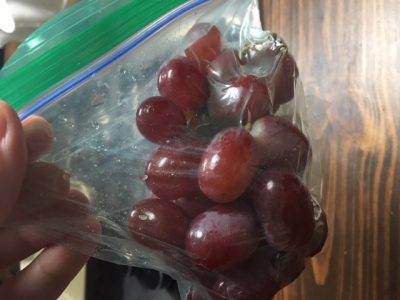 I can't control whether she eats them or not, but someday when she's grown up she'll never be able to say, "My mom never packed fruit in my lunch." Also, I know you're going to suggest maybe I try other fruits and I have with pretty much the same results most days. At least grapes can be recycled for a while unlike their more fragile, delicate fruit cousin, the apple.
Yesterday I decided to get out and run a few errands. I ended up at the mall because I had a dress I'd bought for Caroline that I needed to return. And this led me to trying a few things on because I am powerless to resist the siren song of cute clothes and a dressing room. However, the time I spent in the dressing room only served to confirm that I am perplexed by fashion right now. I'm not a ruffly, flowery kind of person and everything feels very ruffly and flowery. I also am not interested in having my shoulders hang out of a top or a dress, nor do I want to wear a bodysuit or an outfit that requires a belt. I'm pretty sure this is how people end up wearing sweatpants all the time. Except now they're called "joggers".
So I left the mall with nothing except a long sleeve thermal top that I couldn't resist because it had three things going for it:
1. It had shoulders.
2. It was incredibly soft.
3. I correctly identified it as a top instead of it being a minidress that I just thought was a top.
Anyway, it was while I was driving home from the mall that P called and asked me if I'd forgotten to pay our water bill. I asked him why he thought that and he said that the city had just put a lock on our water meter and shut our water off because they said we hadn't paid our bill.
Hmm. Well, that is problematic.
It made me want to ask him, "Water we going to do now?" but it didn't seem like the right time for a pun. This is what twenty years of marriage has taught me.
I pulled over and looked online at our bank account and texted him proof that I had INDEED paid the water bill this month and it was clearly their error. Meanwhile, he headed up to the water department to figure out what was going on while I burned with self-righteousness over how we were clearly being wronged. I was already thinking about what I would like to tell them and I'll tell you the phrase "HEADS ARE GOING TO ROLL" was part of my imagined rant.
And, as it turns out, I did INDEED pay the water bill this month. However, I neglected to pay the water bill in June and apparently they hold that kind of thing against you. Although, in my defense, I never received any indication that I had missed a month and that we were accumulating late fees until they actually locked us out of our water.
Whatever. June was a busy month.
All that to say it was one of those days that I had to remind P that I have other gifts.
But being able to tell the difference between what designers call a top or a minidress isn't one of them.
Copyright secured by Digiprove © 2017