Here are a couple of things I've learned in the last day or so.
First, this blanket is the softest, best blanket ever and will meet all your nap time needs for the winter. What it lacks in beauty, it makes up for in comfort. And that's saying a lot because the one we have is purple and goes with nothing in our house. I don't even care.
Second, if your live Christmas tree quits drinking water out of the stand about two weeks before you actually take it down and you live in Texas, there's a good possibility that you might inadvertently be creating a mosquito breeding habitat. Ask me how I know.
Both of these things should be context clues as to all the excitement our weekend held.
I knew at some point over the weekend that I needed to put away all the Christmas stuff, but I also knew it was going to take a minute for me to muster up the energy. It's weird how some years I want the tree down and everything put away the day after Christmas and other years I'm like WE LEAVE THE TREE UP UNTIL EPIPHANY to make it appear purposeful and not just that I fell into a sugar cookie coma over the holidays and don't care that there's a sad, dead tree in my living room.
But I knew the tree had quit drinking water sometime around mid-December which meant it was more than time for it to go. So on Saturday afternoon I began the arduous, thankless job of taking the decorations off the tree. That was fairly painless, if joyless. However, the lights were the real challenge. I had painstakingly woven strand after strand in a configuration of illumination that can only be described as "the devil's loom". By the time I finally got all the lights off the tree, I looked a little bit like I'd been in a catfight and by catfight I mean a literal fight with a cat and not that Krystle Carrington from Dynasty showed up in my living room.
And it was as I was wrapping up the lights that I noticed a mosquito flying out of the tree stand. Here's the thing. I'd noticed over the previous week that there seemed to constantly be a mosquito in our house and wondered how on earth they were getting in and why they were even out considering it was below freezing outside. Well, now I know. I had basically been running a mosquito farm out of my living room. It brings to mind the lesser known Christmas songs, "All I Want for Christmas is the West Nile Virus", "O Come All Ye Bitten", and "Away in a Cesspool".
Even under normal circumstances, there is something about taking down Christmas that causes me to go into a clean out frenzy, but when you couple that with knowing I'd been unwittingly aiding and abetting ectoparasites…well, that ramped things up to a new level. I spent rest of Saturday cleaning out every inch of the built-in cabinets in our living room, Caroline's closet and the playroom. I decided there was no need to keep storing seventeen puzzles that are all missing at least one piece or DVDs that we couldn't play if we wanted to because we no longer own a DVD player. I had an honest talk with myself about all the Christian-living/self-help books I've collected over the years and realized that if I haven't read them by now, then I'm not going to read them. My best self wants to think I'll spend 2018 reading C.S. Lewis and Dietrich Bonhoeffer, but my worst self says, "Nah, girl, you're good. Let's watch something else about the Royal Family on Netflix".
And then Caroline's closet.
Never mind. I can't even talk about it.
When everything was all cleaned out and I had it divided into trash piles and Goodwill piles, I felt a supreme sense of peace and accomplishment. The house was clean (except for our master bathroom cabinets but those are for another time because I am not a machine) and there was only one issue left. The 1000 piece puzzle on our dining room table that was only halfway put together. Caroline and I always do a puzzle over Christmas break, but she had plans with friends and soccer during the break and we never had a chance to finish. I would've been content to just let it stay there except when I say dining room table what I mean is that's our only table and I'm not sure how many more nights we could eat at the coffee table. I looked long and hard at the puzzle and decided I'd come too far to just quit and I'd have to power through and finish it. I'm sure some of you are thinking you would've just put the puzzle back in the box and called it a day and to that I say what is it like to be so logical and rational?
So I spent Saturday evening and most of Sunday afternoon putting the rest of the puzzle together all by myself.
Please don't call me a hero. I am but a woman who wanted to reclaim her dining room table.
And, truthfully, Caroline would've probably helped me but she was diagnosed with a mild concussion after soccer practice last week and doing a puzzle probably doesn't fall under the category of letting her brain rest. But I persisted and finished the puzzle at 5:02 p.m. on Sunday evening and it was totally worth it because when I announced to P and C that I had just put in the last piece, this was basically their reaction.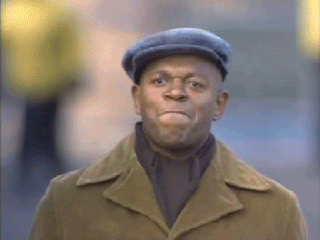 They said they were proud, even INSPIRED, by my dedication to finishing a task. It made them both want to be better people.
Or maybe they said, "What? Did you say something?" while they never looked up from what they were doing. But I feel certain they were giving me the slow, emotional clap on the inside. And that's what counts.
Well, that and the fact that our house is now mosquito-free.
Copyright secured by Digiprove © 2018