Y'all.
I feel like we have so much to catch up on…although I'm not entirely sure you want to hear about my life of driving to soccer practice and taking Piper and Mabel to the dog park…but still. It's just been a week of constant motion and I plan to write a nice long blog post next week about all the things that are happening here. That makes it sound more exciting than it is and now I feel like I oversold it. I apologize.
This weekend is the Pop Cast Live in Dallas with Knox and Jamie and I couldn't be more excited about it. Caroline is going with me and I'm going to try not to bombard Jamie Golden with 1,084 questions about various Sephora beauty and hair products.
In the meantime, I thought one or six of you might be interested in reading an excerpt from Everyday Holy that was featured on ibelieve.com yesterday. You can find it here.
And speaking of Everyday Holy, I've heard from so many of you about how much you are enjoying it and how God is using it in your life and I can't tell you what that means to me. Seriously. I am in a season of really struggling as I try to write my next book and the encouragement has been good for my soul at a time I'm tempted to just watch The Office on Netflix. So thank you. And if you feel inclined to go leave a nice review, I would so appreciate it. People who know stuff tell me that reviews really matter. Why? I have no idea.
You can find Everyday Holy here on Amazon and here on Barnes & Noble or in your local Barnes & Noble store in addition to a multitude of other book seller options. It would be a perfect Mother's Day or Graduation gift and it's just $12.00 most places.
(Also, for those of you who pre-ordered and are waiting on journals, I promise you will get them soon. They underestimated how many they would need and had to re-order but they are getting them out as fast as they can. Thank you for your patience!)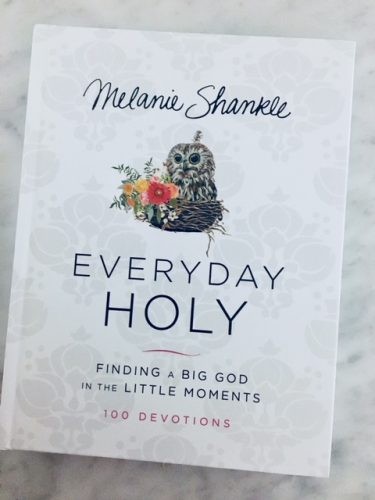 Now for some cute things I found this week:
1. eyelet split neck peplum shell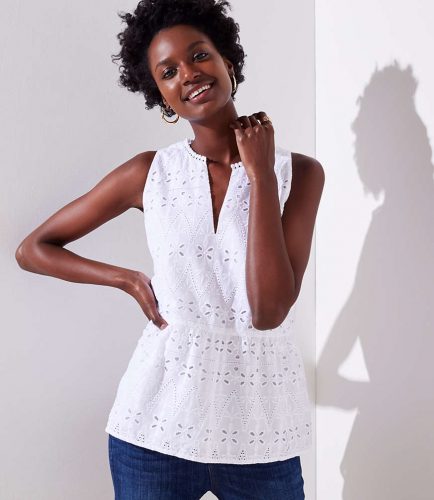 I believe I have stated that I adore eyelet for the summer. This is $54.50 plus 40% off with the code SUNNY at checkout.
2. urban outfitter oversize border print maxi dress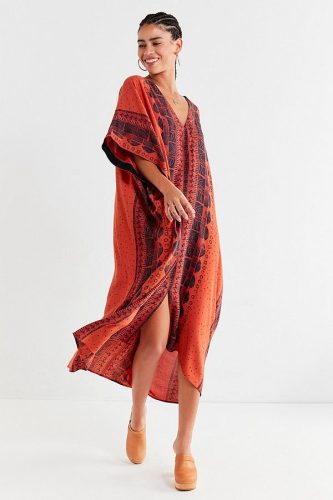 I featured this last week. And I have been so tempted to buy it for myself since it is my summer of the kaftan, yet I resisted because it wasn't on sale. But now Urban Outfitters is offering 20% off dresses and rompers.
There is a legendary story in my family about a cousin of mine who, when she was little and would get in trouble, would tearfully declare, "And just yesterday I gave my heart back to Jesus."
That's how I feel about this kaftan being on sale. I'm trying to be better but it's just so hard.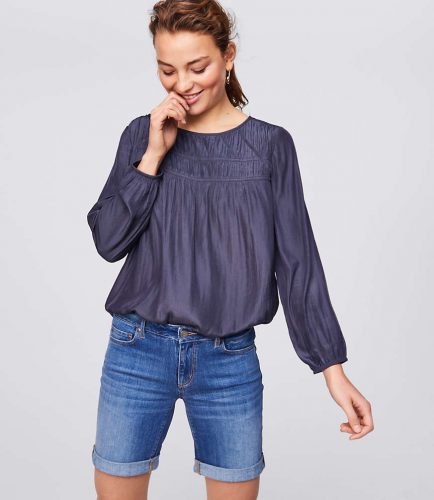 I feel like I get a lot of emails asking about a longer denim short option. They have been hard to find in seasons past, but these from Loft are perfect. They are $54.50 plus 40% off with the code SUNNY at checkout.
Loft actually has a lot of great short options in a variety of lengths depending on your leg comfort.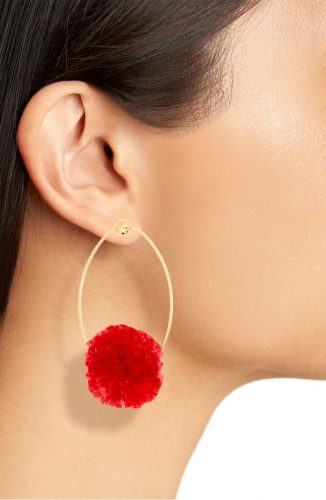 These are little straw pom pom earrings and I think they are darling. So bright and fun for summer. They come in a variety of colors and are on sale for $22.13.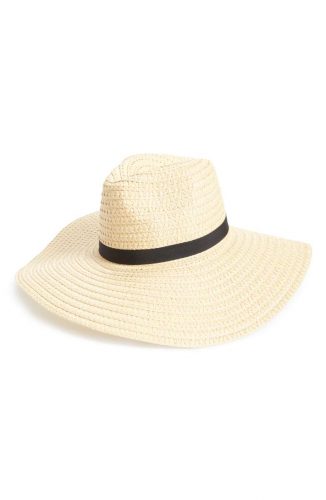 I am I-need-a-large-brim-hat-to-be-out-in-the-sun years old. This one is on sale for $15 and is just about perfect. $15 means if it gets ruined by the end of the summer that it's not the end of the world.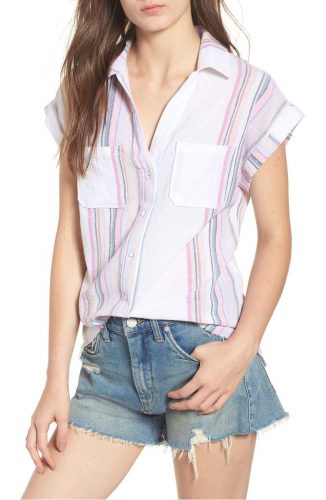 I love a shirt like this for summer because it's so easy to throw on with jeans or shorts and it's lightweight. This one is $45 and also comes in blue.
7. lou and grey striped tee dress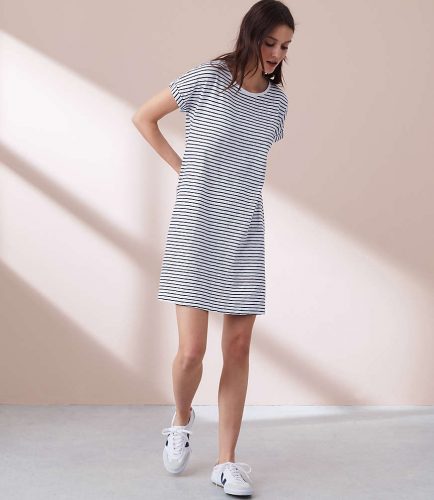 There are a bunch of these cute tee dresses on sale at Loft right now and I love them all. I love a cotton dress for the summer. This one is $69.50 but 40% off with the code SUNNY.
8. hillary top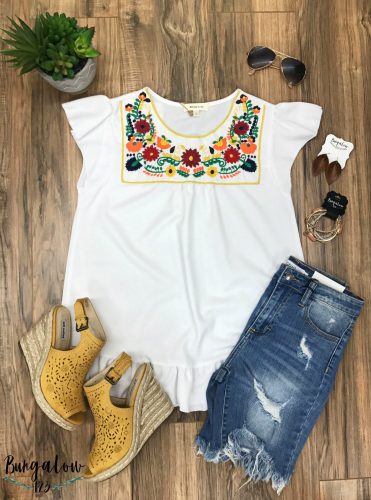 How cute is this top? It's $36.
9. old navy ruffle trim voop neck tee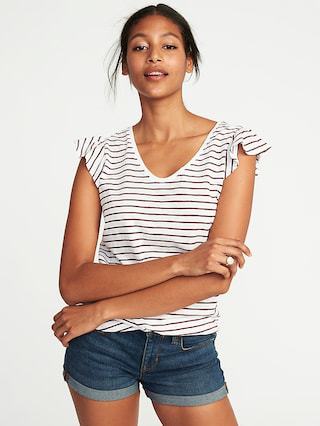 I didn't know a voop neck was a thing, but I'm here for it. Even though, between you and me, it makes me sing Salt-N-Pepa's Shoop to myself. In fact, I just went on a rabbit trail that led me to the video on youtube.
This top is $24.99 and also comes in an olive stripe, navy and peach color.
10. vince camuto carran platform sandal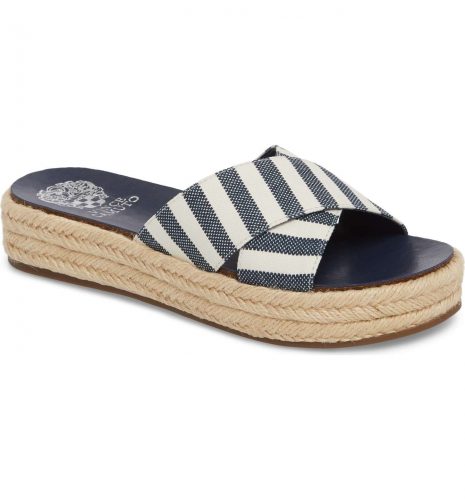 I think these are so cute and they come in several different color options.
And I've also had my eye on these toms clarita espadrille slides because I have no doubt that they are super comfortable.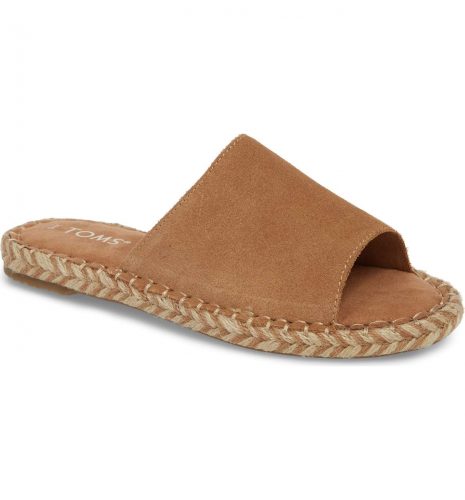 11. free people morning glory kimono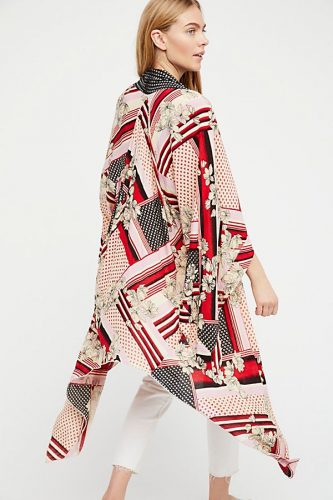 This is just a bonus item because I saw it at the last minute and it spoke to me. Love the way it looks over all white. It's $68.
That's it for today.
Have a good Friday.