So Fashion Friday is today since Friday is Caroline's birthday and I always write a birthday letter on that day. But it just means you can shop that much sooner.
You may also want to keep in mind that the Nordstrom Anniversary sale ends on Sunday so if there's something you want, you need to go ahead and get it. Plus, some things that were out of stock are back in stock. Personally, I'd been stalking a North Face coat and finally got it at 2 a.m. the other morning when a medium popped back up for sale. If I used this kind of dedication for other things in my life, there's no telling what I could accomplish.
Also, I only needed a new coat because I left my other winter coat on a flight home from Las Vegas last February. The airline couldn't find it and it was sad times because I loved that coat. But hopefully this new coat will work out and we'll develop a meaningful relationship this coming winter.
Here are some cute things I found this week.
1. all things new gameday earrings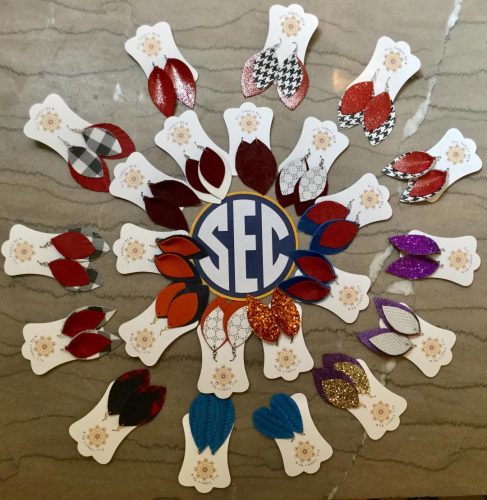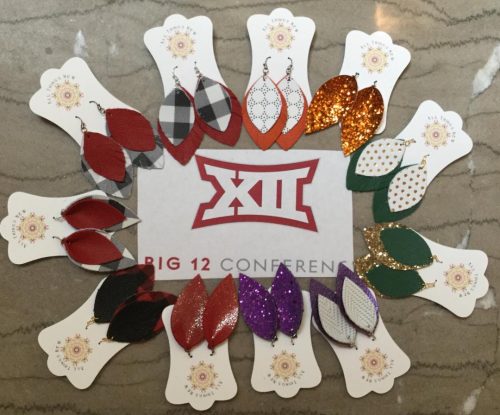 You know what's exciting? It's August. Which means we are now in a month where there will be college football. It's the best time of the year. I love this time in college football because the hype is huge and the possibilities are endless.
Even better? My sister has a whole collection of college gameday earrings that are perfect to wear during a football game because they are leather and not too heavy when you're doing all the jumping up and down and stress yelling. Or maybe that's just me.
They are $12 each or you can buy 3 or more for $10 each plus shipping. And she'll also take custom orders for specific colors, shapes and sizes if you don't see exactly what will fulfill all your gameday hopes and dreams. You can shop here at her Etsy shop or find her on Instagram or Facebook.
2. Adidas swift run athletic shoes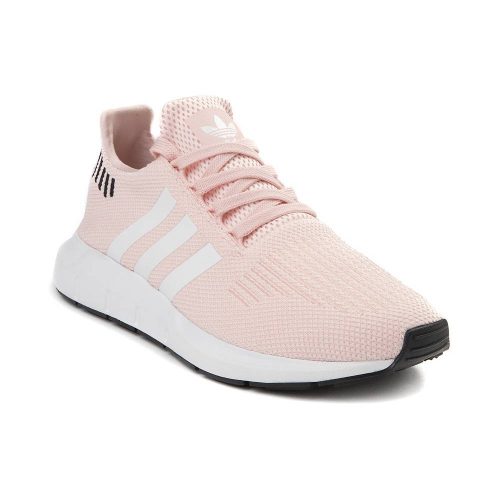 I love these Adidas because they are perfect for both working out and athleisure wear. They are $84.99 and come in that pretty pink up above and this olive green that I'm now obsessing over.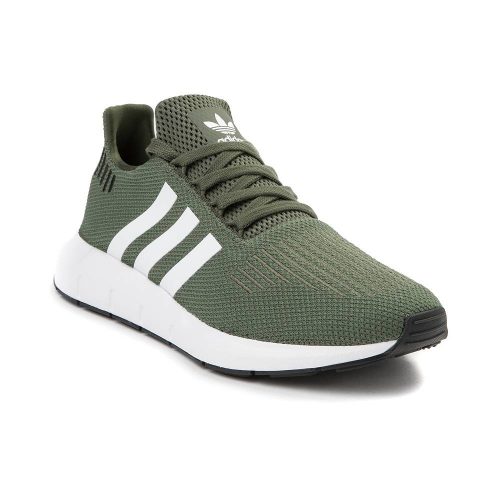 They also come in some other colors but I cannot look away from the pink and the olive green.
3. gibson convertible cozy wrap fleece cardigan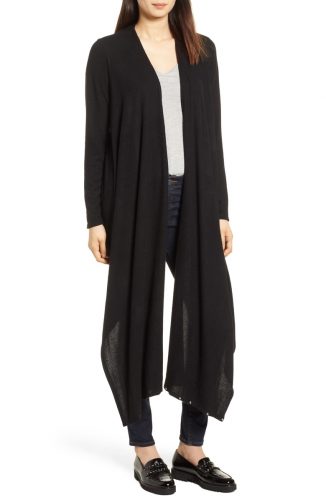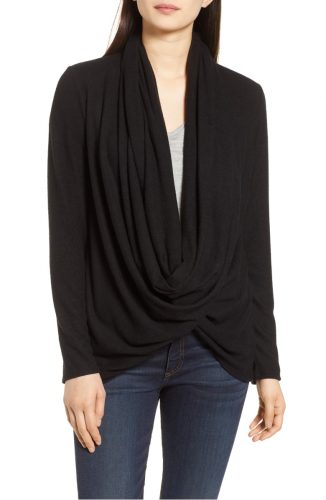 This is the same cardigan worn two different ways. And it's made by Gibson and their fleece things are always the coziest. This comes in several color options and is normally $68 but on sale for $45.90 until the Anniversary sale is over.
4. madewell whisper cotton v-neck tank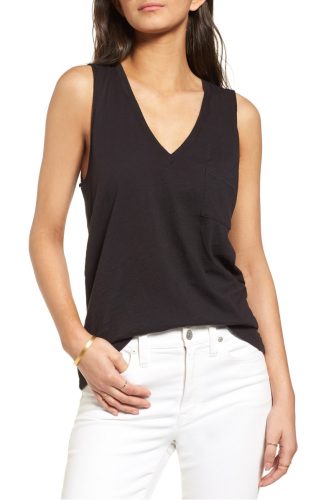 These Madewell tanks are so soft, a great length and I love that they are v-neck because I think a v-neck is universally flattering. And they are just $18.50. They are great all alone but perfect for layering under things like the Gibson cardigan up above or various other jackets and such.
5. v-neck blouse with tie sleeves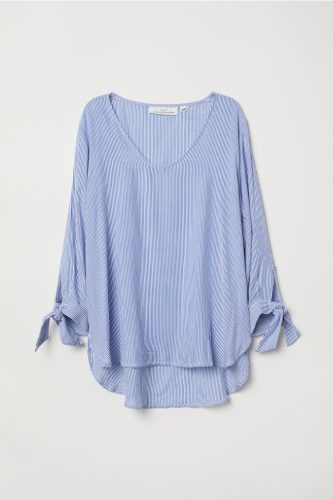 This cute top is just $24.99 which is why I love H&M. It also comes in a pink stripe, green stripe or solid black which would be a great transition top for fall.
6. loft meadow cap sleeve swing dress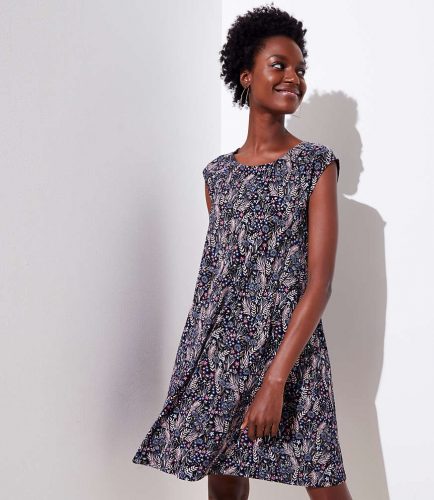 This is a great dress for the office or the classroom, but could easily be dressed down as well. It's currently $59.50 but there's a good chance Loft will have some sort of sale soon. Also, they have all their sale stuff an additional 60% off right now so you may want to check that out.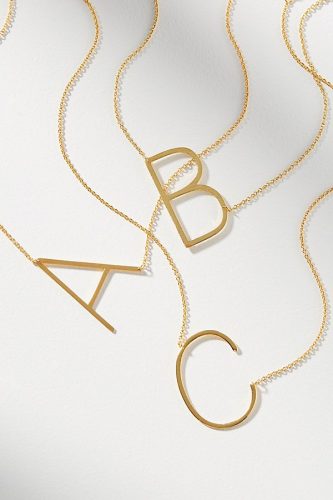 I've been wanting one of these forever and I'm not sure why I haven't bought myself one yet. And then I saw that Alexis had one on Schitt's Creek and that made me want one even more. They are $38 and would make great Christmas gifts if you're the type of person who thinks about Christmas shopping in August.
8. loft striped drapey tie top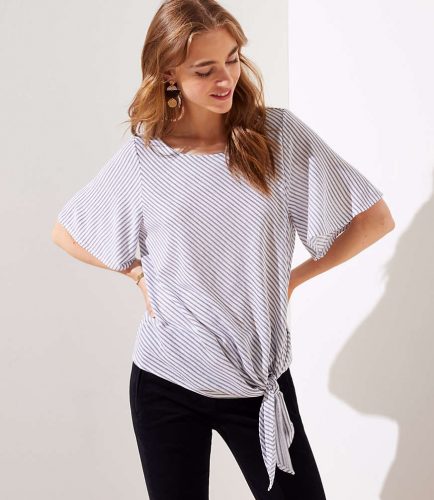 This is a cute top from Loft that could work for the office or just with jeans. It's $39.50.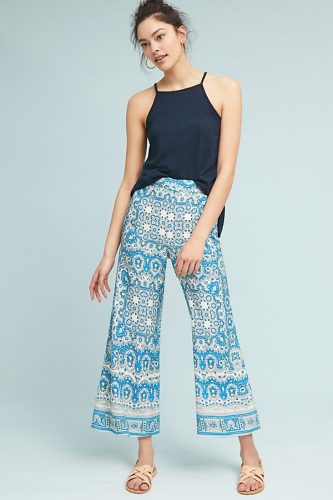 I've had my eye on these pants and have been waiting for them to go on sale. They are $69.95 plus there's an extra 25% off all sale at Anthropologie. They come in other colors and patterns but this blue is my favorite.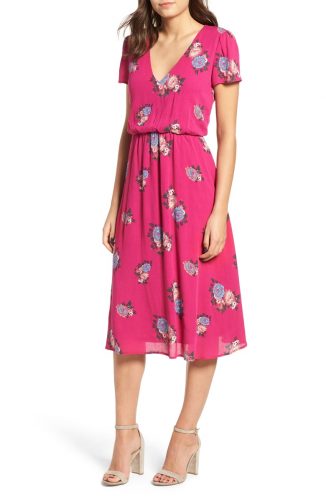 I was looking at dresses this week and came across this one. It has great reviews, comes in a bunch of different color options and is $69.
And I feel like I also need to share this band of gypsies floral print wrap dress that I think is so pretty.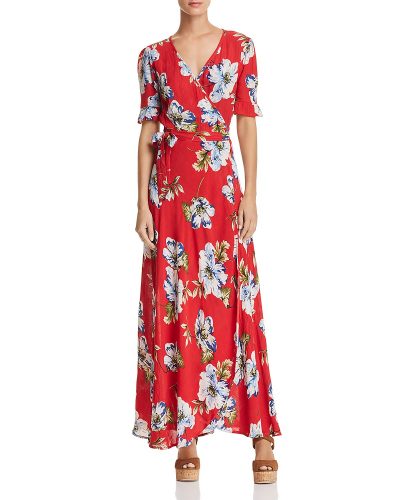 It's $98.
That's it for today.
Have a good Thursday.