For those of you who have been reading this blog for, lo, these many years now, you are well aware that every summer my best friend Gulley and I load up our kids and go on a summer road trip. And we usually start planning said road trip a little after Spring Break each year. Of course I'm playing fast and loose with the word "planning". It usually just consists of finding four to five days in our summer calendars that line up for us to get on the road.
And therein was our problem this year.
You know what no one tells you about having teenagers? They are very busy and have lives of their own. The problem is that until they are sixteen, you still have to drive them all over town so they can participate in that life.
When the kids were little, we thought our biggest obstacle to making the road trip happen as they got older would be that they may not want to spend time together and we agreed that we are like family and they'd just have to make the best of it. But we had no idea that the real problem is that teens play sports and have mandatory practices and camps and workouts and jobs. By the time we looked at our calendars and combined those things with family vacations and such, we honestly came up with ONE day that we could all get out of town together.
ONE DAY.
These kids and their busy lives are totally ruining our fun. Someday I will look back on the summer of 2018 and remember it as that time I was a cross between an Uber driver and a delivery person.
So July 26 became the date we circled on our respective calendars back in June when it became apparent that the road trip would be a one day extravaganza this year. And, even then, we had to threaten people who kept wanting to mess with July 26 because teenagers have somewhere between 0-15% respect for their mother's sanity. July 26 is non-negotiable. Do not roll your eyes at me.
Last Thursday was the day and we had decided to float the Comal River in New Braunfels and then go eat at the Gristmill in Gruene. Normally we give the kids more input, but Gulley and I pretty much made this plan because it made the most sense and we knew they would have fun.
Gulley and her guys picked us up about 11:00 a.m. because Jackson had a football workout he didn't want to miss and we made the short drive to New Braunfels. So, in hindsight, maybe it wasn't so much a road trip as a day trip. Whatever.
We stopped for gas and, more importantly, gas station snacks. And some things never change because we sent those kids into the Chevron station with $20 and they came out with a pile of candy that would make Willy Wonka jealous. And I laughed later because Will got a big bag of Skittles and this picture from our very first road trip back in 2007 proves that he's always been a Skittles man.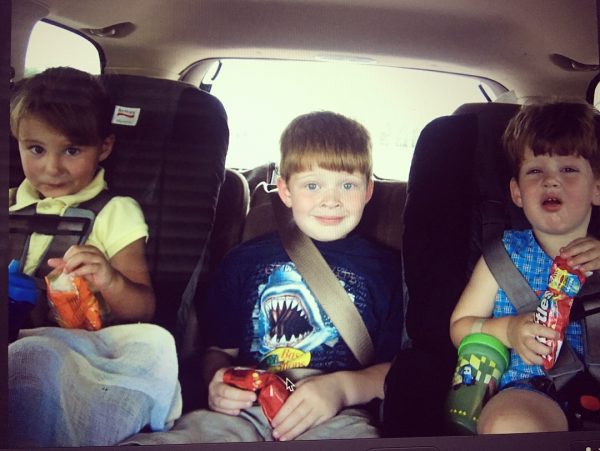 On a side note: I posted that picture on Instagram earlier this week and Gulley called me and said, "What was I thinking letting my three-year-old have that giant bag of Skittles? And he probably had Dr. Pepper in his sippy cup!" I told her it all worked out fine and those were desperate times. I mean look at Will's face even with those Skittles. He was a donkey on the edge. Our motto back in those days was "DON'T ANGER IT".
After the gas station stop, we found a Sonic so we could all get a drink and some popcorn chicken with tots because nutrition is important if you're going to spend all afternoon on the river. It's also important to note that the moms still drove even though Jackson has had his driver's license for almost a year now.
Look at our babies.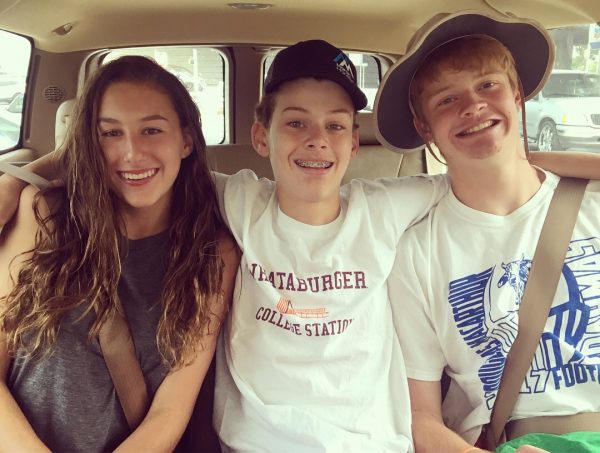 I don't even understand how they grew up so fast.
And so the road trip was different this year. No one got car sick and threw up because we were only in the car for about an hour round trip, plus we have all grown as people. There were no fights or meltdowns because we have matured. We all agreed on where to eat and shared our candy and listened to each other's stories. And to be honest? A little part of me missed the days of someone throwing up in a plastic bag and visiting a snake farm where people think it's a good idea to keep a Cobra in what appears to be your grandmother's old stereo console.
I'M TOTALLY LYING. I DON'T MISS THAT AT ALL.
But here's what I'll tell you. I'm so thankful that Gulley and I started the tradition of taking the kids on a summer road trip eleven years ago. Yes, it was born out of desperation and boredom and just needing to do something other than try to entertain little people at the neighborhood pool, but it turns out we were building a lifetime of memories. And it has been so worth it.
Just in case you ever want to gather up your best friend and your kids and take a road trip, I wrote a little how-to guide about it several years ago. You can find that post here.
Copyright secured by Digiprove © 2018