1. Fearless Faith/Everyday Holy Playlist
So I made us a playlist on Spotify to celebrate the one week birthday of Fearless Faith. These are songs I listen to when I feel scared or worried or just need to remember that God is in control and I am not. Some of them are new and some of them are old favorites, including an Amy Grant classic because Amy Grant is part of the fabric of my spiritual life from the earliest of days.
Here's the link to the playlist.
If you haven't bought a copy of Fearless Faith yet, you can find it here.
And don't forget about our 100 Days of Everyday Holy and 100 Days of Fearless Faith read-a-long plan that starts Tuesday, September 4th. Some of you asked where everyone will be posting with the #100DaysOfEverydayHoly and #100DaysOfFearlessFaith posts so I wanted to clarify it will be on Instagram. You can follow me on Instagram here and you can find more details about the reading plan for fall here.
But in the meantime, just make sure you get your books ordered or pick them up at your favorite local bookstore.
2. Mrs. Maisel Season 2
This made my whole week when I saw it. I cannot wait for Midge Maisel to be back in my life. If you haven't watched the first season on Amazon Prime, then you haven't lived. It's so good and so funny.
3. The Guernsey Literary and Potato Peel Pie Society
I read this book years ago and it was a favorite so I was so excited to watch the movie version on Netflix the other night and it did not disappoint. It is so, so good. I loved seeing the characters come to life and the scenery is breathtaking.
4. personalized styros for tailgating by Two Funny Girls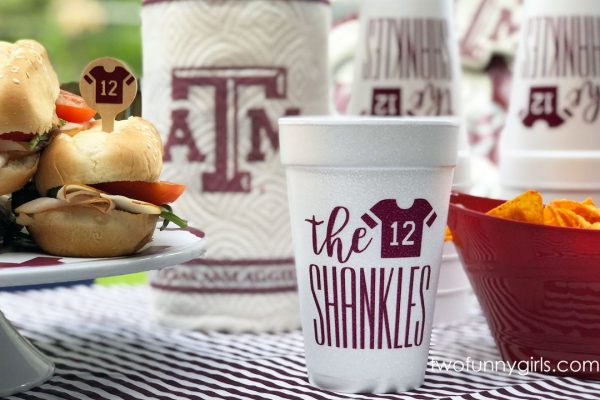 If I think too much about college football season starting in just a matter of weeks, I might run through a brick wall. But it's imminent which means I need to get my game-watching supplies in order, starting with these darling styrofoam cups. And, yes, they have other tailgate cup options for those of you who cheer for a team other than Texas A&M. But as for me and my house? These are perfection.
Hope y'all have a great day!