Well.
I hope you all had a delightful Christmas and that Santa brought you some things you wanted and/or you got gift cards to go buy those things for yourself. We had a good one at our house and I decided I should probably go ahead and recap it for posterity's sake before it's 2019. Also, if I don't document it, I may forget everything as soon as I come down from the carb/sugar/wine/cheese high that I am currently on.
Although to be honest, it feels more like a low than a high. I knew our nutritional judgement had become sketchy at best this morning when I told Caroline she needed to eat something nutritious for breakfast before soccer practice and she came back to the couch with a box of chocolate Pop-tarts. Perhaps Santa should have brought us all a juice cleanse and a nutritional plan.
(Feel free to skip this recap and just scroll down to the fashion portion of this post.)
Caroline officially got out of school last Friday but she was really finished on Wednesday after she took her last two finals since she'd exempted her other ones. On Thursday night we went down to the San Antonio Riverwalk with Mimi and Bops and my sister and her kids to eat Mexican food and see the lights. We've done this every year since they were little and I'm just glad everyone is at the age where we can eat at a real restaurant and not go to the Rainforest Cafe.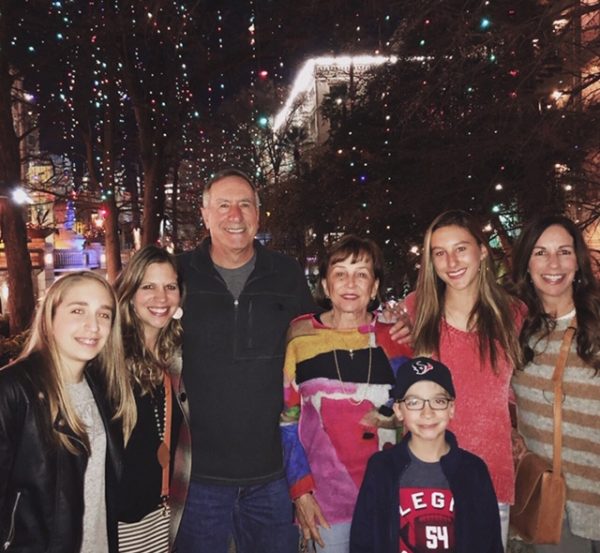 We had a great time and Bops even let us order two tableside guacamoles even though he'd "taken a bath in the stock market" that day. His dad, my Pa-Pa, used to gather us all around each Christmas to tell us "Kids, this may be Pa-Pa's last Christmas with y'all" and so I told my dad that maybe his own legacy will be to tell his grandkids each Christmas how much money he's lost in the stock market. It's like a scene out of Norman Rockwell.
On Friday night, P was hunting and Caroline and I went and watched "Elf" with some friends and then literally didn't do one thing all day Saturday. Well, I guess I made some toffee and Chex Mix, but that was the extent of our activities.
Sunday afternoon, one of Caroline's best friends came over to help us make cinnamon rolls. We all had a lot of fun, but I would be lying if I didn't tell you that I am still sweeping up flour and cinnamon and sugar off my kitchen floor. Sometimes it's hard to resist not throwing a handful of flour at your friend.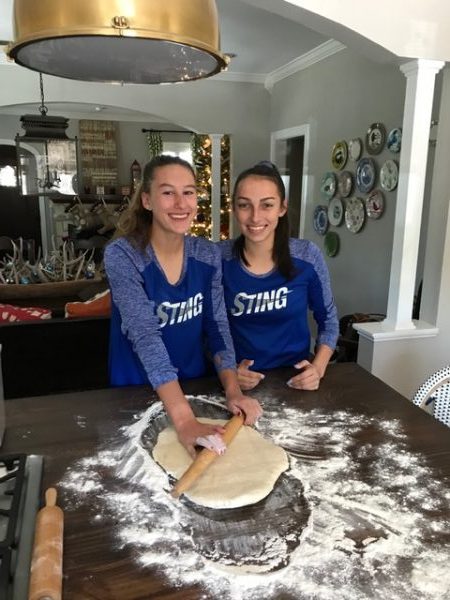 They look so cute and sweet, but looks can be deceiving.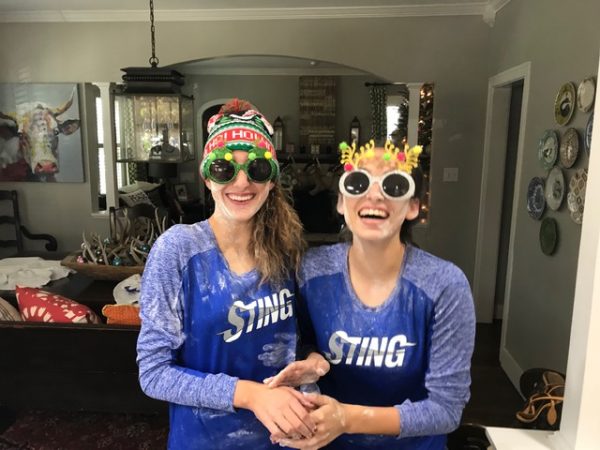 Then Sunday night, P, Caroline and I went out for our yearly tradition of going to eat and then driving around to look at and/or judge other peoples' Christmas lights. We went to dinner down at the Pearl Brewery area and it is seriously stunning at Christmas time plus the people watching is fantastic.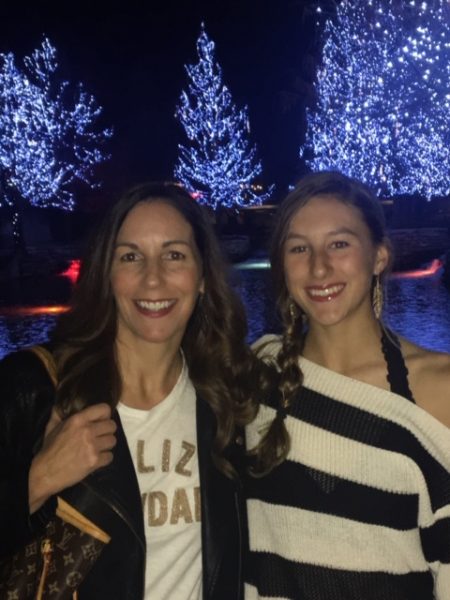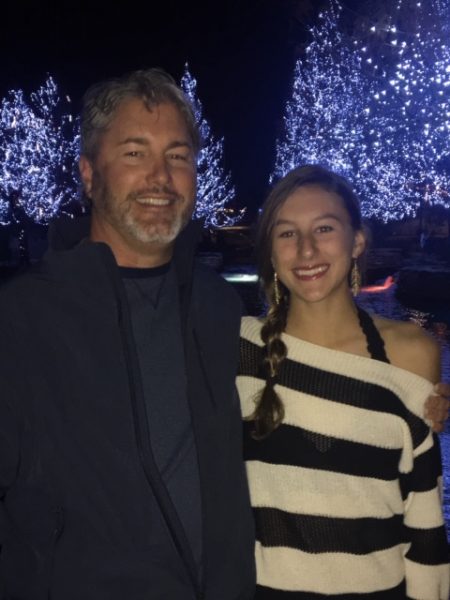 I highly recommend it if you visit San Antonio and you have to walk through the Hotel Emma. I basically would like to live there like Eloise at the Plaza. It is so gorgeous.
After dinner, we drove around while drinking hot chocolate and looked at Christmas lights while Caroline and P made fun of my Christmas music preferences. I tend to like a mellow playlist and they find most of my choices "depressing and sad". Whatever. I like Mariah Carey as much as the next person, but I also enjoy a little Sarah Mclachlan "In the Bleak Midwinter". I find it soothing.
On Christmas Eve, P and Caroline made the rounds to deliver cinnamon rolls to some of our friends while I finished cooking breakfast casserole for Christmas morning and wrapping the last of the presents. We went to church at 5:30 and then went to Mimi and Bops' house to celebrate with my sister and her family.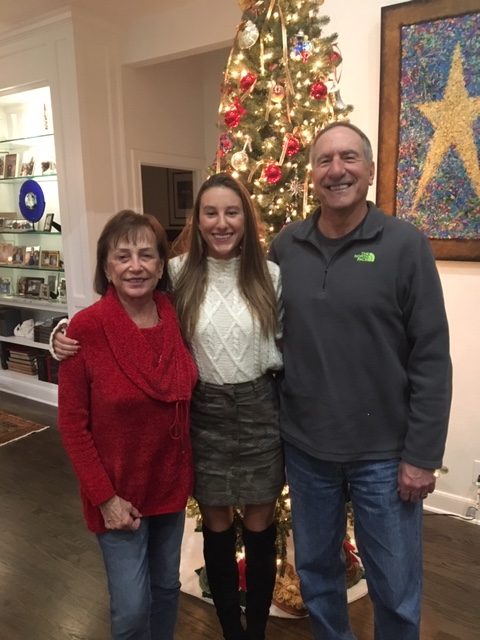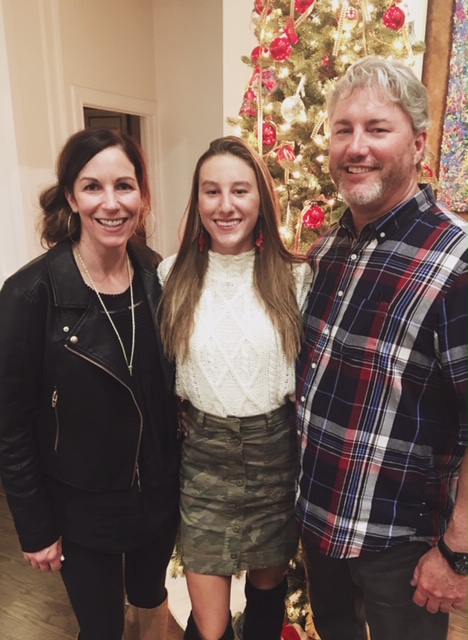 After we got home, Caroline opened her traditional Christmas Eve gift that's always new pajamas of some sort. This year it was a bear onesie. Here's the link if you're interested in owning one for yourself. Caroline says it's super soft and comfortable, although our 70 degree temps on Christmas day made it a little hot to wear for more than a couple of hours.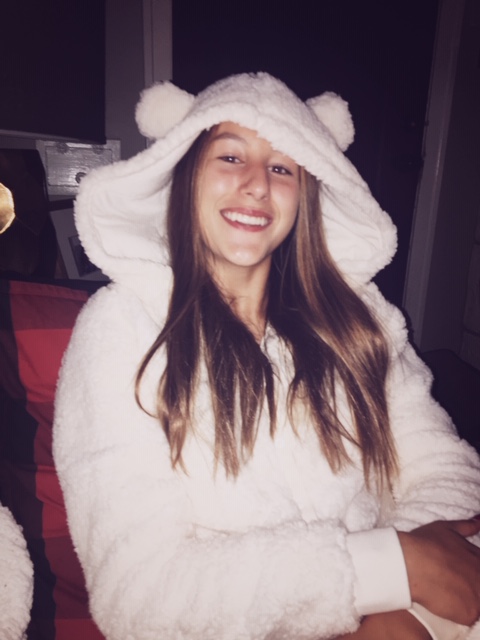 We stayed up and watched Christmas movies until the early hours of the morning when I finally told her she had to go to bed so that Santa could come because Santa was exhausted. Mabel wanted to stay up and wait for Santa because she was feeling so festive, but I told her that her glasses didn't camouflage her the way she thought they did.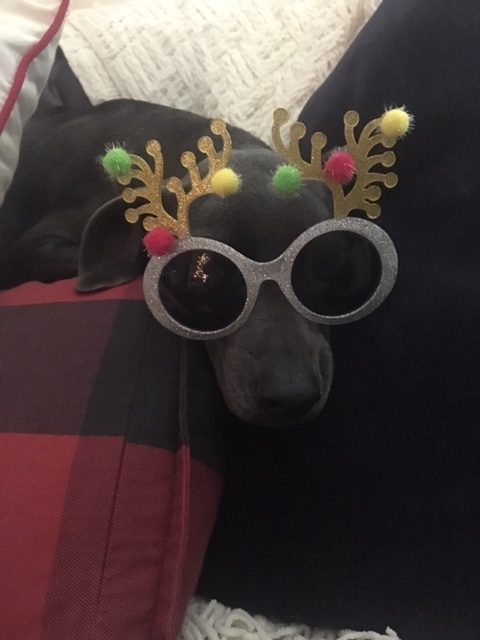 She wrote a haiku about it:
Waiting for Santa
Maybe he'll share a cookie
Maybe I'll bite him
The next morning Caroline woke up at the crack of 10:30 because that is what teenagers do. If you're the mom of littles who had you up at 5:00 a.m., just hold on because there will come a day when you are dragging them out of bed to get up and celebrate Christmas.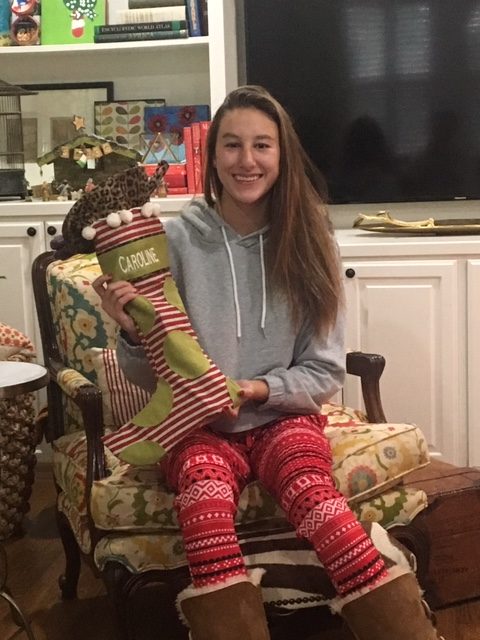 We opened presents and P and Caroline bought me what is perhaps my favorite Christmas gift of all time, rivaled only by the Dooney and Bourke purse I got for the Christmas of 1987.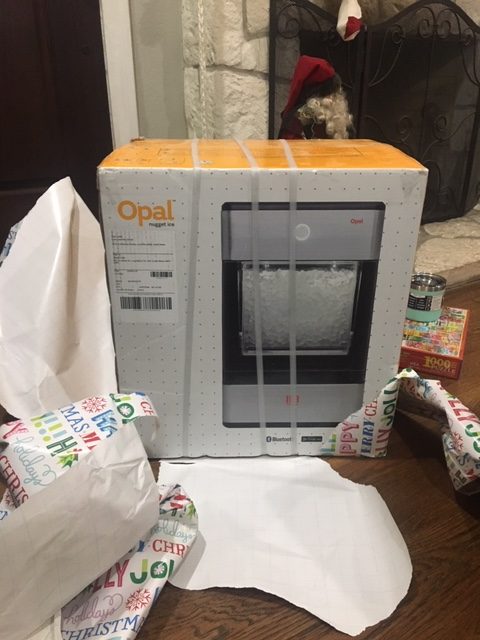 It's a countertop ice machine that makes the good ice like you get at Sonic. My joy knows no bounds. Caroline said she doesn't remember me ever being as excited about anything as I was about that ice machine. And I can't say she's wrong. It is truly the gift that will keep on giving. And I'm so hydrated because I drink water with that good ice in it all day long. I've never felt as seen and loved by my people. Some girls want diamonds, I want good ice.
P's mom came over later on Christmas day and we opened gifts with her and then went over to Gulley's to open presents with Gulley's boys and Honey and Big.
And now we are just relaxing and enjoying the holiday. Caroline's school soccer season starts with scrimmages over the weekend but, other than that, we plan to watch movies and hang out and sleep late and maybe take down our Christmas tree at some point.
Also, we saw "Mary Poppins Returns" and it is FABULOUS. We loved it.
So, thanks for getting through all that, (assuming you did) and now here are some cute things I found this week. There are tons of good sale items to be found.
1. madewell paint stripe transport leather tote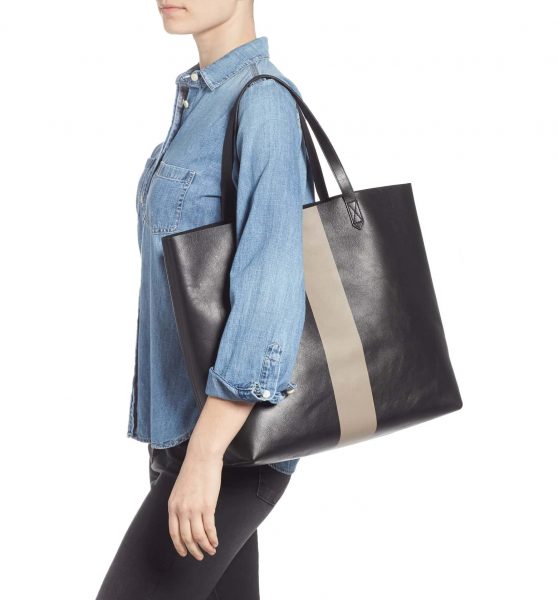 I love this tote and it's 50% off and on sale for $93.98 It also comes in a pale pink or a cabernet.
2. treasure & bond tie front henley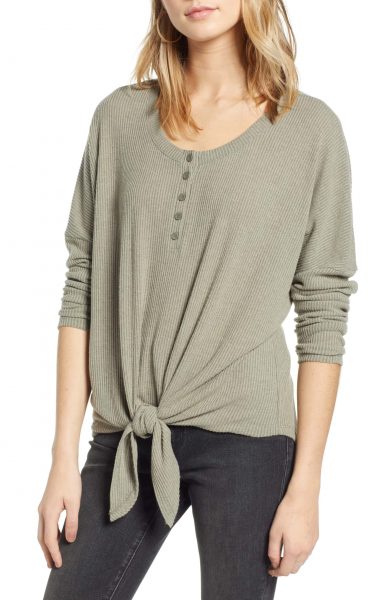 These tie front henleys are great by themselves or layered under a sweater or jacket, plus they are so soft. This is 40% off and on sale for $29.40. It comes in several color options.
3. make + model thermal leggings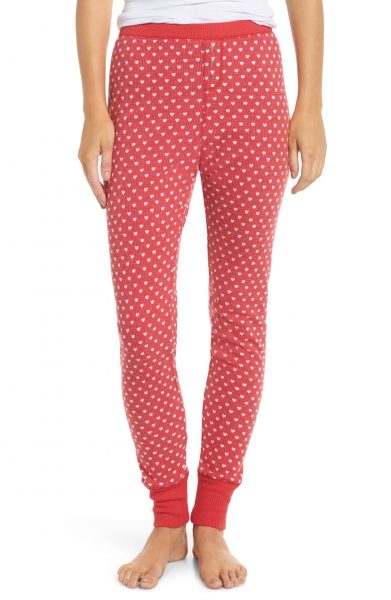 I am a sucker for thermal leggings. These are 40% off and on sale for $17.40.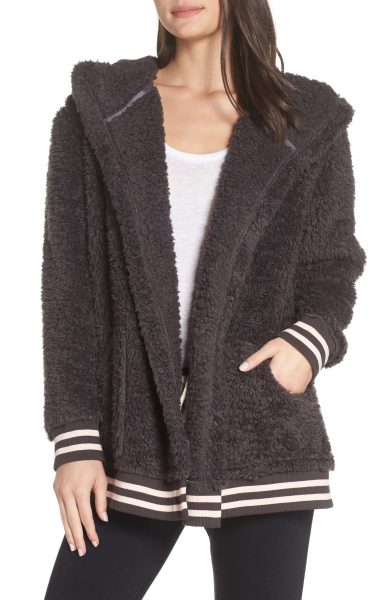 How cozy does this look? I'm in love, I'm in love and I don't care who know it. It's 40% off and on sale for $35.40 It also comes in black, white or pale pink.
5. madewell variegated striped cape scarf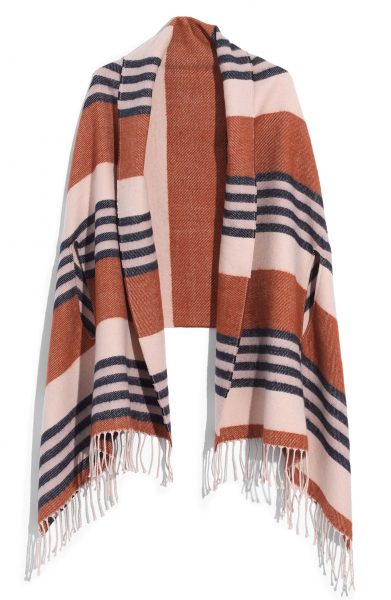 These cape scarfs are so cute and great to layer over a t-shirt or light sweater without being too heavy.
6. dearcase long sleeve casual tunic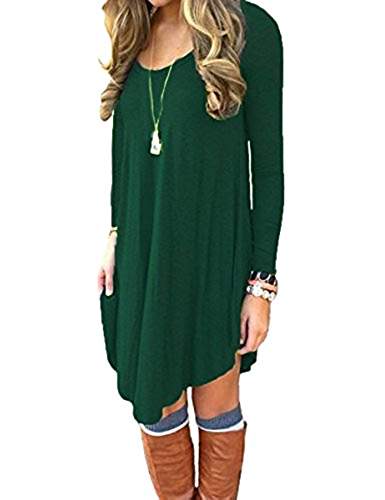 This is $9.99 and comes in a ton of color options. You could wear it over leggings with boots or wear it by itself depending on how tall you are. I like stuff like this because it's super soft and comfortable and forgiving of the six pans of cinnamon rolls and three batches of Chex Mix you ate over the holidays.
7. aerie oversized fair isle turtleneck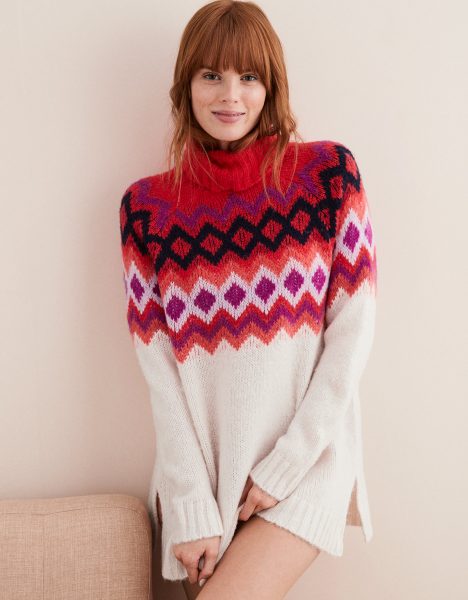 I love the colors in this. It's 40% off and on sale for $35.97.
8. aerie play pocket & cuff legging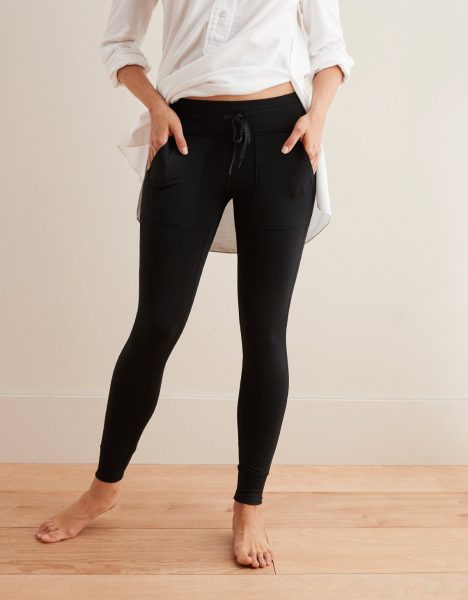 These are my favorite find of the year. Seriously. And they sold out before I could buy more, but now they are back in stock in limited colors and sizes. But trust me when I say they are like butter. I want to buy a bunch of them in case they never make them again. They are 40% off and on sale for $29.97.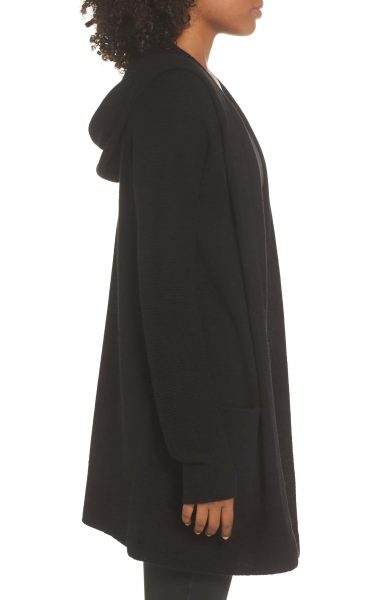 This is on sale for 50% off and now $84.49. I think it's gorgeous and perfect for wearing after a workout or just to run errands or whatever. It also comes in oatmeal.
10. nike odyssey react running shoes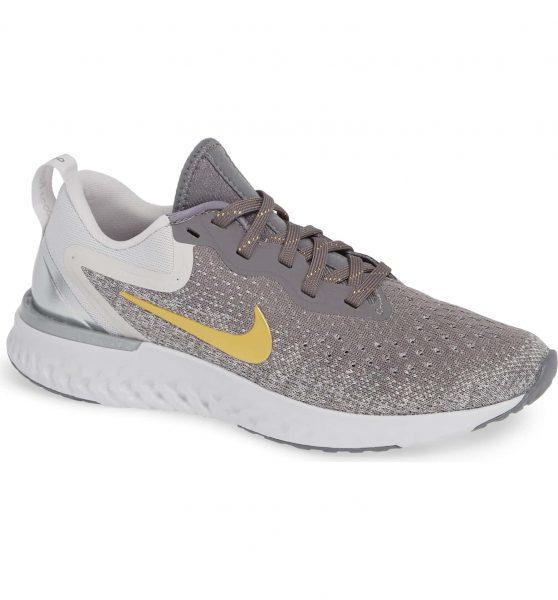 These Nikes are 25% off and come in several color options. I happen to love this color, but I also like the blush and the black with gold.
That's it for today.
Hope you all had a wonderful Christmas and wishing you all a very Happy 2019!
Copyright secured by Digiprove © 2018