I almost forgot that it was Thursday because I picked Caroline up at school early on Tuesday because she wasn't feeling good and she was home all day yesterday and this essentially caused me to lose track of what day it was and where we are in the week. But then I ran to HEB on Wednesday to pick up some medicine for her and realized it was the day before Valentine's Day because the store was filled to the brim with all manner of Valentine's Day gift offerings, including a bouquet made of beef jerky and Corona. I almost bought it for myself.
I did buy these two small vials of something called Immunity Boost Turmeric Shots that are supposed to help you either not get sick or get over your illness faster. Caroline has already missed one soccer game and will most likely miss a track meet and really wants to get better in time for her next soccer game on Friday. I brought them home and she took a little swig and immediately started coughing and gagging and declared, "This is the most awful thing I've ever tasted." I thought she was being overly dramatic and said, "Oh for goodness sake, how bad can it be?" right before I took a sip for myself.
You know how bad it can be?
Bad enough to make you wish you didn't have a tongue.
Like, seriously. There are no words or a description that's adequate for the vileness of it. From now on, we'll stick to regular, old-fashioned orange juice.
Anyway, here are some things I thought I'd share this week.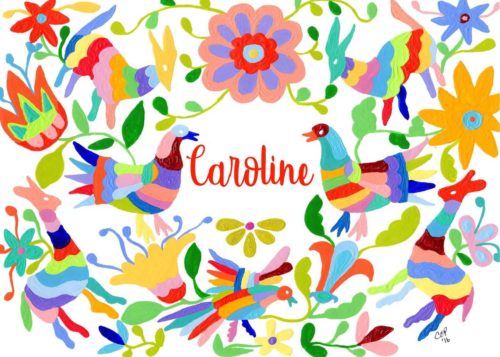 I found Caitlin Peters design when my friend Carly at C. Style posted some her darling notecards on Instagram. They are so bright and colorful and just make great gifts.
She also has these personalized otomi notepads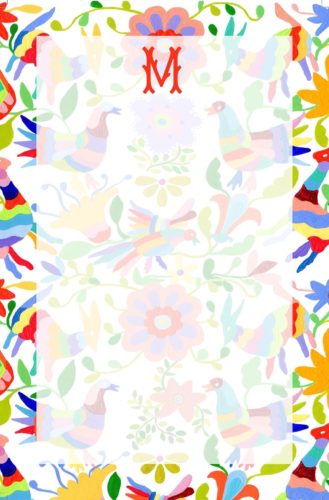 2. hum glow sweet glow vitamins
I can't remember where I heard about these, but I decided to give them a try. They are supplements that help your skin and contain vitamin C, hyaluronic acid and vitamin e. All the things that you hear you need for good skin and they protect from free radicals which are the worst radicals of all.
True story: I've been taking them for a month and I do think my skin feels better. Also, they taste like a dreamsicle so it's not a challenge to take them every day.
Jamie Golden mentioned this on her Instastories for her January favorites. Apparently, the ingredients in the German made Nivea are very similar to the ingredients in La Mer. I don't know if you know this but La Mer costs about $500 and your first born child. This German made Nivea was $10.87 and I get to keep Caroline, so that seems like a better bet.
The trick is it has to be the German Nivea and not the one at your local Walgreens that's made in Mexico. The link above is for the legitimate German version that's made in Hamburg, Germany. I've been using it for a week and my face and neck feel so much better. I love my rosehip oil but my skin just needs a little more moisture during the winter.
I may be the last person on Earth to know about this Instagram account, but it's one of my new favorites.
In honor of today being Valentine's Day, I thought I could post something really sweet and romantic. But then I found this John Crist video of Christian breakup lines and decided it was a lot more fun.
Have a great Thursday.
I'll just be here administering cough and cold medicine and Vitamin C and trying to not get sick.
Copyright secured by Digiprove © 2019