So I had a typical Monday. A lot of making lists and trying to get my week off to a productive start. Although I have to tell you that the only thing that got me out of bed on Monday morning was that I told myself I'd go right back to bed after I got Caroline off to school. I never actually do this, but it's amazing how it soothes my psyche at 7:00 a.m. on a Monday.
P took Caroline to school and I didn't realize that he'd made himself a toasted English muffin covered in peanut butter and left it sitting on the countertop while he drove her to school. Meanwhile, I grabbed some dirty clothes out of our laundry baskets and started some laundry and then loaded the dishwasher with all the breakfast dishes. But when P walked back in the house about ten minutes later, he said, "You threw away my English muffin!"
I would never throw away someone's English muffin and replied, "I thought you took it with you!" And that's when we both noticed Piper and Mabel lurking in the corner of the kitchen, looking guiltier than usual and profusely licking their lips. We can't prove it was them, but generally English muffins don't just disappear unless the Rapture happened and it believed in Jesus.
Anyway, instead of going back to bed, I drank a cup of coffee and worked on a few writing projects before I made a grocery list and a general to-do list. Then I went to work out at Smart Barre because I am currently trying to be the best version of myself. Afterwards, I needed to run to the mail store to mail off a few things and since the mail store is right across the street from Target, I was overjoyed when I realized everything on my grocery list could be purchased at Target.
But once I found myself in Target, I ended up going down forty-seven rabbit trails as you do when you find yourself in Target. I looked at a few shirts, decided to go ahead and get snacks for Caroline's soccer game this weekend, and looked through the book section to see if anything looked interesting. Then P called and reminded me of a few more things we needed and I spied the Valentine's aisle and was all "SQUIRREL! SQUIRREL!".
All this to say that by the time I finally made my way to the checkout line it was after 2:30 and I hadn't eaten lunch and I was starving. I decided I'd drive through Whataburger as soon as I left Target and grab a cheeseburger and a Diet Coke. I'd basically let myself get to this stage of hungry: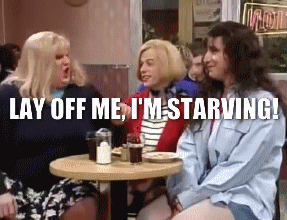 I found what appeared to be the shortest checkout line except the guy in line in front of me couldn't get his microchip card to work in the reader. (I get that microchip cards are safe and secure and the wave of the future but – SERENITY NOW – because they never seem to work the same way twice.) Meanwhile, my stomach was basically eating itself. Then I realized that the cashier in the line I chose is one that I have on a regular basis. And this is where I need to tell you that she is very sweet and very good at her job.
But here's the thing. Whenever I go to Target, I always buy these Dingo chew sticks for Piper and Mabel. And every time I have this cashier, she rings up those Dingo chew sticks and then says, "AWWW!! Do you have a dog at home? What kind?" I always smile and reply, "Yes, we have two dogs. They are Blue Lacys."
The problem is this leads to a litany of questions. "What are Blue Lacys?", "What do they look like?", "What color are they?", "Are they friendly?", "Are they from the same litter?" "Do they get along?", "Did they vote for Trump?". And so on until she forgets that she's supposed to be ringing up my purchases while we visit.
So when I realized it was this cashier, I prepared myself for the questions as she scanned the chew sticks and determined I was starving and not emotionally prepared for all the inevitable questions about Blue Lacys. Sure enough, she looked up at me and said, "AWWW! Do you have dogs? What kind are they?"
Listen. I am the worst person you know.
Because I looked right at her, thought about the most common breed of dog I know and replied, "Labs." I lied about my dogs to the cashier at Target. Jesus is going to come back for a toasted English muffin covered in peanut butter and leave me behind.
In my defense, I was so hungry and just wanted to get to Whataburger and had truly crossed the line into HANGRY territory. I didn't want to talk about my dogs. I just wanted to pay for my groceries and pack of ten plastic coat hangers and Valentine's candy and be on my way.
However, my nefarious ways did not pay off because she proceeded to ask, "AW! What kind of Labs?", "How old are your Labs?", "How do you tell the difference between a Lab and a Golden Retriever?", "Are they from the same litter?", "Have you seen that movie about a Lab that plays basketball? Or was that a Golden Retriever?", "What are their names?"
So what I'm telling you is that lying never pays off.
And I think Mabel sensed that I'd basically denied her at Target because when I got back home, she was looking at me like this.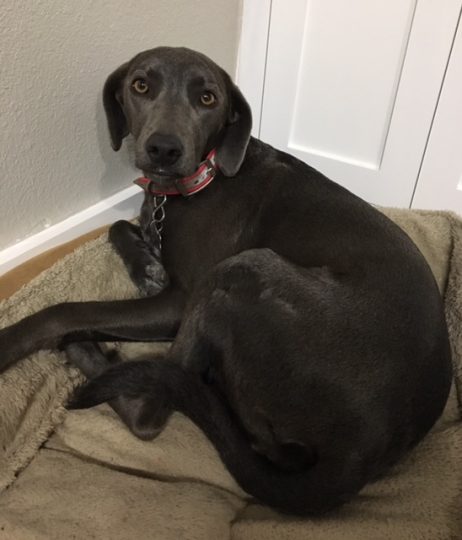 Then later I saw that she'd written a haiku.
Lying is so wrong
Worse than eating a muffin
You make Jesus sad
That's right, Mabel. I'll never lie about having a Lab again.
Also, my Whataburger was delicious and I ate the whole thing in three bites.
Copyright secured by Digiprove © 2017